Lift ban on Facebook
Students demand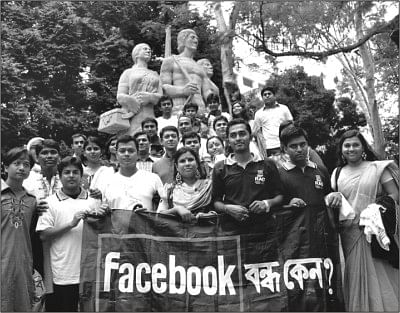 A group of Dhaka University (DU) students formed a human chain on the campus yesterday to protest the government decision to block the Facebook, a popular social networking website.
With a banner reading 'Stop interference with the freedom of expression', around 25 students staged the protest near the Aparajeyo Bangla at about 12:00 noon.
Speaking at the programme, students came down heavily on the government for banning the Facebook, saying that the government had violated its electoral pledges by banning the network in Bangladesh.
"I voted the present government as it pledged to present us with a digital Bangladesh, but by banning the Facebook, the government has done the opposite," said Satila Sharmeen, a fourth year student of mass communication and journalism department.
The agitating students called on the government to withdraw the ban immediately. Most of the Facebook users are young people who voted in the government in the last parliamentary elections, they said.
They students also vowed to hold demonstration programmes on the campus today.
In the early hours of yesterday, a group of students also held a protest procession at the TSC intersection demanding withdrawal of the ban.
Meanwhile, the Bangladesh Institute of Human Rights (BIHR) expressed resentment and concern over the blocking of the popular social networking website.
In a written statement, it said the move violates the constitution of Bangladesh, United Nations charter and the rights to express opinion.
"While the government wants to build a digital Bangladesh, blocking access to a popular social networking site like Facebook for insignificant reasons clearly violates the rights to freedom of expression," read the statement, signed by BIHR Secretary General Advocate Shahanur Islam.
In a separate press release, Bangladesh Chhatra Moitree also expressed grave concern and demanded immediate withdrawal of the ban.