Zafar's Hawaii tour a success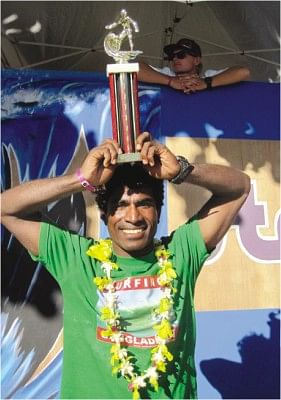 Bangladeshi surfer Zafar Alam impressed on his month-long trip to Hawaii, claiming a third spot in the Long Boat competition of the International Surfing Contest that took place in the American island state last month.
The 28-year-old Zafar who returned to his hometown here on Monday, also performed quite well in the Short Boat competition, finishing fifth out of 170 surfers.
A documentary based on Zafar Alam's life titled 'Gum For My Boat' was highlighted during his Hawaii stay.
Zafar told this correspondent that on September 22, a daylong international surfing contest will be held in the tourists' destination.
Thirty-five surfers from around the world confirmed their participation to Zafar during the Hawaii contests. The Cox's Bazar contest had to be cancelled last year because of a depression at the Bay of Bengal.