The multi-faceted world of Laila Hasan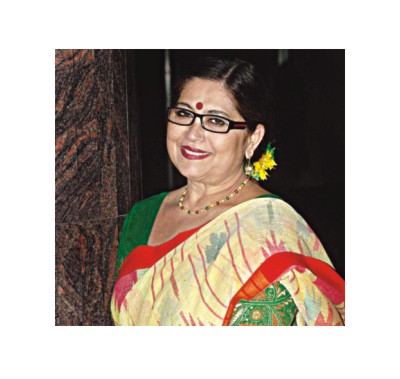 Renowned choreographer-dancer Laila Hasan has earned praise for her social activism as well. Hasan has been tirelessly organising events, encouraging people and actively participating in cultural movements over the years.
As an artiste, Laila Hasan has remained dedicated to the arts -- dance, choreography, theatre, TV and more. But many would term her as a "bold organiser and cultural activist." In 1958 when the then Pakistani government banned Tagore songs, she along with other activists took a stand against it. She also participated in the Mass Upsurge of 1969; was one of the organisers, news presenters and artistes of Swadhin Bangla Betar Kendra; has worked with renowned cultural organisations of the country like Shammilito Sangskritik Jote, Udichi, Khelaghar and much more.
Born into a family of cultural enthusiasts in 1946, Laila Hasan completed her MA in Philosophy from Dhaka University in 1970.
Hasan had her basic dance lessons from Manibardhan Mahashay in Brahmanbaria. Later, she took lessons from Ajit Sanyal, Babu Ram Singh, GA Mannan and Shamar Bhattacharya of Bulbul Academy of Fine Arts (BAFA). Among her acclaimed choreographies are "Chi-trangada", "Shyama", "Shapmochon", "Chan-dalika", "Runner" and "Moder Gorob Moder Asha". She has been honoured with BACHSHASH Award (2001) and Kazi Mahbub Ullah Begum Zebunnessa Trust Award (2001) for her contribution to dance.
The dancer was recently honoured with an Ekushey Padak (2010). Ekushey Padak is one of the highest civilian awards in Bangladesh, introduced in memory of the martyrs of the Language Movement (1952).
Laila Hasan is the founder of a dance school named 'Nataraj' that turned 20 this year.
Among her other accomplishments is the hugely popular TV show "Rumjhum" (aired on BTV from 1980 to '85) in which the seasoned dancer taught children the basics of the art form. Among today's well-known performers, Eshita, Tarin, Srabonti, Riya and Richi were Hasan's students on the show. Bangladesh Television Dance Choreographers and Artistes Association is the brainchild of Hasan.
Laila Hasan has also made her presence felt in the theatre scene. Her performances in productions like "Kankabotir Ghatey", Raktokarobi", "Chhuti", "Mayar Khela", "Raja Rani", "Tasher Desh", "Swargo Hotey Bidaye", "Shyamol Matir Dhoratoley", "Neel Darpan", "Dutta", "Keranir Jiban", "Taming of the Shrew" and "Nakshi Kanthar Math" were much-admired.
She also acted in several TV plays, drama series and films. Among her notable works on screen are: "Mon Poboner Nao" (written and produced by Ashkar Ibne Shaikh and Abdullah Al Mamun respectively), "Kajol Rekha", "Bhelua Shundari", "Mahua", "Rani Bhabanir Path", "Ratnadwip" and "Pashapashi". Recently she has acted in a single-episode play titled "Ashcharjo Ek Raater Galpo" (directed by Chayanika Chowdhury).
Not only in Bangladesh, Laila Hasan has also been part of some international ventures.
"I acted in the film 'Gharey Bairey', directed by Sandip Roy (son of Satyajit Roy). Apart from this I've performed in the films 'Feluda' (2007), 'Tintoretto-er Jishu' and 'Ei Tho Prem'," she adds.
"Currently I'm working in the film 'Moner Manush' (Gautam Ghosh's latest project on Lalon). My character's name in the film is Giribala," says the dancer-actress.
Laila Hasan has published two books -- "Hridoye Bajey Nupur" (published from Bangladesh Shilpakala Academy in 1996) on dance and "Mohonrupey" on aesthetics.
The artiste is a lifetime member of Bangla Academy and West Bengal Dance Federation. She is also a member of Asiatic Society and President of Bangladesh Nritya Shilpi Shangstha.