11th South Asian Games 2010
Women keep hopes alive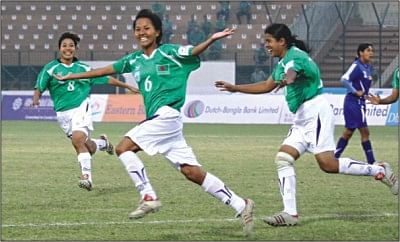 Bangladesh women's football team kept their hopes of playing in the final of the 11th South Asian Games football event alive with a 2-0 defeat over Sri Lanka in their second match at the Bangabandhu National Stadium yesterday.
Smarting from a 1-0 defeat against Nepal in their first match, Bangladesh needed nothing but a win to stay in the race and Aungmrching Marma put the hosts ahead as early as the seventh minute as she lobbed the ball over the advancing Sri Lanka goalkeeper from outside the box.
After resumption, the hosts continued their domination and doubled the lead one minute from time as Suinu Pru Marma found the back of the Sri Lanka net with an angular shot to seal the fate of the game.
Favourites India recorded their second successive victory with a comprehensive 6-0 win over rivals Pakistan, thanks to a hattrick from Oinam Bembem Devi.
Sasmita Malik opened the floodgates striking in the seventh minute before Oinam struck the event's second hattrick scoring in the 10th, 11th and 17th minutes. Sasmita struck her second goal in the 28th minute as India went for the breather with a comfortable 5-0 lead.
India, who handed an 8-1 defeat to Sri Lanka in the opener, managed a single goal in the second half through Laishram Noabi Chanu who scored the team's sixth in the stoppage time.
Bangladesh will take on Pakistan tomorrow.