<i>Bandarban wears festive look as Rajpunyah starts</i>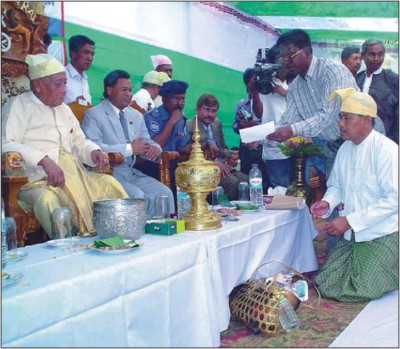 Traditional Rajpunyah festival began in the district yesterday.
The 15th Raja of Bomang Circle Aung Shoi Prue Chowdhury accepted annual jhum (tax for farming) from his subjects holding mouzas at the Raj Darbar in the morning.
The 'troops' gave the chief of the circle a guard of honour when he along with the invitees entered the darbar from the royal palace.
Local public representatives, foreign guests, administration, police and army officials were present at the function.
A three-day folk fair also kicked off on the occasion. A large number of people joined the fair held on the ground of the royal palace.
Bandarban yesterday wore a festive look with scores of local and foreign tourists visiting the district town to witness Rajpunya.
The British Raj divided the whole area of the CHT into three circles for easing revenue collection and deputed the responsibility of tax collection, land administration management and social arbitration with the circle chiefs called Raja.
Bomang circle was set up with 91 mouzas of Bandarban hill district and 14 mouzas of Rangamati hill district. Besides, Chakma circle was formed in Rangamati and Mong circle in Khhagrachhari.
The royal Bomang family has been celebrating the occasion for generations.
The 9th Bomang king introduced the formal collection of tax in 1875. In last 134 years, the programme has been enriched by incorporating different cultural aspects of the people of different religions and castes living in the area. It has now become one of the biggest annual festivals of the people of the hill districts.