5th Citycell-Channel i Music Awards
Dr. Sanjida Khatun honoured with lifetime achievement award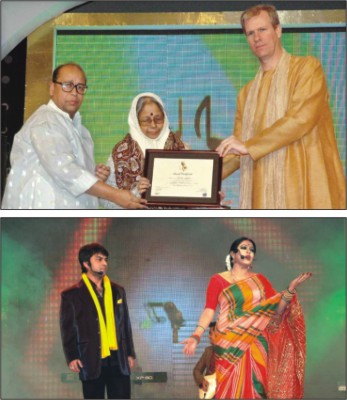 The gala event of the 5th Citycell-Channel i Music Awards was held at Winter Garden, Dhaka Sheraton Hotel on January 12. Eminent artiste, cultural activist, music exponent and President of Chhayanaut, Dr. Sanjida Khatun received the lifetime achievement award at this year's instalment of the awards.
Like last year, this year's music awards also featured twenty categories, though there was no submission in the Best Underground Band and Best Classical (Vocal). Amongst the twenty, four awards were given based on popular votes (SMS).
The ceremony started with conferring the lifetime achievement award. Dr. Sanjida Khatun received the award for her contribution to music, education, research, diffusing traditional values and upholding Bengali culture through organising people.
CEO of Citycell, Michael Seymour, and Managing Director of Impress Telefilm Ltd, Faridur Reza Sagar jointly handed over a crest, a certificate and cheque worth Tk 100,000 to Dr. Sanjida Khatun. Veteran Nazrul exponent and Sanjida's guru Sohrab Hossain joined in to honour her on stage. Later the duo rendered excerpt of a Nazrul Sangeet, "Shedin Bolechhiley".
Born in Dhaka on April 4, 1932, Sanjida Khatun completed her MA in Bangla Language and Literature from Dhaka University (DU). In 1955 she attained a degree on Rabindra Sangeet with distinction from Visva Bharati University. Later she joined DU as a teacher and engaged herself at Chhayanaut Sangeet Bidyayatan.
"I learned Nazrul Sangeet, folk songs and adhunik from my guru Sohrab Hossain. Later I learned Rabindra Sangeet on my own," said Dr. Khatun.
Roquaiya Hasina Neely received the award in Rabindra Sangeet category. Parveen Sultana for the album "Khushir Eid" received award in Nazrul Sangeet, while Satyajit Chakraborti received the Best Classical (Instrumental) award for the album "Udashi". Bishwajit Roy received the Best Folk Artiste award for his album "Radha Raman-er Gaan".
Aurthohin received the Best Band award for its album "Oshomapto-1". The album "Akritrim" earned Jewel the Best Sound Engineering award while the song "Tomaye Chhara" from the film "Priya Amar Priya" bagged the Best Soundtrack Award.
Samina Chowdhury for the album "Banshir Shurey Bangladesh" and Mehreen for the album "Tumi Achho Boley", respectively, received the Best Adhunik singer and Best Pop singer awards.
Pushpita was named the Best Emerging Artiste for her album "Chhoto Chhoto Asha". Other awards went to Manam Ahmed (Best Music Director), Zulfiqar Russell (Best Lyricist), Plan-B, a company, (Best Cover Design) and Obhik (Best Music Video).
The four popular awards went to -- Anindita (Best Emerging Artiste), Durbin (Best Band), Samina Chowdhury (Best Adhunik Song) and the song "Mon-er Jorey Cholchhey Deho" from the film "Swapnapuron" (Best Soundtrack).
Prior to announcing the awards, Michael Seymour and Faridur Reza Sagar delivered welcome speeches at the event.
One of the highlights of the programme was a fusion performance titled "Rakto Diyechhilo Bangali Ekdin Bhashar Jonno", mingling both classical and folk tunes, rendered by Suvro Dev and Ferdous Ara.
Another attraction was back-to-back renditions of Rabindra, Nazrul, folk and adhunik songs by four noted artistes -- Aditi Mohsin, Shaheen Samad, Chandana Majumdar and Samina Chowdhury.
Fuad Al-Muqtadir and others performed an instrumental. Agun, Fahmida Nabi, Hridoy Khan, Konal, Imran also performed songs on the occasion. Among the bands, Warfaze and Dolchhut performed at the show.