A year of accomplishments
abc radio turns one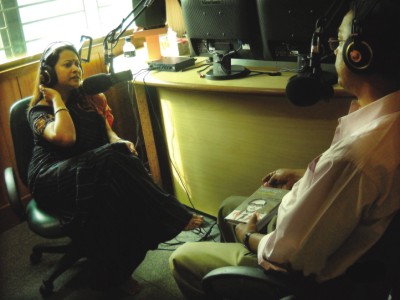 FM station abc radio (FM 89.2) is turning one today.
"The year has been a very busy one. Time went so fast that it seems as if we started operation yesterday," said M. Sanaullah Lablu, head of news and programme, abc radio.
In its first year abc has achieved much. With innovative programmes the radio station has been able to secure a firm position.
"Innovation has always been a top priority for us. From the onset, we have tried to introduce new ideas and programmes to provide the listeners with something unique and different," said Sanaullah.
The station broadcasts its programmes, dividing the day into various segments, such as "Bhor-er Janala" (6am- 9am), "Mukhorito Jiboney" (9am- 12noon), "Darun Dupurey", "Duranto Bikeley" and so on.
"We have a variety of programmes aired during the segments, and we want to provide something for everyone. We also air special programmes on national events like Pahela Baishakh, Victory Day, Independence Day and so on," informed Sanaullah.
"Among the popular programmes are 'Double Exposure' which includes film songs, 'Studio Live' featuring live performance by rock bands and artistes, 'Chandni Chawk', 'Campus Campus' for students and more," he added.
"We also air informative programme, 'Shonar Kathi Rupar Kathi', where we try to keep the listeners up to date on the latest technology.
"One of our highly acclaimed programmes is 'Aporajita' which highlights successful women -- who are inspirations to everyone.
Speaking on the future of FM radio in Bangladesh, Sanaullah said, "Throughout the world, popularity of FM radio is on the rise. One of its biggest advantages over TV or other mediums is its sound quality. A listener can enjoy a song with much better sound at FM.
"In future we will be expanding our area of operation into other regions of Bangladesh, and introduce more programmes. We have learned a lot during the last year and we hope to use that knowledge efficiently," he said.
On the occasion on its first anniversary, abc radio will air special programmes today.