Bangladesh IT industry going global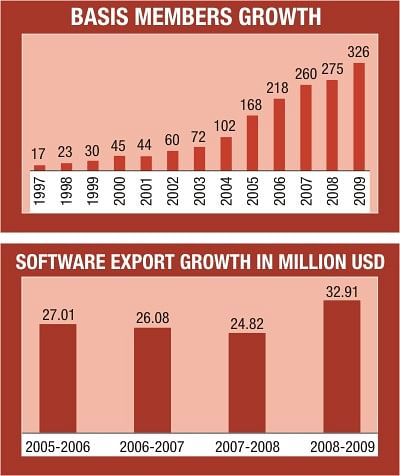 The information technology industry in Bangladesh has gradually come of age and today accounts for more than Taka 25 billion or USD350 million in annual revenues.
It is still a tiny blip compared to a GDP nearing USD100 billion but it's a noticeable blip that is growing markedly every year.
Twenty years ago the IT industry was predominantly a hardware vendors market with little or no value addition locally. Today there are more than 320 software and IT services firms registered as members of the Bangladesh Association of Software and Information Services (BASIS) that adds in excess of USD100 million in value through a full spectrum software and IT services for both domestic as well as overseas clientele.
The growth in BASIS membership is significant for the IT industry for a number of reasons a) it indicates a deepening of the IT skills available locally, b) it manifests growing confidence of global and local buyers on local IT talent and c) it marks a clear departure from the traditional entrepreneurship model based on physical-labour-intensive production industries.
Bangladesh today is the third largest exporter of apparels and this industry will continue to dominate our export basket for the foreseeable future. However, as our literacy rate, secondary education rate and most importantly our tertiary education rate improves, our capacity for knowledge-based industries also increases. This is evident from the fact that Bangladesh has had more than 60 call centres set up with a combined capacity of over 2,000 seats in a span of only two years since 2007. Software and graphic design service exporters raked in nearly USD33 million from July 2008 to June 2009 an increase of 32 percent from the previous year despite severe economic recession in most buying countries. The growth trend is getting stronger with time as IT entrepreneurs scale up their operations riding on increased overseas market penetrations and bigger investments.
The growth in software and IT services exports in 2008-09 fiscal year is specially significant since growth was slightly negative in the previous two years. According to some business climate surveys done in early 2008, the sluggish export performance in IT services then was due in large part to the political uncertainty prevailing in the country in that period. However, the return to robust growth points to the fundamentally strong base of the industry that is hungry for bigger successes in the coming years.
What is however, more significant is that many of our IT companies are venturing off-shore and garnering recognisable footprints in industries such as IP telephony solutions to high-end server maintenance services in many countries. This is certainly a welcome trend in an industry where skills and competencies are mostly universal.
Bangladesh's education system has deeply entrenched links to the English language over many centuries. This has made English the de facto second language. What's more important though, English is the primary language of trade and commerce here, which makes Bangladesh a very attractive destination for software and IT services offshoring. The World Bank in a study conducted in 2008 concluded that as one of the largest Anglophone countries in the world Bangladesh is poised for triple digit growth in its export of software and IT services. The WB projects such exports to exceed USD500 million by 2014. In another development the Geneva-based International Trade Centre in a study on the IT-enabled services industry concluded that this segment of the software and IT services industry will reach USD150 million in export revenue by 2011. In a related study conducted by the Japan International Cooperation Agency (JICA) in 2007-08, they ranked Bangladesh ahead of all other offshoring countries in Asia except India and China on software and IT services competencies. However, in terms of competitiveness Bangladesh ranked at the top.
With such favourable assessments of the software and IT services industry here, it's no wonder that many global software and IT services companies are setting up their captive operations here and at the same time many local players are going global with their offerings. It's time this industry took to the wings and reached ever greater heights for all to see.
The author is the founder CEO of Technohaven Company Limited (www.technohaven.com) and the current president of Bangladesh Association of Software & Information Services (www.BASIS.org.bd). He can be reached at [email protected].