Memorial programme for Naib Uddin and Nowazesh Ahmed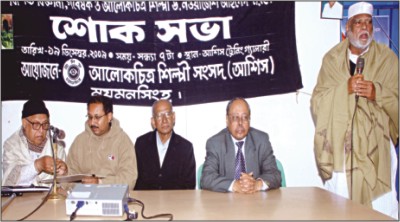 Marking the deaths of Naib Uddin Ahmed, a pioneering photographer of the country and his brother Dr. Nowazesh Ahmed, a scientist, researcher, photographer and a naturist, a memorial programme was held at the training gallery of Alok Chitra Shilpi Sangsad (Ashis) here on December 19 evening. Ashis organised the meeting. The late Naib Uddin was the founder president of Ashis.
Naib Uddin died of old age ailments at the Comfort Hospital in Dhaka on December 14 at the age of 90. He left behind three sons, relatives, friends, colleagues and well wishers.
Ashis president Md. Nawab Ali chaired the meeting. It was addressed among others by former Vice-Chancellor of Bangladesh Agricultural University (BAU) Dr. Shah Mohammad Faruq; Advocate Anisur Rahman; Prof. Lutfur Rahman Khan and Advocate Wazidul Islam.
The former Chief Photographer of BAU, Naib Uddin Ahmed worked here from 1961 to 1993 and during the Liberation War he shot many photographs that became rare documents of our national history, said the speakers. Both Naib Uddin Ahmed and Dr. Nowazesh Ahmed earned national and international recognition for their excellence, they added.
Later a short film titled "Nakkhatra" on the life of Naib Uddin was screened. The exhibition of photos by the master photographer drew an enthusiastic audience.
BAU Vice-Chancellor Dr. M.A. Sattar Mandal, condoled the death of
Naibuddin Ahmed and prayed for the salvation of the departed soul.