Increasing freshwater fish production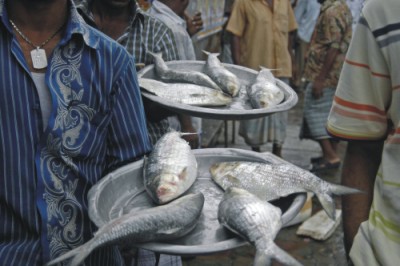 FISH is the main source of protein for the common people in Bangladesh. Rivers, canals, haors, tanks etc. offer unique opportunities to develop inland fisheries. On the other hand, marine potential has opened up new vistas for augmenting total fish production and exploitation. Despite this, our planned development efforts could not make much headway in increasing production in the past. Much will have to be done in the areas of coordination, water resources development programs, and production and distribution of fingerlings and fish fry.
Average per capita fish consumption in Bangladesh for the period
1984-86 was estimated at 7.4 kg/year (FAO 1989). Fish ranks second to milk as a source of animal protein and is vastly more important than other sources -- poultry, mutton, eggs, or beef (FAO,1985).
River Halda, famous for freshwater fish, is situated in Ramgarh upazila of the district of Khagrachhari of Chittagong Hill Tracts. It is regrettable that despite an on-going project to save the Halda river at a cost of Tk.140 million, we are terribly worried to know that no visible sign of the expenditure can be traced so far (cf. special report of weekly Saptahik dated December 3, 2009). As per the report, instead of development of the project, officers of the department of fisheries and the local NGO workers are making fortune from the project. The river is under full control of four syndicates.
As per estimate of the project, one hundred and twenty thousand fish fry would be strewn yearly. From the statements of local leaders (appeared in the same report of Saptahik) only 5 hundred fries were strewn. The former project director, however, claims to have strewn 21 thousand fish fries. The local members of the Committee on Protection of Halda state that the main culprit is the former project director, who has gone on leave preparatory to retirement (LPR) to avoid proceedings against him.
Apart from the former project director, four syndicates are controlling the fate of the project. It is said that these syndicates in collusion with some officials of the department of fisheries dictate the sales of fish fries. The chairman of the Chittagong Hatchery Owners' Association and a researcher of Halda project have been threatened with murder by syndicate members for protesting against their misdeeds.
Illegal brickfields and sand dunes are appearing around the river. The effluent of Asian Paper Mills is rushing into the river profusely, causing the deaths of the bovine population and goats. No effluent discharging plant exits for the mill. Apart from this misuse, Tk.16 lakh of public money meant for increasing public awareness has been wasted.
The Halda river project appears to be one of the miserably managed and monitored projects, with no provision for interim evaluation. It indicates that the implementation, monitoring, evaluation division is not looking after such small projects properly. We would advise our planning minister to be more attentive to the implementation of Halda river project because, though relatively small, it is vitally important for our national economy and peoples' welfare.
Bangladesh is a poor country in which 40% of the population lives below the poverty line. As per Human Development Index of UN 2008, Bangladesh occupies the lowest position (140) in South Asia. It has lost eight positions within last nine years due to decrease in food energy intake (FEI) and direct calorie intake (DCI) during the period. Thus, we should be careful about the quality of food.
Freshwater fish is a particularly preferred item in the cuisine of Bangladesh. It is deemed desirable to consume fish at least once daily, together with rice. In the interior rural areas, fish is of a major dietary importance and may be consumed with all meals (FAO 1985). Consumer preference is for freshwater fish. Thus, successful completion of the project, and protection of Halda, to increase production of freshwater fish will be welcomed by all, irrespective of religion, caste or creed.
A.B.M.S. Zahur is a former Joint Secretary.