Brown Crake in Bangladesh: a century-long wait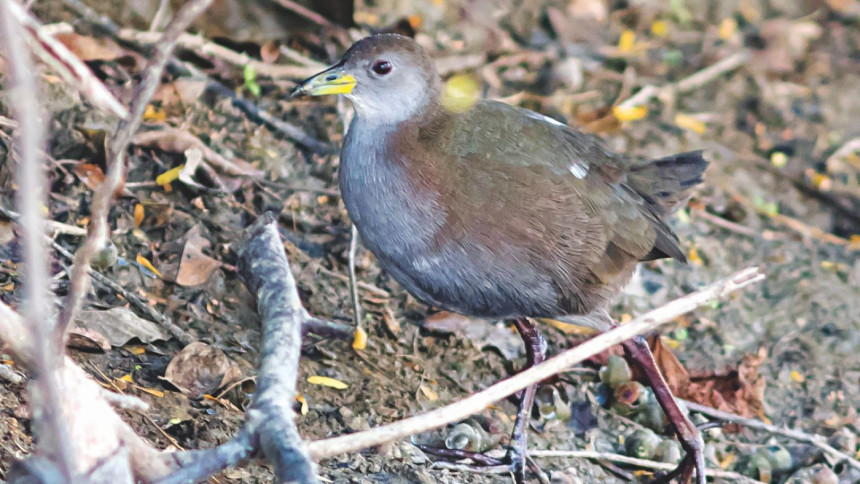 It's quite an incredible feat to still have more than 600 species of birds in our country and with the increasing numbers of birdwatchers and wildlife photographers every year, many new species are being discovered or rediscovered.
One such rediscovery was made in Chapainawabganj in February by a Rajshahi-based photographer Nur E Saud, who is a dentist by profession and wildlife photographer at heart.
Saud found a Brown Crake -- a bird whose presence was last reported in Bangladesh by an English Captain named Robert Tytler in 1854. There has been no definite record from Bangladesh after Tytler's note more than 150 ago.
To see this rare Brown Crake, I got on a train to Rajshahi during a not-so-cold February night with birding mates Prince and Ratul. The train reached Rajshahi early in the morning where Saud waited for us. Along with him, we took another train to Chapainawabganj and then a local vehicle to Babudang -- where the bird was spotted.
I have always liked the countryside in north Bengal, as the landscape is never monotonous. The famers here cultivate wheat, sesame, sugarcane and various kinds of vegetables; the landscape is vibrant and offers a variety of habitats for wildlife. Many ground-dwelling species such hare, button quail and quail are still doing well in this region, although at the national level they have disappeared from many other parts of Bangladesh.
Babudang is basically an open space surrounded by cultivated land and villages. The small hillocks of Babudang support patches of trees and the rest of the area is either scrubland dotted with small bamboo stands or agricultural lands.
Even though there is little natural vegetation or unconverted land, the area holds some unique species of birds including Savanna Nightjars and Indian Nightjars. It is the only place where these two birds can still be found in Bangladesh.
By the time we reached Babudang, the sun was scorching and we realised that we were too late to see the crake. The bird usually only comes out in the open during the early hours of morning to take advantage of lesser disturbances and cooler temperatures.  We waited a while beside a narrow, shallow creek that runs through Babudang. Saud assured us that he knew another site where he had seen one of three crakes.
We changed location, this time on top of a hillock, so that we could see any movement on both sides of the creek. Hours passed and there was no sign of the crake, but the wait was pleasant.
There was a Palash tree on the other side of the creek, showing its beauty off to the world, as if it set its bright orange flowers on fire. Chestnut-tailed Starlings, Purple Sunbirds, Blue-throated Barbets and various other birds flocked onto the tree and took part in the festival of colours, which usually remains unnoticed by mankind.
During midday, we noticed a bird resembling a water hen (Dahuk -- a common bird in Bangladesh) around 500 meters from our position. I looked through my binoculars and reveled in my first sight of a new bird. It was the Brown Crake!
We walked a little closer to the creek and hid so that the bird would not see us when it came down to feed. We watched the bird in close proximity, observed its behaviour for an hour, took photographs and left it undisturbed.
This bird was probably widely distributed throughout Bangladesh once, but like many other species, it is now gone from much of its historical range.
Brown Crakes and several other birds in that area should be considered as "nationally threatened species" and in order to protect them and preserve this unique habitat, we must find a way to ensure the long-term conservation of Babudang.
The writer is a Conservation Biologist, currently working on threatened species' conservation and research in Bangladesh and abroad.