2nd freshwater crocodile spotted in 50 years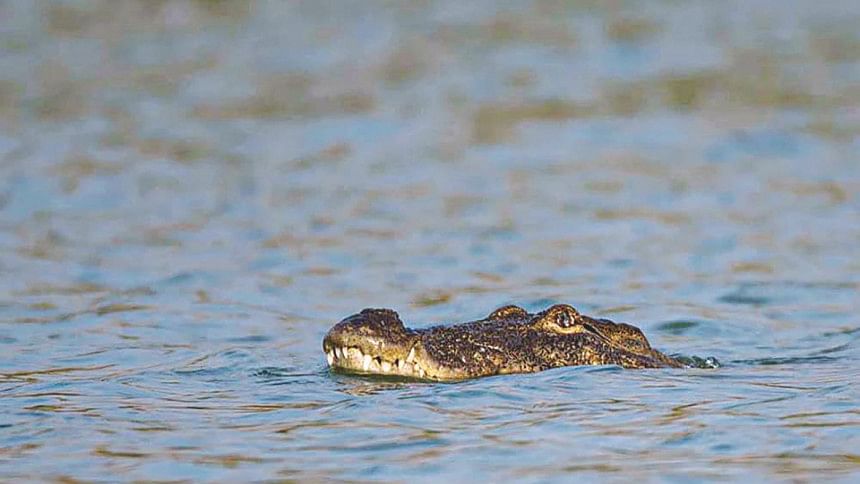 For over a century now, freshwater crocodiles were believed to be extinct from the country. However, in the past 50 years two such crocodiles were spotted, the most recent one being at Char Komorpur in Pabna.
The crocodile has taken shelter in a disconnected lagoon of the Padma river for over a week at the char, near Komorpur village.
Locals in the area said since the water level has receded, the lagoon was disconnected from the main channel of the river.
This was the second freshwater crocodile seen in a river in the last 50 years as it was believed to be extinct from the country's rivers for a century, the forest department said.
Locals said the huge crocodile was seen in the water near the river bank a week ago. While some villagers made attempts to kill the animal out of fear, others protested.
Jamal Hossain, a resident of Komorpur village, said, "I saw the animal a week ago when I went to fish in the river. I panicked and ran away to inform the villagers. They tried to kill it but I stopped them."
The fear of the crocodile has stopped locals from going to the river. They have demanded that the animal be rescued from the spot and relocated but forest department officials have refused to do so for the sake of the reptile's safety.
About six to seven feet long, a part of the crocodile's face can sometimes be seen above the water. It eats fish in the river or foxes that roam near the banks, locals said. 
Speaking to The Daily Star, Md Mahabubur Rahman, divisional forest officer in Pabna, said that forest department and wild life department officials visited the spot and together took the decision to let the crocodile stay where it was.
"This is a big crocodile and the lagoon near the river is safe for the animal. The crocodile takes shelter in the deepest portion of the water body about one kilometer away from the locality. There is also enough food for it in the spot," Mahabub said.
Asked about why the crocodile may have come to this spot, the forest officer said it was possibly for the sake of food and safe shelter.
"We do not have any freshwater crocodile in our river system. Another freshwater crocodile was seen a few years ago in the Madhumati river. This one has probably come to Bangladesh from India through Padma river," said Zahidul Karim, a wildlife conservationist.
Zahidul added he would hold talks with the local authorities concerned so that the animal is not harmed until the lagoon is connected to the river's main channel again and it can leave on its own.