US to honour Sara Hossain, 13 others tomorrow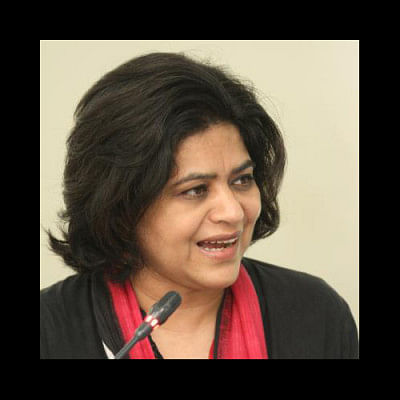 The United States is going to honour 14 women across the world, including barrister Sara Hossain, for their exceptional courage and leadership in advocating for peace, justice, human rights, gender equality and women's empowerment.
US Secretary of State John Kerry will present the 2016 Secretary of State's International Women of Courage Award to the extraordinary women tomorrow at the US Department of State, according to a media note from Washington DC.
The Secretary of State's International Women of Courage Award recognises women around the globe since 2007, the release added.
The US Department of State has honoured nearly 100 women from 60 different countries so far, it also said.
---
2016 awardees
Sara Hossain, Barrister, Supreme Court, Bangladesh
Debra Baptist-Estrada, Port Commander, Belize Immigration and Nationality, Belize
Ni Yulan, Human Rights Activist, China
Latifa Ibn Ziaten, Interfaith Activist, France
Thelma Aldana, Attorney General, Guatemala
Nagham Nawzat, Yezidi Activist and Gynecologist, Iraq
Nisha Ayub, Transgender Rights Advocate, Malaysia
Fatimata M'baye, Co-founder and President of the Mauritanian Association for Human Rights, Mauritania
Zhanna Nemtsova, Journalist and Activist, Russia
Zuzana Števulová, Director of the Human Rights League, Slovakia
Awadeya Mahmoud, Founder and Chair of the Women's Food and Tea Sellers' Cooperative and the Women's Multi-Purpose Cooperative for Khartoum State, Sudan
Vicky Ntetema, Executive Director of Under the Same Sun, Tanzania
Rodjaraeg Wattanapanit, Bookstore Owner and Co-founder of Creating Awareness for Enhanced Democracy, Thailand
Nihal Naj Ali Al-Awlaqi, Minister of Legal Affairs, Yemen
---
On April 1, the honorees will travel to cities across the United States to engage with the American people through an International Visitor Leadership Program.
They will visit Missouri, Kentucky, Alabama, California, North Carolina, Michigan, Minnesota, and Pennsylvania on their individual programs. The women will reconvene in Los Angles to reflect on their visit and discuss ways to work together to improve the lives of women and girls around the world.