Paris attackers are 'psychopathic monsters'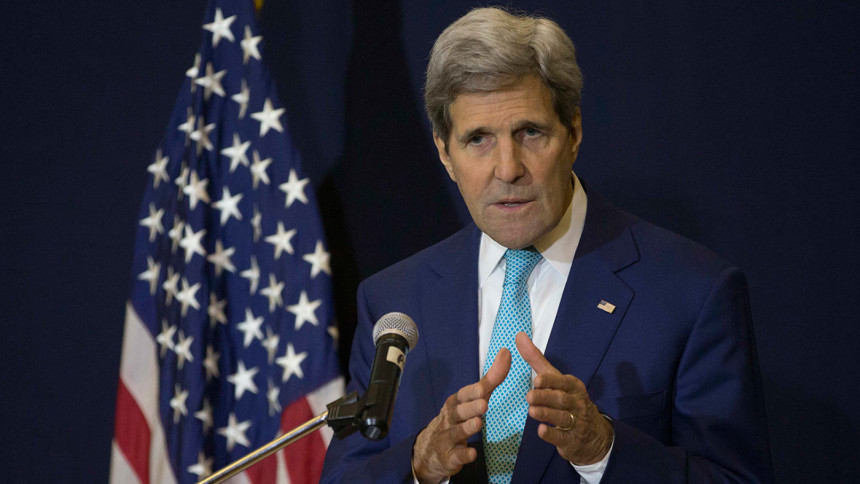 US Secretary of State John Kerry has described Islamic State (IS) militants as "psychopathic monsters" following Friday's deadly attacks in Paris.
Kerry, in Paris for talks with President Hollande, said the US stood "shoulder to shoulder" with France.
Hollande says France is committed to destroying IS and has vowed to step up air strikes in Syria and Iraq.
IS has said it carried out the attacks on bars, restaurants, a concert hall and a stadium in which 129 people died.
A huge manhunt is still under way for a suspected member of the group, Salah Abdeslam, who was believed to have fled across the border to his native Belgium.
Belgium's government has raised its terror threat level, causing Tuesday's football match between the national team and Spain to be cancelled.
The BBC's Barbara Plett Usher, who is travelling with Kerry, says his visit to Paris is to demonstrate Washington's support for a key ally.
In the wake of the attacks, the two countries have tightened their military co-operation, boosting the exchange of intelligence to help French air strikes against IS.
Standing outside the US embassy on Monday, Kerry called France America's oldest friend and first ally, and said the only response to the attacks must be a fierce sense of solidarity.
"Your American sisters and brothers will stand with you shoulder to shoulder as we have stood together throughout history. Tonight we are all Parisians," he said.
Kerry added that the fight against IS was not a clash of civilisations.
"They are in fact psychopathic monsters. There's nothing civilised about them," he said.
After he spoke the building was illuminated in the blue, white and red of the French flag.
State of emergency
The attacks in Paris - which also left more than 400 people wounded, some critically - have galvanised Western countries in their campaign against the so-called Islamic State.
UK Chancellor George Osborne is due to say in a speech on Tuesday that IS is trying to develop the ability to launch deadly cyber-attacks on the UK.
During a visit to the GCHQ listening station in Cheltenham, he is to announce that the UK's investment in fighting cybercrime will double.
Prime Minister David Cameron has already announced extra funding for UK special forces, such as the elite SAS, following Friday's attacks.
President Hollande told a rare joint session of the French parliament on Monday that he would table a bill to extend for three months the state of emergency declared after the attacks. He said thousands more police officers would be recruited.
Early on Monday, French police carried out more than 160 raids on suspected Islamist militants. A total of 23 people were arrested, 104 put under house arrest, and dozens of weapons seized, officials said.
Seven people were detained in Belgium over the weekend, two of whom were charged on Monday with "participating in a terrorist attack".
The other five were later released, including Mohammed Abdeslam, the brother of two suspects - Brahim Abdeslam, killed during the attacks, and Salah Abdeslam.
Suspected Paris attackers
--Salah Abdeslam, 26 - urgently sought by police
--Brahim Abdeslam, 31 - named as attacker who died near Bataclan concert hall
--Omar Ismail Mostefai, 29, from near Paris - died in attack on Bataclan
--Bilal Hadfi, 20 - named as attacker who died at Stade de France
--Ahmad al-Mohammad, 25, from Idlib, Syria - died at Stade de France (unverified)
--Samy Amimour, 28, from near Paris - suicide bomber at Bataclan
--Two other attackers died during the assaults in the city
A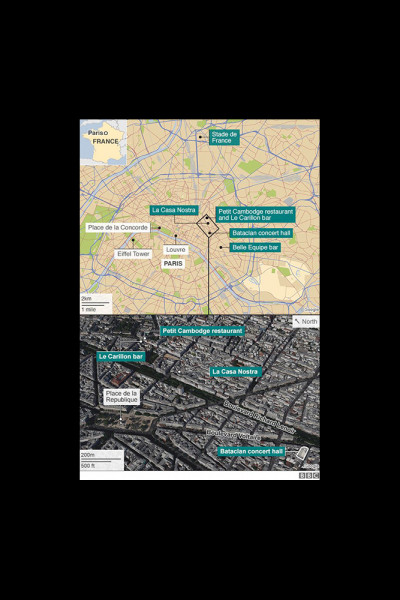 Authorities say that one of the attackers was the same man who used a Syrian passport in the name of Ahmad al-Mohammad and whose fingerprints match those taken by the Greek authorities after he arrived with migrants on the island of Leros in October.

As well as the attackers themselves, investigators are also reported to be focusing on a Belgian of Moroccan descent who is described as the possible mastermind of the attacks.

Abdelhamid Abaoud, 27, lived in the Molenbeek neighbourhood of Brussels, as did two of the attackers, and is now believed to be based in Syria, where he has risen through the ranks of IS.
Main attack sites:
Bataclan concert venue, 50 Boulevard Voltaire, 11th district - 89 dead when stormed by gunmen, three of whom were killed; another gunman died nearby
La Belle Equipe, 92 rue de Charonne, 11th district - 19 dead in gun attacks
Le Carillon bar and Le Petit Cambodge restaurant at rue Alibert, 10th district - 15 dead in gun attacks
La Casa Nostra restaurant, 92 rue de la Fontaine au Roi, 11th district - five dead in gun attacks
Stade de France, St Denis, just north of Paris - three attackers and a bystander killed