Rose Garden and a story of rise and fall of affluence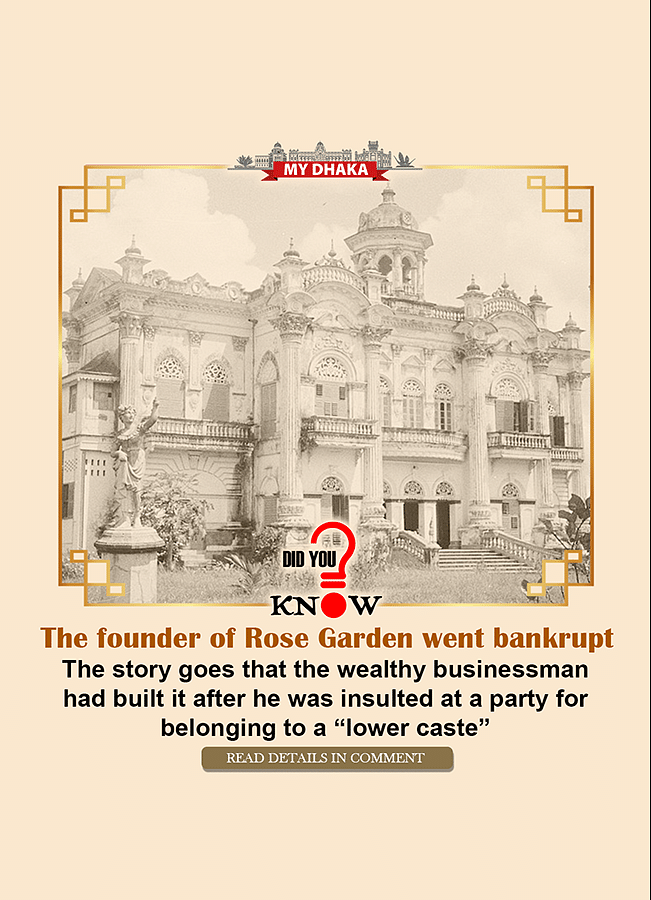 The majestic Rose Garden in the Tikatuli area never fails to capture awe. Such a grand, lavish building! However, what many don't know is that Dhaka's Rose Garden was a product of an insult, that the birth of this magnificent edifice and its beautiful surroundings has a story of the rise and fall of affluence.   
You see, many years ago, there was a rich businessman by the name of Hrishikesh Das, who went to a "jalsha" or party. Such parties were rather elite; perhaps you can imagine of page-3 parties of the olden times! 
Now, at that jalsha, the wealthy Hrishikesh Das was insulted "for belonging to a lower caste." And he took it heart, deciding to build his own lavish centre where he would host parties. 
Hence, Rose Garden was born. 
It was also rumoured that Rose Garden was made to compete with the famous Baldah Garden, which was one of the venues for elite parties, and that the insult probably came from someone associated with the affluent Baldah family. 
How much truth there is to the whole backstory of Rose Garden may be questionable, but this is indeed the tale that is popular and has lived on through the ages. 
Seeing the premises of Rose Garden, it is obvious that its founder did not spare any expense. And to keep up or perhaps even to surpass the other elites, he threw lavish parties. Such a lifestyle leaked away his fortune, though, whilst making him lose focus of his business. 
And it did not end well for Hrishikesh Das: he went bankrupt!
---
Source: "Dhaka: Smriti Bismritir Nagari (Volume-1)" by Muntassir Mamoon; "Rose Garden: A history of passion and pride" by Dhrubo Alam, Khandokar Mahfuz Alam, and Farah Mahboob, published in The Daily Star