Eat like a king for less than Tk 100 at Hakim Chattor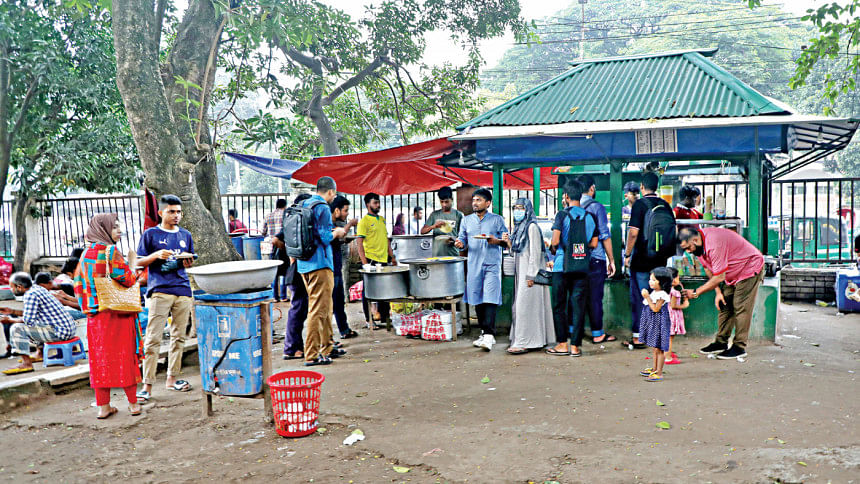 A quarter of a boiled egg stuffed inside a tiny handful of spicy potato mash – this deep-fried breaded croquette is just Tk 10. You could easily gobble up at least six of these egg chops, as the soft yolk gets addictive with that hint of burnt dry chilli.
A similar mix of chicken with half a plate of khichuri is Tk 35 and a glass of chilled lassi, kaacha aam, or papaya juice, to gulp it all down with, is just Tk 25.
The menu also boasts a clever fusion of chicken sandwich, fried in a savoury French toast style, and a small bowl of haleem for Tk 40. These items make for lunch or snacks -- all under Tk 100 -- for Dhaka University students at the famous Hakim Chattor.
A small makeshift cart-styled canteen under the canopy of large trees, Hakim Chattor is situated at a prime location, just beside the DU library premises. There is no seating arrangement except for a wooden log placed on some brick steps, and yet, morning, noon or night, the place is buzzing with animated chatter and banter from students gathered there during breaks.
"Every day, we cook about 20 kgs of khichuri. We use the best quality rice grains, mixed lentils and spices; this is one of our popular items. We also serve 10 kgs of steamed rice and approximately 8 kgs of haleem [a thick mixed pulses broth with beef]. We do this every day and all year round," said Shaheen, a cheerful youth, who has worked as a server at the canteen for the last 9 years. A group of 12 to 14 youths work as either cooks, servers, or manager, from 8:00AM to 10:00PM.
"We make a decent sale on a daily basis, leaving aside the dues many students have with us. It is so crowded that at times we also forget the faces of who ate what. It's a student area after all, and we have to keep that in mind. We will suffer losses, but then there are profits too," said Delwar Hossain, the current owner of the stall.
As the story goes, two friends, Hakim and Nannu Miah, started selling tea at this corner some 40 odd years ago. They were so amiable with the students and DU staffers that after Hakim, who was fondly called chacha or uncle, passed away, they named the place Hakim Chattor to honour his memories.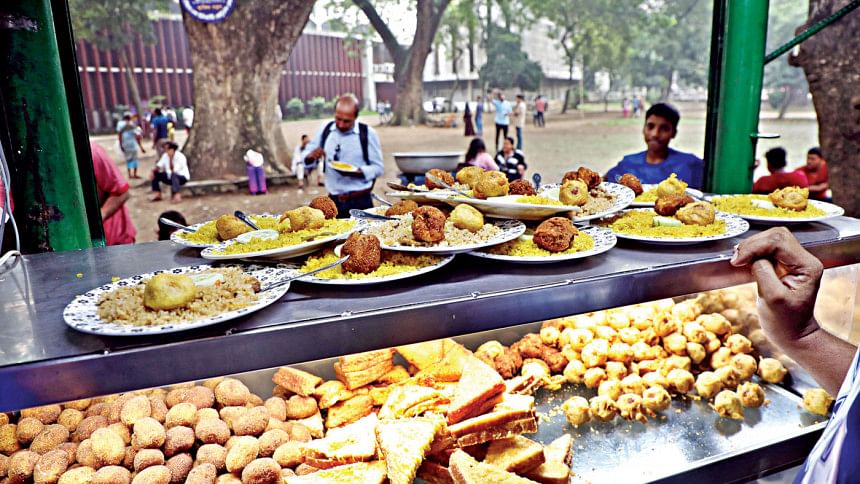 Now, Delwar Hossain, son of Nannu Miah, took over the reign in 2001. He took a 99-year lease from the university authorities and stated selling food since 2003.
"Students didn't have any place to have quality food around the campus. They had to go to Shahbagh or Old Dhaka for lunch. On that note, the authority gave us a lease with the condition that we will sell good food and maintain quality standards. We don't sell leftovers. In fact, whatever we make is sold out that very day. We insist on changing the frying oil every day. We too eat this food along with the students, so quality control is very important to us," said Delwar.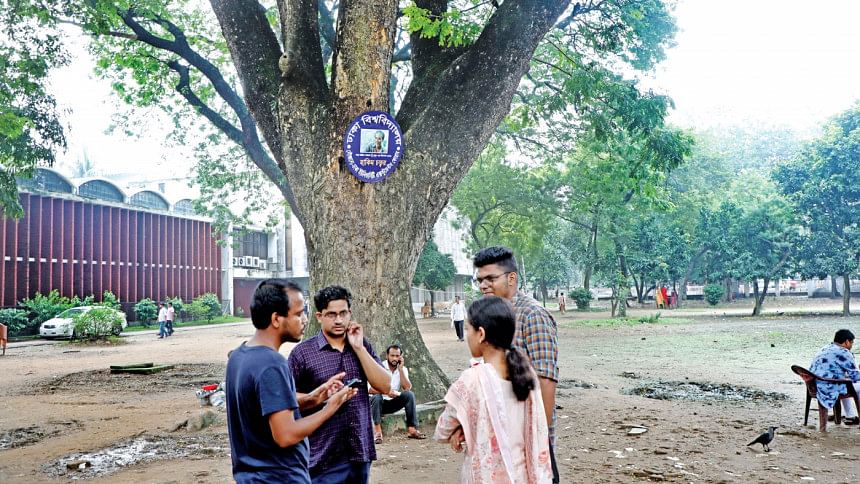 After paying the lease rent of Tk 18,000, and the staffers' salaries, Delwar has a profit of around Tk 25,000 to Tk 30,000.
"The profit varies according to the season. During winter, students want warm food, so sales spike. During monsoon and summer however, business suffers a bit."
Students are always strapped for money. For them, a lunch at Hakim Chattor under Tk 100, where quality is maintained, is the best possible option. And this place is not just crowded by students or teachers, but ex-students as well, who often visit the place for a cup of tea or lassi for nostalgia's sake.
Hakim Chattor is one of Dhaka's best hunts for inexpensive quality food; and everyone is welcome to it. So, the next time you are in the vicinity, definitely give the haleem, khichuri, or the dim chop a shot.