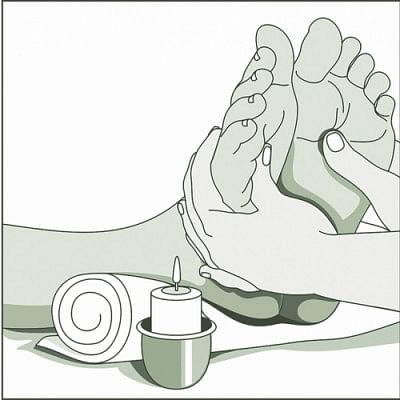 We had gone on a package tour to South East Asia and on the last day of our trip we spent the whole day in Bangkok, the capital of Thailand. The tour guide took us to a central shopping district and said that we were free to do whatever we wanted and also fixed a certain point where we would have to come and meet exactly after four hours. Everyone in our group was very excited and rushed to the big shopping plaza on the other side of the street. I had nothing to buy as I started believing in the idea that actually we have too many things in the house and instead of adding more we should start to reduce things. So there was nothing else to do but walk along the streets and do window shopping.
First my husband and I got inside a KFC outlet and however slowly we took each bite, we could not spend more than forty minutes at the crowded joint. Out on the street again we didn't know what to do. There was no place to sit, no park benches to ease our boredom. The pavements were very crowded with different kinds of hawkers selling their wares and there was hardly any space left for pedestrians to walk freely. Except for tubs full of small coloured fishes being used to dip your legs in and clean the feet, there was nothing very exciting. The usual stuff everywhere. It was like walking aimlessly outside New Market or Gariahat. Suddenly, through the glass window, I saw a shop where rows of armchairs were set and people were massaging their feet. We had heard of the famous Thai massages (sometimes quite sensational) and seeing the rate charts outside, it seemed quite affordable. Well at least if not anything else, we could get to sit peacefully for an hour and not go on gallivanting on the streets.
I did not have any Thai Bhat left with me so I walked in and asked whether they would accept dollars. As they agreed we went in and relaxed in one of the chairs. Several pretty young Thai girls were massaging the feet of the clients and the massaging from the knees downwards was quite relaxing, though nothing exceptional from the way it was done in the beauty parlours back home. But probably because they were so much used to the requests of the different tourists, one of the masseurs voluntarily asked for my mobile to take a picture of us as a memento to carry back home. I obliged.
After I came back and rejoined my department one of my male colleagues casually asked me how I had spent the puja vacation. I started telling him about the whole trip and suddenly remembered about the experience of the Thai massage. I told him what happened and fished out my mobile from my bag to show him the picture that girl had taken as a memento.
--"Wait, I'll show you the picture of both of us relaxing and enjoying the Thai massage."
--"No, no. It's all right. I don't want to see the picture." He replied.
"Why not? Just see how beautiful the young girls look in the photograph."
When I passed on my mobile to him he turned his face away and almost closed his eyes. He didn't want to see it.
What's wrong? I wondered. Why was he behaving in this manner?
Then suddenly I realized that he was feeling ashamed, bachelor that he was, to see a sensational picture of his senior woman colleague getting her bare thigh massaged. He had actually mixed up Thai and thigh!!
Somdatta Mandal is Professor and Head, Department of English and Other Modern European Languages, Visva-Bharati.