Feet care: Winter Edition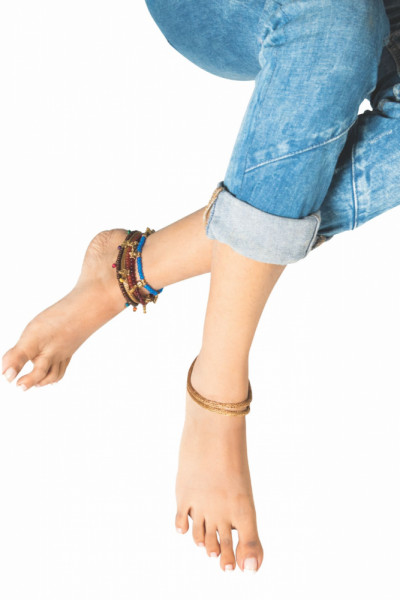 After hoarding on five different types of moisturisers and serums for our beloved facial skin, we often fall short on care for our feet. Sure, our facial skin is the most sensitive and requires utmost care, but ignoring the skin on our feet can stress it out. Given they are what keep us going all day long, quite literally, they do require special care, and sometimes even more than the skin on the rest of our bodies.
START BY SOAKING
Soaking feet in warm water does not only help decompress, but also helps our feet loosen up after being caged in shoes all day long. It softens up the calluses and the top layer, so it is easier for to you to do the next steps with ease. If you want to pamper yourself, add in a few drops of essential oils to the warm water.
EXFOLIATION IS KEY
We exfoliate our facial skin religiously, and not-at-all the skin on our feet. Whereas our feet require a lot more scrubbing then our faces ever could, given they have such thicker skin.
After soaking the feet for a few minutes, start scrubbing the top and bottom, giving extra attention to the heels. You can make your scrub fresh at home by mixing brown sugar, oats and some honey.
Honey softens, while the sugar grains can scrub away dead cells. The oats can put some people off as it is a bit harsh, but then again you will not be using this on your face.
Do a little test on your feet first to check the graininess of the scrub.
USE A PUMICE STONE
A lot of us are familiar with the pumice stone, and are believers in it. Some even go all out with callus shavers to get rid of the extra thick skin. However, it is very bad not just for your feet, but for your overall health.
The feet have to carry the weight of the whole body and constantly rub against shoes or sandals, so they need some of that extra skin to support it. Using a pumice stone to gently remove excess calluses is recommended, but going overboard can do more harm than good.
CLIP THOSE NAILS
We all love flattering long toe nails lavished with nail paint, but when they are being stuffed in closed shoes all day, the nails will not stay pretty. Instead it can actually hurt the toes. So, it is best to keep them clipped while winter lasts, and save the nail paints for summer.
MOISTURISE LIKE NO TOMORROW
The very last step of caring for your feet is moisturising them. Slather it in your favourite lotion or foot cream after every shower or pedicure session. Mixing in a few drops of oil with your regular moisturiser is a brilliant way to step up your pedicure and seal in the moisture.
Before bed, make sure to drown your feet in lotion. Show some extra love to the cuticles and the heels, and seal them with Vaseline, followed by putting a pair of socks on before bed. Your feet will thank you for it. The next day you will wake up with nothing short of baby soft feet.
A TIME FOR SPECIAL CARE
Usually before spring and summer hits we tend to go all out on taking care of our feet so we can sport the prettiest sandals. But taking care of them all throughout, especially in winter, is very important in maintaining their look all year round. They might be nicely tucked away in socks and boots, but that does not mean they need any less care.
Do not treat your feet any different from your face. Treat it with the same oils, creams and treatments, and you shall have the feet of your dreams.
Get double use out of your regular hand cream by applying it on your feet as well. You will see great results, and your feet will feel softer and moisturised for longer. Keeping the feet enclosed in layers of socks and boots all day long can wreak havoc on its health. To avoid fungi build up, treat your feet with a mixture of coconut oil and tee tree oil, and massage it in. Kick it up a notch by applying feet masks and feet peels on special days.
Photo: LS Archive/Sazzad Ibne Sayed