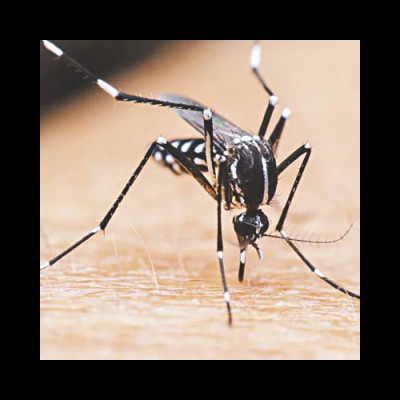 A common misconception is that with the rainy season, the prevalence of mosquito-borne diseases such as Dengue and Chikungunya falls. The logic behind that statement is that rain disrupts stagnant water bodies causing damage to mosquito breeding grounds. Unfortunately, these little enemies of humans can breed anywhere with still water such as the indoor plants that are grown in water or when rain water accumulates in your plant pots on the roof.
Dengue and Chikungunya spread the most during the rainy season between the months of June and October. But since rain has arrived a little earlier this year, precautions must be taken accordingly.
Before we talk about methods of prevention for these dangerous viral diseases, let's talk about how the viruses are transmitted. These viruses can infect female mosquitoes, more specifically of the Aedes aegypti and Aedes albopictus species, when they feed on an infected person. But the viruses cause no harm to the mosquitoes while replicating inside them. When a female mosquito bites another human, it injects its saliva containing anti-blood clotting agents, it unknowingly also injects the virus particles into the human's blood system. The mosquito can then go on to infect other human beings for the rest of their lives. These mosquitoes are known to feed on human blood during the day time.
So how do you prevent the spread of infection? Well, mosquitoes are getting stronger and more dangerous with time. The more precautions that are taken against them, the more they evolve to tackle against those precautions. Hence, you need to be more alert than usual this season. Since it rains often these days, make sure you throw away water accumulating anywhere in or around your house. If you have house plants that grow on water, change the water frequently or at least once a week. Install nets on your windows to keep mosquitoes from entering your home. Use mosquito repellent on the regions of your body that are exposed and do not forget to reapply every couple of hours according to the given instructions.
If someone around you gets down with a fever accompanied with a runny nose and joint pain, immediately isolate the patient so that mosquitoes cannot further introduce infection to other people living with the patient. The individual suspected of the infection must get tested promptly to confirm the diagnosis and to get treatment. It is always better to be safe than to be sorry.
Mosquito bites are painful and annoying themselves. But when diseases are associated with their bites, they are the real nightmare, as if it wasn't enough for them to be blood sucking tiny vampires! So this summer kill as many as those parasites you see in sight, and let them starve by keeping them out of your homes. About time we form a rebellion to wipe mosquitoes off the face of the earth.
Tips to stay safe from an outbreak
Plant pots and water bowls for pets should be frequently cleaned and emptied.
Wear socks, long pants, long-sleeved shirts and closed-toe shoes especially in areas where there are a lot of mosquitoes.
Use proper insect repellant such as lemon eucalyptus oil patches, spray or ointment.
Use air conditioning as much as possible, keeping windows and screens locked.
Use mosquito net, coil, or electric repellants for a good night's sleep. 
Photo: Collected