Eating well within limitations
When the tasked with writing this, I mentally balked. After all, I have not done a long piece in a while. But then I thought, maybe this is a journey worth telling.
This is a journey like no other that I have ever taken, or ever want to take. Nor would I want my worst enemy to go through it.
But you know what? This journey does have sunshine eventually. This one, thankfully, I did not have to take alone. I had great friends supporting me, rooting for me. And I had my wife, Manishita by my side, always. Truly, in sickness and health. This is a journey as much mine as hers.
It all started one fine October evening. When the whole of Calcutta was throbbing to the inescapable tune of Durga Puja, I had a heart failure. Back then, I did not know it was a heart failure. To all of us, it was breathing difficulty.
Right after the Puja festivities were over, we went for a check-up, and that's when the penny dropped. I was hospitalised, stabilised over three days, and sent home, pending further investigations. Once done, we knew the worst. I needed coronary bypass surgery. And a complicated one too. Also, we found out that I was diabetic.
To make a long story short, we went through a whirlwind of emotions and decisions. One of the decisions was to go to Mumbai and get it done. Thanks to some very close and kind friends, all that was organised.
On 13 November, I had my surgery. Thankfully, my recovery was quick. I was on my feet within six days, and was sent to our adopted home in Mumbai. The home of our friends, who very kindly let us stay. That is when the eating journey began. That is when my wife took complete charge of things. She became a wife, a chef, and a nurse -- all rolled in one.
Initially, we were tentative about the diet. We were heavily erring on the side of caution. As days went by, we became – no, she became – confident and started to try out new things, within the limits set by the wonderful doctors.
I was put on a high protein diet; so chicken, fish and eggs formed an integral part of it. Low salt, low oil and no sugar were the three pillars on which her culinary experiments were built on.
I had gone off social media since I fell ill. As I recovered, I got slowly back to social media and started a series of Instagram posts with the theme, 'eating well within limitations'. Truly, despite some defined boundaries, I did and continue to eat very well, largely thanks to my wife's efforts. She trawled the net to find recipes that would suit me. She improvised. She invented. She adapted. She went all out to ensure I do not get boring, bland food.
I have tried to give a glimpse of what I ate. Some myths got busted on the way. We learned new things. I totally conquered my craving for sweets. I fell in love with fruits all over again. We discovered ancient grains. We read about the benefits of berries. And as we came back to Calcutta from Mumbai, we made a smooth transition from sea fish to fresh water fish.
Today, I am much better; thanks to the efforts of my superwoman wife, the constant care of my wonderful doctors, and the good wishes of our friends who stood by us through and through.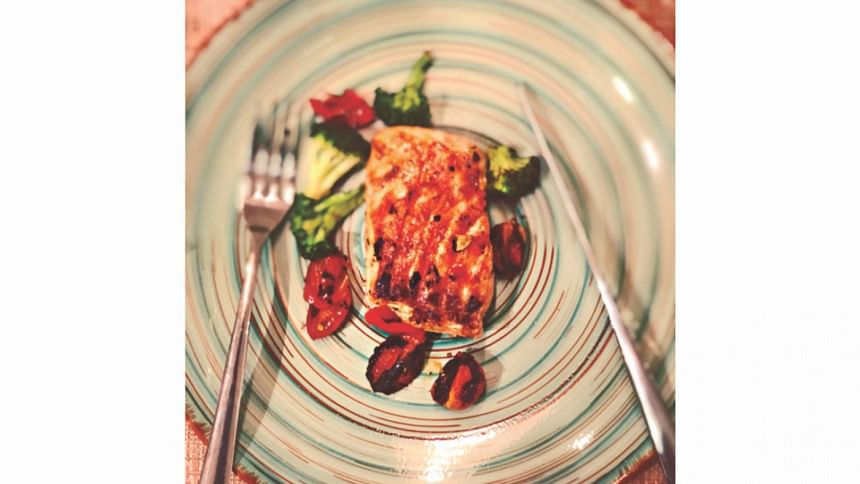 1. One of the first experiments that Manishita undertook was this lovely salmon. She had never cooked salmon before, and it needs a bit of TLC. It was amazing how beautifully she handled the delicate fish, cooking it to juicy perfection. She also understood that you eat with your eyes as much as with your mouth. Her constant effort has been to plate things beautifully. Look at how nicely the veggies frame the fish. Pure delight!
2. This is an outstanding egg white omelette that she rustled up. Filled with veggies. And so perfectly folded. One of the most difficult thing in cooking is to fold an omelette. This was as close to perfection as possible.
3. This is familiar territory, with pasta, tossed with veggies, and topped with a pan-seared drumstick. Rubbed with garlic paste, the chicken was a shining example of simplicity. Well, the entire dish was a shining example of simplicity.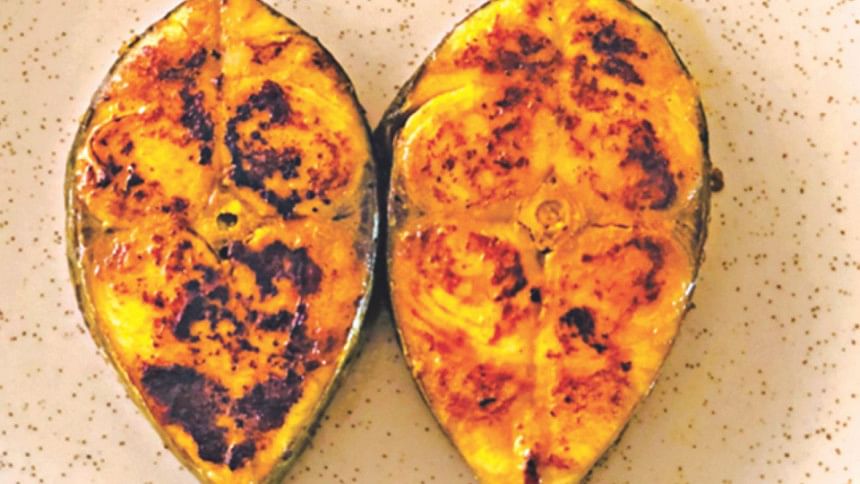 4. From salmon to kingfish, or surmai, as it is known in Mumbai. Delicately handled. Minimum oil, mere sprinkle of salt, some garlic paste, some turmeric. Again, Manishita handled a fish that she was not familiar with. And handled with style, I might add.
5. Not just food that nods to foreign lands. Manishita quickly became an expert in traditional food as well. I was really craving for some Calcutta food while in Mumbai. She cooked this potol-posto. Cubed wax gourd, cooked with poppy seed paste and lots of love. Making sure my craving was met.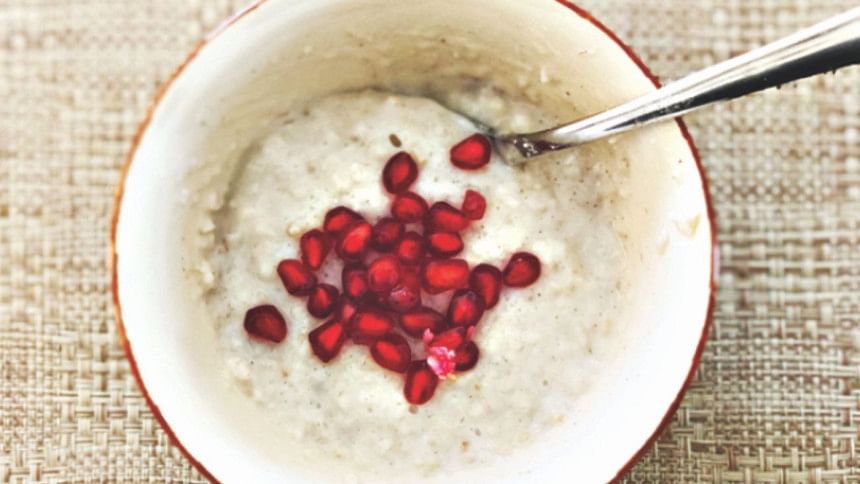 6. I was, and still am, off sweets. And I have no craving for sweets. Still, having bland porridge is an assault on the senses. It needs a little something to liven it up. As all my sweet cravings got transferred to fruits, Manishita used some of my favourite pomegranate pearls to perk up this staid bowl of oatmeal. This was such a pleasant surprise in the morning!
7. No, not strawberry and cream. We were not at Wimbledon.
This is Manishita dolling up humble plain yoghurt with the power of simplicity. It is amazing how that one strawberry changed the bowl of yoghurt, elevating it from mundane to sublime. Again, making sure I do not get bored with my diet.
I have tried to give some examples of how well I ate within limitations. The biggest myth that got busted in the process is recovery food does not have to be bland and boring. And diabetes can be intelligently handled. Manishita continues to supervise what I eat. And I must say, I am lucky that way. I continue to eat well. Even better these days now that the limitations are lot more relaxed.
Photo: Kaniska Chakraborty