Ramadan 'soup-er' bowl!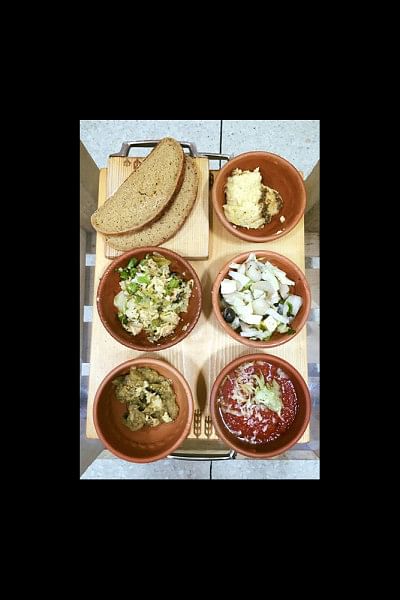 Keeping the month of Ramadan in mind, Star Lifestyle will present for its readers with various mouth-watering easy-to-make recipes that would be an ideal addition to your iftar or sehri dishes. From the secrets of the Mughal kitchen to the charm of Middle Eastern cuisine; from the culinary tricks of your grandma's magical hands, to the fusion cuisine that is all the rage these days, The Food Spread, hopes to be the golden key to Ramadan gastronomy.
Twelve days into Ramadan and what better way to break your fast after a long and tiring day of work and shopping than a warm bowl of soup, both hydrating and filling at the same time. Read on to find recipes of soups and salads to make your iftar healthy and delicious!
Argentine lentil soup

The Argentines take pride in their lentil soup, made from myriad ingredients that lend it a distinctive flavour. In the Patagonia region, with its mountains and the pink flamingoes, this soup goes well in the winters, but here is a Bangladeshi twist to it with local ingredients at The Fearless Olive!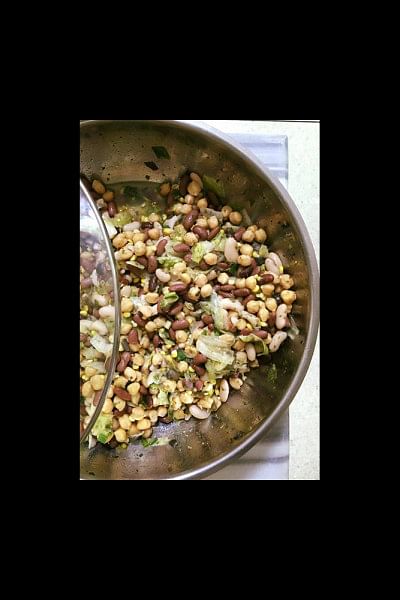 Ingredients

1 cup dry Le Puy lentils or green lentils

4 cups water

3 tomatoes, peeled and diced

2 large onions, diced

2 potatoes, sliced

4 love apples or green crispy jamruls - peeled, cored and diced

½ cup frozen peas (only use if you froze those during the winter yourself) or 1 large fresh corn

2-3 cloves of garlic

1 tsp garlic paste

1 tsp ground mustard seed

1 teaspoon chilli flakes

Salt and pepper to taste

2 tbsp olive oil

Method

Boil the lentils with garlic paste and then simmer on low heat for 20 minutes. Stir the tomatoes, onion, potatoes, jamrul, peas, garlic, olive oil, mustard paste, and paprika into the pot. Continue to simmer for 20 minutes. Season with salt and pepper and chopped coriander on top to serve.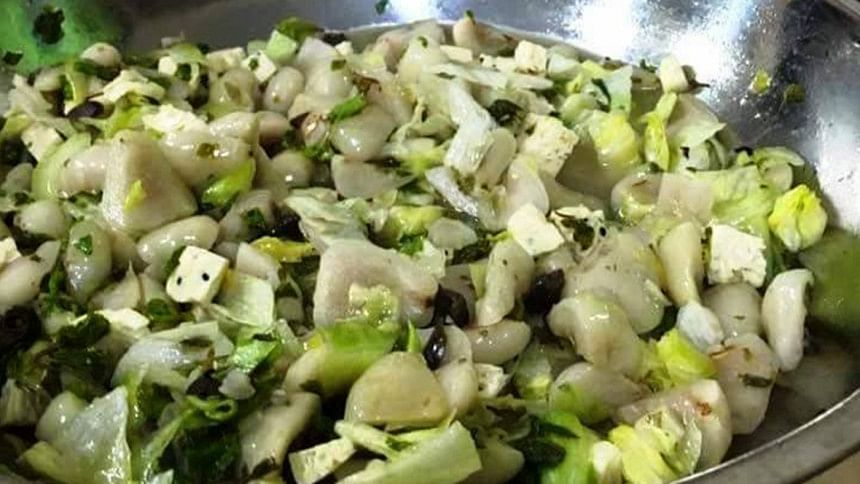 Frijoles or Frisoles Antioqueños

Antioquia is located in the central north-western part of Colombia with a narrow section that borders the Caribbean Sea. This area is mostly mountainous with some valleys, much of which is part of the Andes mountain range. In this dreamy environment, a soup is consumed with much relish called --Frisoles-- perfect for a cool, rainy day.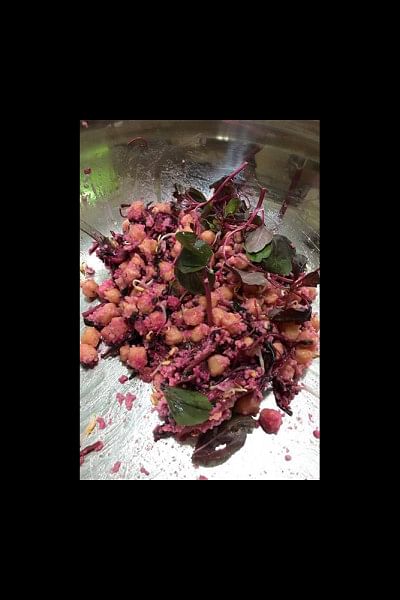 Ingredients

250g red kidney beans, soaked for 4 hours or more

250g of beef shanks or beef with some bone in it

2 green bananas diced

1 large corn

½ cup of aliños sauce (recipe below)

1 tsp ground cumin

9 cups of water (more if necessary)

¼ cup fresh coriander

1 cup of Hogao (recipe below)

Salt and pepper to taste

Alinos sauce -

(Grind all these together into a mix)

4-5 jalapenos, chopped

2 large fresh red chillies, chopped

½ medium large onion, chopped

4 smaller onions (local variety)

½ tsp cumin powder

1 tsp garlic paste

1 cup water

1 tsp coriander

Hogao sauce -

1 medium onion, finely chopped

2 ripe tomatoes, finely chopped

3 cloves of garlic, minced

4 spring onions, finely chopped

2 jalapenos, finely chopped

3 tbsp olive oil

½ tsp cumin powder

1 tsp celery leaves crushed into a paste

Salt and pepper to taste

Method

Frisoles -

Place the beans and the beef in a large pot with the water. Simmer the mixture, after it boils over once, for up to 20-25 minutes. Add the diced banana, corn/peas, aliños sauce and cumin. Cook for about 1 hour.  At this stage add the hogao, chopped coriander and season with salt and pepper. Cook for 15 minutes or until the beef is tender and breaks away at the slightest touch. Remove the beef shanks from the soup and set aside and discard any skin and bones then cut the meat into ½-inch pieces. Take out some large pieces of any vegetable from the soup and blend them and put the paste back into the mix.

Hogao sauce -

Place the chopped onions, tomatoes, spring onions, jalapenos, garlic, olive oil, cumin, and celery paste in a large skillet with the olive oil. Cook mixture over medium heat, stirring often, until the vegetables are soft and fragrant, for about 15 minutes. Hogao can be stored for up to a week in an airtight container in the refrigerator.

Serving

Ladle the soup into bowls as you add the pieces of beef on top and serve immediately with plain boiled rice, chillies, and sliced green mango.
Gado-gado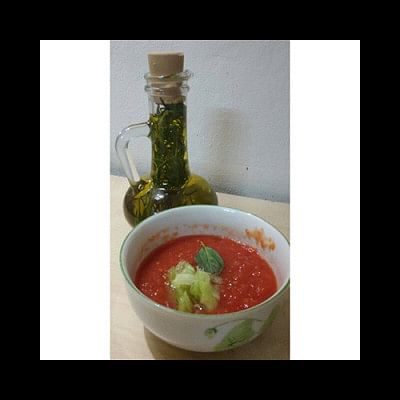 Gado-gado in Indonesian literally means 'mix-mix' as it is made of a rich mixture of vegetables with tofu, tempeh and hard-boiled eggs, all mixed in peanut sauce dressing, sometimes also topped with sprinkles of fried onions.

Ingredients

2 potatoes, cut into quarters and boiled

2 eggs, boiled and cut into quarters

½ cup bean sprouts (blanched)

1 cup long beans or borboti,  cut into 2 inch long pieces (blanched)

Firm Tofu, pan fried or baked, and cut into cubes)

½ cup flattened rice or cheera dry roasted as an alternative to the Indonesian Tempeh

Gado Gado Sauce -

100g peanut, roasted

2 cloves garlic

25g palm sugar

2-5 fresh red chillies

½ tsp shrimp paste (please make your own and avoid store bought ones)

½ tsp tamarind pulp

juice of ½ a lemon

½ tablespoon light soy sauce

1 cup hot water

Salt to taste

Method

Place peanut, garlic, palm sugar, chillies, and shrimp paste in a food processor. Grind until everything is well mixed. Add tamarind juice, lemon juice, soy sauce and half a cup of water. Stir well and add more water to get to the consistency of a peanut sauce that you like.

Optional salad ingredients-

French beans, cut into 2 inch long pieces (blanched)

Spinach, roughly chopped (blanched)

Cabbage, thinly sliced (blanched)

Cucumber, cut into cubes

Tapioca Crackers (Emping) which can be substituted for poppadoms or papad.

Method

Salad -

Fry the tofu in a tiny bit of oil for about 10 minutes. Blanch all other vegetables in boiling water and leave them crunchy.

Serving:

You can either mix this salad with the sauce and serve, or simply place the blanched veggies on a plate and a dollop of the sauce on the side. This can be served warm or cold.