Love me - Love my scarf
If there is one thing to look forward to in Dhaka's winter, it is that you can finally dust out your best scarves without worrying about getting sweat stains on them. Style wise, you can never go wrong with scarves, unless you end up looking like a Russian Grandma fighting the elements! From the airiest silk scarves to the heavier cashmeres that can double up as warmers, you have a whole array of wrappings and knots right at your fingertips.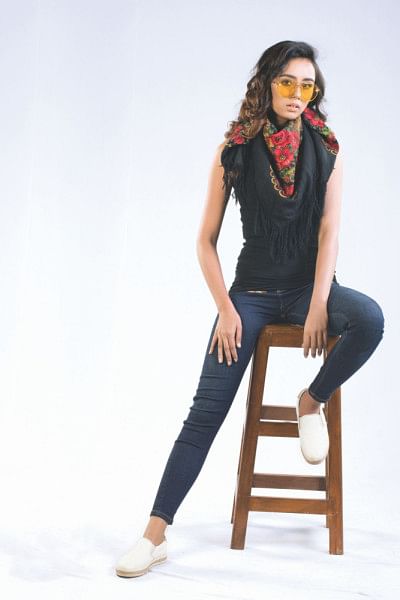 ESSENTIALLY JACQUELINE KENNEDY
The soberly stylish first lady was a style icon in her time and is still one to look up to if you want to rock the scarf. From sleek head wrap styles for a simple solution to keeping your hair tidy in the wind, look no further than Jackie Kennedy's styling with scarves. Lighter scarves like silk or georgette ones are perfect for this; just don't forget to adjust the knots occasionally.
GOING THE GYPSY WAY
If you have longer scarves or not too heavy dupattas, try a gypsy style. You can cover your scalp or part of it, then secure it with a knot, and let the rest of the scarf hang from a side on the shoulder. Bonus styling points if you add a brooch on the knot!
THE FRENCH MINIMALIST
For shorter, less voluminous scarves, you can opt for a simple wrap around your throat and neck. Contrasting colours with your outfit can not only make the style pop, but also protects the delicate skin of your neck from the dust and chill. To make the best of this style, don't make too many knots and try to keep the scarf from being too tight.
GO FREE FORM
Are you not motivated by styling tips? Well good news, you don't have to be, at least not with scarves. Just take your favourite patterned or solid colour scarf and let it hang in a carefree casual style from your neck. Take easy fashion to the next step with a loose single wrap around your head and pair up with a sunglass. Remember to not get your hair tangled in the knots though. After all, the best part of a scarf is that you can start off in style and go through your day with at least five more without breaking a sweat!
Photo: Sazzad Ibne Sayed
Model: Antora
Make-up: Farzana Shakil's Makeover Salon
Styling: Sonia Yeasmin Isha