Fashion in the outskirts
Time to save the date, create Facebook chat groups, and start making plans for picnics and grilling sessions, perhaps somewhere in the outskirts of the city. But we say, just go off the radar and play the rural card.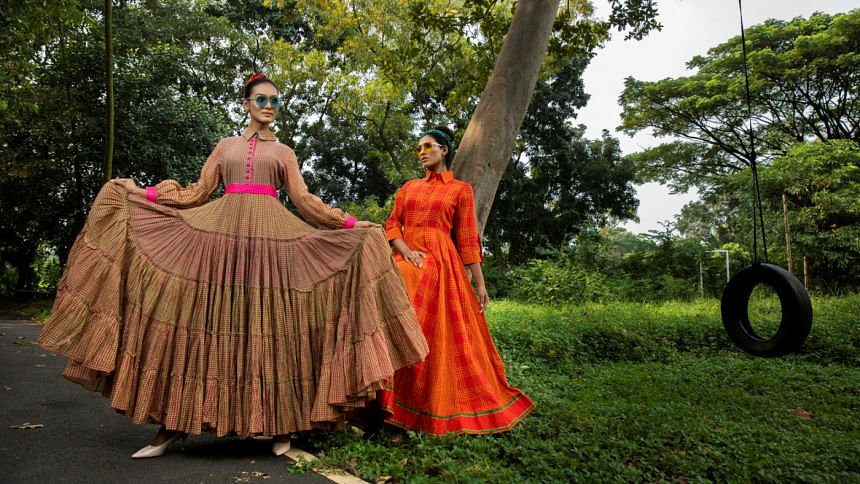 The next thing to figure out is which outfit works best for these kinds of outings, especially considering there's going to be a lot of nature, greenery, earth, and open skies to deal with.
Think of our own rural colour spectrum, and the one thing that predominates that picture is the various tones of greens and browns.
Experiment earthy tones with fluorescent accents, or opt for something in a warm orange or deep maroon, with hints of green, blue, or even nude in it. Do not shy away from prints or patterns either, but be sure to not overdo it and keep one garment of the entire look in a contrasting, or complementing solid colour.     
Considering the weather, the trick lies in layering, so let that be jackets, shrugs, sweatshirts, shawls, scarves-carrying something slightly warm will be a godsend, especially on the ride back home after dark.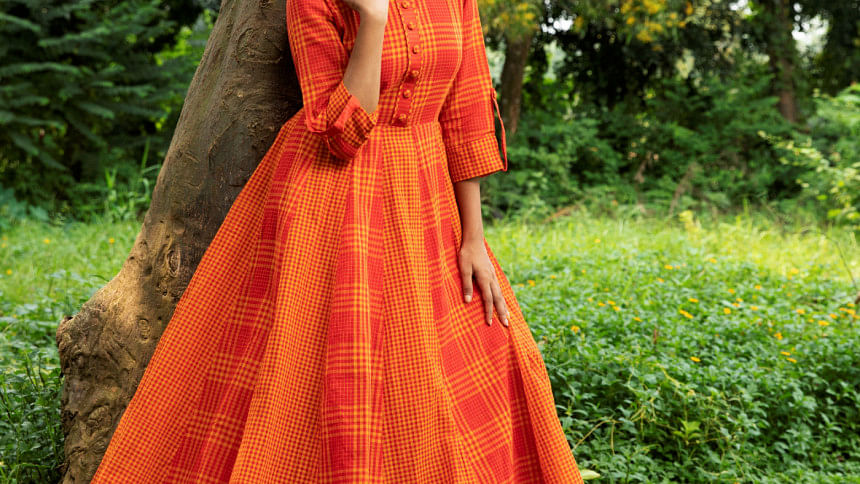 DRESSES
Summer's gone, so say bye to short sleeves and sleeveless cuts. Fashion does not have to be uncomfortable, and after all, this is a picnic. Don't you want to have some fun?
Flared dresses in all lengths are welcomed. In fact, the more flares, the more drama, and the better Instagram boomerang shot of you twirling under the almost wintery sunny skies!
Breakaway from mainstream fashion trends and instead, go for a closed neckline — mandarin, winged, notched or even just the classic collar. Play with patterned fabrics and simple solid borders, a closed buttoned-down neckline too, for semi-casual vibes. Last, but not least, a great pair of quirky or funky shades to tie up the whole attire.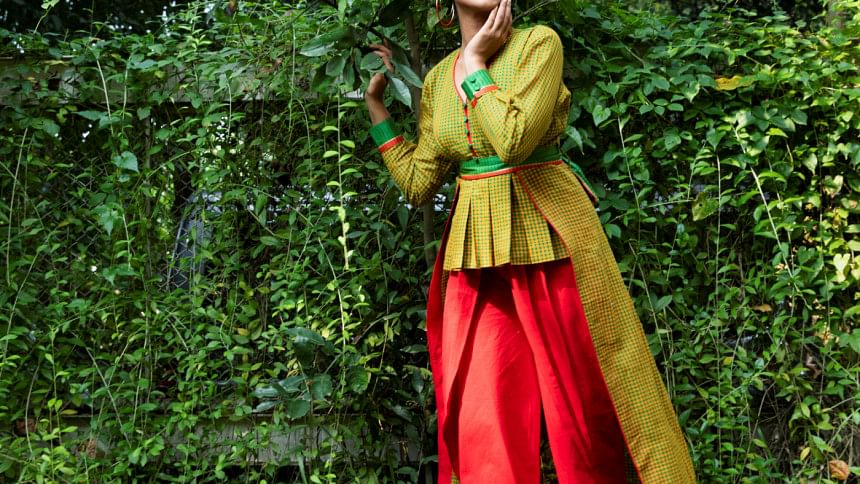 TOPS/KURTIS
As much as we love the good old T-shirt and pants combo, try and think outside the box. Mix and match different trends, like a patterned kurti with a halter neck-line, and a shrug in the same fabric. Separate the two pieces with contrasting borders. Try out a more formal top with an empire cut, flared front bottom and a dramatic long trail in the back, which almost gives a shrug like feel. Instead of pairing it with the traditional straight cut pants, opt for a tulip, Patiala or even Afghani styled shalwar to channel your inner hippie.
COATEES
There's no reason why girls should have all the fun. For men, go to your closest 'deshi' boutique or custom make an ethnic patterned coatee (like gamchha print) and pair it with your favourite panjabi. Play up the neckline and even add a hoodie if you really want to make an impression.
DENIM
Anything denim will forever be comfortable, and the best option for outdoor events. But give your trusty boyfriend jeans a break and instead, try out jackets, shirts, and skirts in denim. De-stressed, ripped, little embroidery details or embellishments — spruce up your look with a long denim shirt, solid coloured leggings and a nice patterned woollen scarf, or a reverse pairing of patterned leggings with a monotone scarf.
Channel your inner Boho chic goddess by layering a denim jacket over an ankle/knee-length dress, chunky bracelets, or an ethno-traditional inspired statement necklace or earrings.  
Accessories are what can make or break an entire outfit. So, when you opt for patterns, keep your jewellery small, and do the exact opposite when wearing solid colours. Winter picnics are all about enjoying as much of the cooler temperatures, and what mother nature has to offer. So always, always remember — style is personal and comfort is key, no matter what you choose to wear.
Photo: Sazzad Ibne Sayed
Model: Nidhi, Niki, Abdullah Al Mahfuz
Styling: Sonia Yeasmin Isha
Wardrobe: Warez
Makeup: Farzana Shakil's Makeover Salon