A man-made wonder, solid surfaces are what's hot for 2019's furniture and interior solutions. Defying limitations in colour, size, and design, these spectacular sheets of chemical upshots have been experimented with long and hard in the western worlds to finally arrive in Dhaka to carve its own niche here.
Sweeping up residential, hospital or commercial spaces with wisps of fine elegance, solid surfaces are tensile, resilient and durable, making them an opaque winner! This is exactly what makes solid surfaces a contemporary playground in the eyes of Kawsar Chowdhury, a luxury interior and furniture designer of Green Furniture.
"I love experimenting and innovating with every design I make. Solid surfaces allow a great scope for that. Their properties are incredible. We want our customers to have the very best in furniture solutions and, so, its pieces I have played around with made out of this medium that I've displayed here at Green Furniture to show the customers what we have to offer," shared Chowdhury.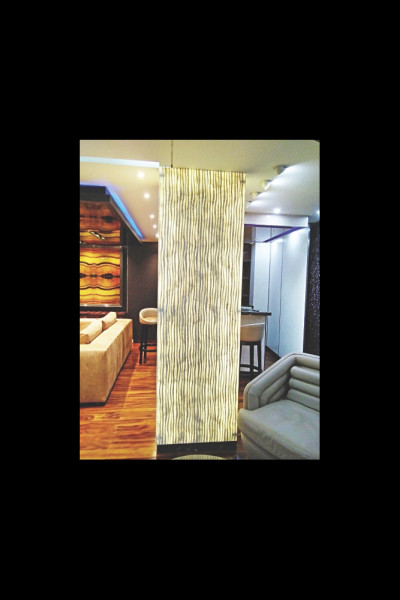 Solid surfaces equal possibilities galore! Hues they are manufactured in can range from starry blacks, opals, silts, fiery reds, and even olives to make your spaces scream of all shades of sophistication.
Guaranteed to last a lifetime, furniture made from solid surfaces can bear heavy weights owing to their aluminium formula. Scratching their surface with a rough toss of keys, chipping the edge after a hard throw of glass, burning the radius around the point a lighter accidentally falls on the surface — these are worries stressing you out no more if your interior solutions have been kissed with the grace of solid surfaces.
And, if so, a myriad of furniture options lie at your feet.
From wall panels made out of solid surfaces, to centre pieces of pillars, from bathroom sinks changing colour to bedroom cupboards lit along the edges — solid surfaces are winning across all mediums of furniture. And, here to make choices easy for you, is Kawsar Chowdhury's creative arsenal of designs housed at Green Furniture.
"We do have something for all kinds of demands and budgets here. It's all about what the customer wants and how my vision matches what they are looking for," he states.
Going back to clarify on changing colours, this is where you should know that solid surfaces can be thickened as per your liking and engraved with designs intricate or minimalistic. This allows the designer to instil back lighting in relatively thinner sheets of solid surfaces for a translucent wow factor to your décor. Moreover, if you want your kitchens to be undoubtedly hygienic, easy to clean and non-porous by all means, solid surfaces can dominate all across in tables, countertops and walls.
Sheets of solid surfaces don't allow bacterial growth inside pours, as there are none, and this makes them a fantastic choice for healthcare facilities too.
Solid surfaces are, without question, ranked above typical granite or marble. True champions, they are a real marvel. And Green Furniture is where you can get the best ones!
Photo: Green Furniture
Follow them on social media: https://www.facebook.com/greenfurnitures
Contact #01678004256