The myriad benefits of fish oil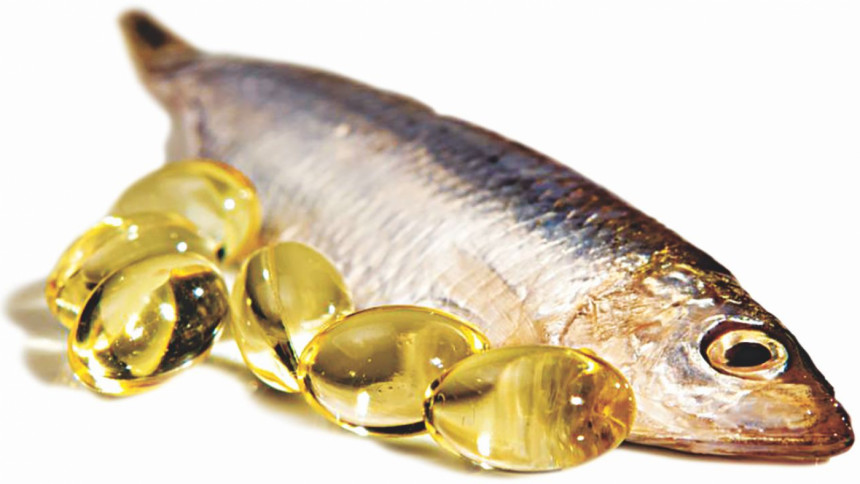 The need for consuming fish on a daily basis can never be over-emphasised, and it is thus no surprise that fish oil, as a part of diet or supplement, is one of the primary nutrients recommended by dieticians.
Derived from the tissues of oily fish, the best sources are cold-water, fatty fish particularly rich in two specific groups of omega-3 fatty acids — docosahexaenoic acid (DHA) and eicosapentaenoic acid (EPA). These are also known as marine omega-3s
EPA and DHA actually originate in algae, which is the base of the food chain for fish. We cannot make omega-3 and omega-6 fatty acids in our bodies, so we need to get them from our diets.
Cells require these good fats for repair and regeneration. With the right amount of omega-3s, muscle cells become more sensitive to insulin, while fat cells decrease. This may mean that the body can divert more nutrients to muscle tissue. DHA and EPA can also increase metabolism by increasing levels of enzymes that boost calorie-burning ability, thus helping to reduce weight.
During pregnancy it may reduce the risk of post-partum depression and help boost foetal development. It may protect the heart during times of mental stress through its anti-inflammatory properties, and appears to help stabilise atherosclerotic lesions.
It is globally recommended, that oily fish be consumed at least twice a week to reduce the risk of cardiovascular diseases. Adequate dietary consumption of DHA protects people from age-related vision loss. 
Fish oil may have earned its reputation as 'brain food' because some people eat fish to help with depression, bipolar disorder, psychosis, attention deficit-hyperactivity disorder (ADHD), Alzheimer's disease, developmental coordination disorder, migraine headache, epilepsy, schizophrenia, post-traumatic stress disorder, and mental impairment.
Fish oil is also used to keep maladies in check, like diabetes, prediabetes, asthma, eczema, autism, obesity, weak bones (osteoporosis), rheumatoid arthritis (RA), osteoarthritis, psoriasis, an autoimmune disease called systemic lupus erythematosus (SLE), multiple sclerosis, HIV/AIDS, cystic fibrosis, gum disease, lyme disease, sickle cell disease, and preventing unwanted weight loss caused by some cancer drugs.
It's also important to know that certain studies have shown that dietary fish oils rich in eicosapentaenoic acid actually lower the content of arachidonic acid (omega-6s) and its metabolites in plasma and tissue phospholipids.
It goes without saying that food sources are recommended, rather than supplements, as they also provide protein and minerals. The common fresh water fish with beneficial oil are hilsa, kajoli, koi, pabda, puti, pangash, etc.
Fish liver oil contains high levels of vitamins A and D; often too much of which can become toxic. Imbalance of intake increase risk of prostate cancer in men; omega-3 and omega-6 fatty acids are meant to work in a system of checks and balances. Omega-3 fatty acids suppress inflammation, and omega-6 fatty acids promote inflammation, which actually supports our body's natural system of defence like activating our white blood cells.
If anyone has a bleeding disorder, type 2 diabetes; bruises easily or is on blood-thinning medications, then intake of fish oil needs to be controlled.
On a curious note, post-supplementation 'fish burps' can be avoided by consuming fish oil with food.
---
A fishy matter
Tired of gulping down fish oil supplements? The terrible taste remains even after guzzles of water and zillions of gurgles! We have got the best solution for you. Now you'd be taking the healthy appendage with all the glee in your heart.
LEMON HONEY SALAD DRESSING
Ingredients
6 tbsp extra virgin olive oil
2 tbsp Liquid omega fish oil
1/3 cup apple cider vinegar
1 tbsp Dijon mustard, 1 tbsp raw honey
2 cloves crushed garlic
Method
In a small bowl, whisk the ingredients together. Add in salt and pepper to taste and enjoy all the fresh greens.
OMEGA GREEN SMOOTHIE
Ingredients
1 tsp liquid lemon omega fish oil
2 handful of spinach, 2 cups almond milk
1 cup of frozen, or fresh pineapple
½ an avocado
Method
Blend together and enjoy.
SOY-HONEY GLAZED BAKED SALMON
Ingredients
3 tbsp soy sauce, 2 tbsp honey 
1 tbsp balsamic vinegar
Freshly ground black pepper
4 (6 ounce) salmon filets
Sliced scallions for garnish
Method
Preheat the oven to 350°F. In a bowl, stir together the soy sauce, honey, balsamic, and ¼ teaspoon pepper. Place the salmon on an oiled bailing sheet, then brush about ½ the glaze over the salmon. Bake the salmon 5 minutes, then brush with more glaze. Continue to bake the salmon until it is just cooked through, about 5 minutes more.
Serve sprinkled with sliced scallions.
GRILLED SARDINES WITH MINT AND ALMONDS
Ingredients
¾ cup whole almonds
¼ tsp saffron threads
1 small onion, minced
½ cup raisins, ½ cup cilantro leaves
½ cup packed mint leaves
3 large garlic cloves
Pinch of crushed red pepper
½ cup extra-virgin olive oil
12 fresh sardines — cleaned, heads left on
Lime wedges, for serving
Method
Preheat the oven to 350°. On a rimmed baking sheet, spread the almonds in an even layer and toast for about 10 minutes, until golden.
In a medium bowl, stir the saffron with 2 tablespoons of hot water. Let stand for 2 minutes; stir in the onion, raisins and half of the roasted almonds.
In a food processor, combine cilantro, mint, garlic and crushed pepper and pulse just to combine. With the machine on, drizzle in the olive oil. Add two-thirds of the herb mixture into the onion mixture.
Using a sharp paring knife, make 3 diagonal slashes into the fish on both sides. Rub the remaining herb mixture all over the fish and into the slashes. Grill or broil the fish for about 3 minutes per side, until nicely charred and cooked through.
Spoon some of the sauce onto a serving platter, top with the grilled sardines and serve with lime wedges.
DEVILED SALMON
Ingredients
1 ancho chilli, stemmed and seeded
2 tbsp Sriracha sauce
1 tbsp sambal oelek, or other Asian chile sauce
1 tbsp extra-virgin olive oil
1 tbsp fresh lemon juice
2 garlic cloves, minced
1 hot pickled cherry pepper, stemmed, seeded and minced, plus 1 tablespoon brine from the jar Four 6-ounce skinless salmon fillets, about 1-inch thick.
Method
In a small bowl, cover the ancho chile with hot water and let stand until softened, about 20 minutes. Drain and mince the ancho. In a small bowl, whisk the ancho with all of the remaining ingredients except the salmon.
Add all but ¼ cup of the marinade to a baking dish. Add the salmon fillets and turn to coat. Cover and refrigerate the salmon for at least 1 hour and up to 4 hours.
Light a grill. Grill salmon fillets over moderate heat, turning once, until lightly charred and nearly cooked through, 6 to 8 minutes. Transfer the salmon to plates and serve with the reserved marinade.
The marinade can be refrigerated for up to 3 days.
Recipes: Collected
Photo: Collected