Parvez Hasan in aid of the flood-affected in Bangladesh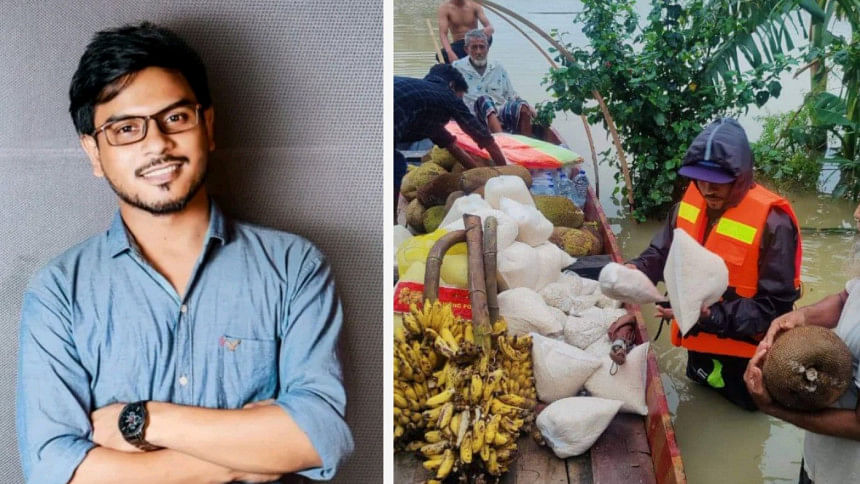 Parvez Hasan, a familiar face on Facebook and YouTube, has already captured the hearts of thousands with his thoughtful social media posts. In his videos, he highlights the lives of the underprivileged people of the peripheries and helps them in various ways.
At present, when people of Sylhet, Sunamganj and Kurigram are affected by the devastating floods. Parvez Hasan has taken numerous steps to stand by the flood victims along with many other compassionate individuals of the country.
Hasan speaks openly about his determination, "I was at the Maldives on an official visit, when Sylhet got submerged under the flood-waters. My team informed me, and I had to return immediately to stand beside my people. My conscious wouldn't allow me to focus on anything else when my country was drowning." said the aid worker.
He added on to describe the situation, "The scenario was heart-breaking, with thousands stranded and zero access to food, shelter or sanitation, many took refuge on boats. Thankfully with the financial support of donors, we managed to stand by the flood victims as much as possible.
According to Hasan, Founder of Sohomormita Foundation, and Volunteer Coordinator at BIN Network Foundation, they were able to distribute, jaggery, flat rice, puffed rice, distilled water and emergency medicine in the first few days. Then the realisation hit them that the victims, already in an uncomfortable situation, perhaps preferred traditional food over uncustomary, dry food. "This is when we started to cook for them," said Hasan.
"In continuation of our program, we hope to create a database of the flood-affected people by visiting various shelter centres throughout the region and ensure future rehabilitation, based on our capacities.
"Personally, I want to thank, all our donors, for staying by our side till now. I can only hope and pray that they will continue to support us, in the future," expressed a hopeful Hasan.