A fraternity extraordinaire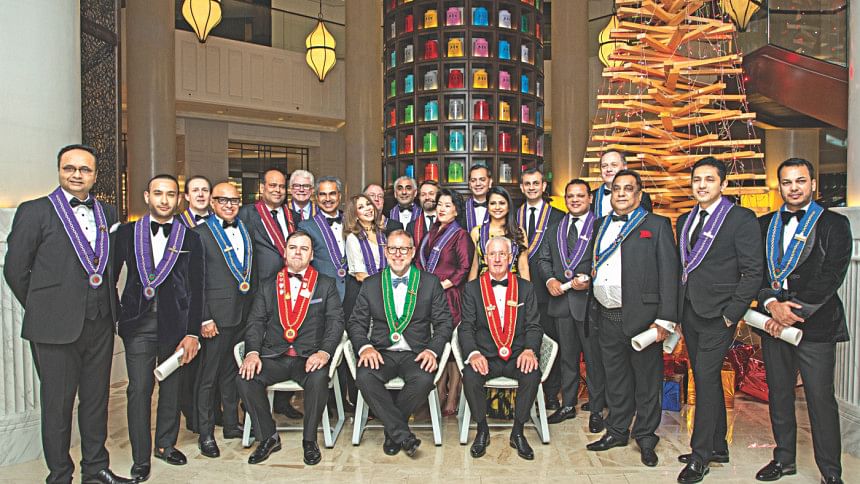 The fraternity is old. Very old indeed -- it was formed in the 13th century in France. Today, La chaine des Rotisseurs spans across around 80 countries, with over 25000 members, united by a common love: gastronomy. And the organisation has recently chartered into Bangladesh as well. In that regard, an induction of new members took place at a gala held on 30 November, 2019 at InterContinental Dhaka.
 "You will make friends for life," Klaus Tritschler, a director from the international headquarters, told the new members, explaining the feeling of belongingness to this worldwide culinary association.
La chaine des Rotisseurs brings together, as its website says, "... enthusiasts who share the same values of quality, fine dining, the encouragement of the culinary arts and the pleasures of the table," thus, making it "a global community whose focus is brotherhood, friendship, camaraderie and sharing a passion for the culinary arts."
The camaraderie — which for new members arguably gets sealed with a ceremonial oath-taking session — thrives on with the common love for food as shared by the brotherhood, a passion which entails "quality, fine dining, encouragement of the culinary arts and the pleasures of the table."
And this brotherhood comprises of not just professionals in the gastronomic world or the hospitality industry; but rather brings together professionals and amateurs on one platform — ound by the love of food.
Nevertheless, the professional members of Bangladesh represent five hotels operating in Dhaka: InterContinental, Renaissance International, Pan Pacific Sonargaon, Holiday Inn, and Le Meridien. 
The passion for gastronomy makes La chaine des Rotisseurs protect and promote cuisines around the world.
Jean-Marin Schuh, French Ambassador to Bangladesh, talked about the position of Bangladeshi cuisine on the world stage.
"Despite its richness and diversity, Bangladeshi cuisine struggles to be recognised internationally," he pointed out, explaining that our country's food is not only tasty, but healthy as well. Now, with La chaine des Rotisseurs, he opined that Bangladesh, in the culinary dimension, has entered "a new era".
The ambassador also spoke of French cuisine. "It has always been a huge part of our culture. In 2010, the 'gastronomic meal of the French' was included in the Representative List of the Intangible Cultural Heritage of Humanity."
In Dhaka, culinary programmes will be arranged for the members, which will allow chefs to sublimate a wide array of gastronomic gems of the country.
Marc Reissinger, General Manager, InterContinental Dhaka, is the Bailli Délégué (chairman) of the Bangladesh national office of La chaine des Rotisseurs.