Truefitt & Hill: A regal grooming
Word around town is that one of the world's oldest barber shops has crossed oceans and continents and made its way to the heart of Bangladesh, Dhaka. Recognised by the Guinness Book of World Records as the oldest salon establishment, eye-brows were raised and whispers were heard in every nook and corner of the city, intrigued by this two-century old shop.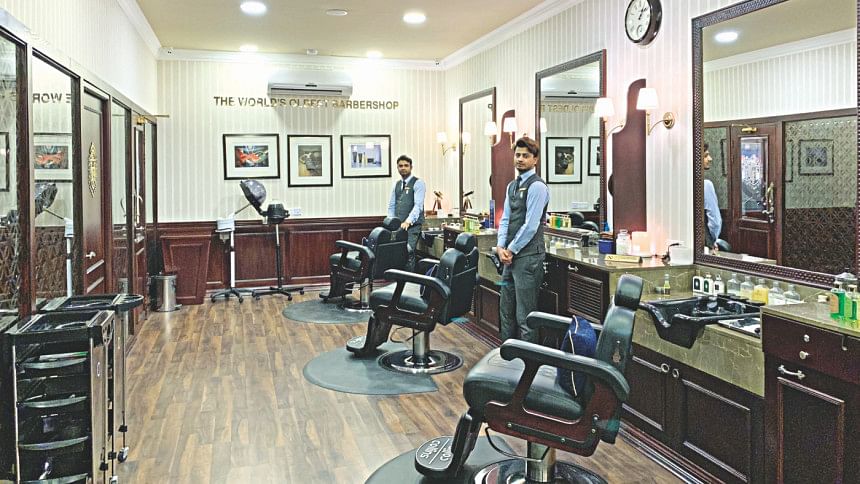 The year 1805 holds a historic chapter in the history of the world — Thomas Jefferson became the president of the United States of America for a second term, and Nelson found victory in the Battle at Cape Trafalgar; it is the same year that King George III sat on England's throne, and the year when sophistication and finesse was redefined in Mayfair as Truefitt & Hill opened its doors to the world.
T&H has brought Bond Street into the epicentre of Gulshan with its royal blue front door, wooden panel and of course a red, white and blue barber pole. They had me entranced with the first step into the salon—the invigorating oceanic fragrance and subtle jazz music in the background a testament to their sophistication.
I set up an appointment with their barbers for a quick haircut, but before I walked in for a trim, I was tempted to dive deep into learning more about Truefitt & Hill.
The CEO, Mahira Husain Khan, brought this world-renowned brand to Bangladesh with the vision of changing the entire grooming landscape of the country. She wanted to break barriers and set up an unprecedented standard to cater to the growing consumer class; allowing people access to more luxurious choices.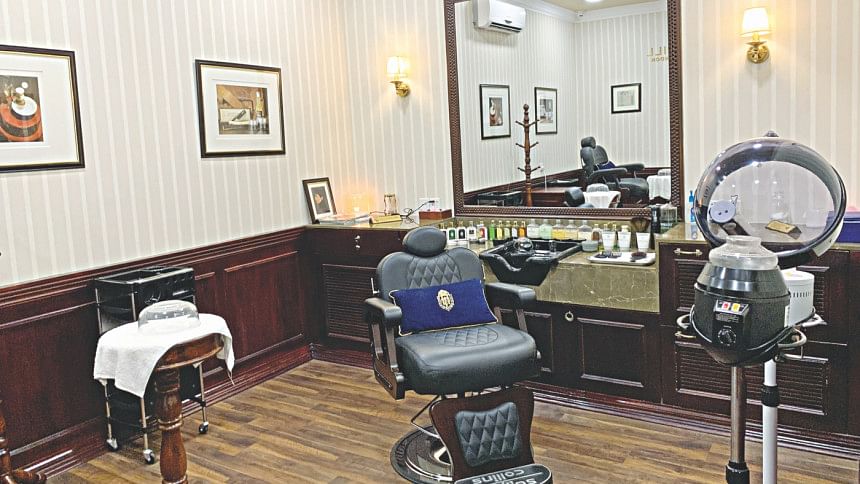 Her father, Mukarram Husain Khan, CEO of Capita Group, has been a catalyst. He is a patron of this establishment with a passion in grooming and men's lifestyle. Recognising a gap in the field, they brought Truefitt & Hill's franchise, allowing their clientele to pamper themselves and experience grooming of the highest quality.
They have partnered up with Lloyds Luxuries Ltd to provide training to the staff. Their barbers require a bare minimum of 10 years of experience in the local and industrial chain of salons. They are required to attend a month-long training at Lloyds Luxuries Training in Mumbai before taking a technical and oral interview to ensure that the best of the best are hand-picked to represent this 200-year-old institute.
All of T&H's products are produced and imported from the United Kingdom, making sure they fit Southeast Asia's weather and climate. With a range of products starting from colognes to aftershave, shampoo to shower gels, shaving cream bowl to safety razors, you name it. They have everything that a man needs for grooming. In addition, their finely curated gift box is a man's paradise. Personalised into four categories — the Classic, the Luxury, the Bathroom, and the Ultimate Comfort Gift Collection, they are well-thought, to give you the best grooming experience.
Now, off to the moment of truth.
I sat on a luxurious, king size leather chair; which felt more like a throne. I picked the Royal Haircut, a 60-minute session in which I would enjoy a hair trim, a hair wash, and a light facial massage.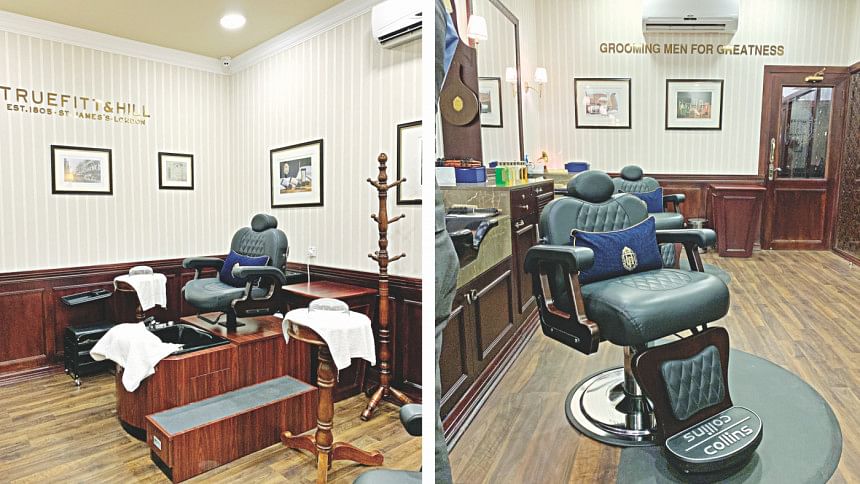 My barber dropped all of his equipment into a glass jar of Korsolex to disinfect them while he sanitised his hands with disinfectant.
A scalp test was taken to determine my scalp type. To my surprise, I discovered I have oily scalp rather than dry (which I had thought was the case all my life). This meant that a shampoo, meant to tackle my oily head, would be necessary. The water was switched to lukewarm according to my preference for an elaborate wash.
My hair was dried before trimming began. I explained to my barber how I like my haircut to be done before he dexterously glided his scissors, cutting every strand to perfection.
Precision and perfection define the ethics of the barbers of Truefitt & Hill, and they remain true to it; giving me a fine haircut. All my instructions were noted to the smallest detail, and I still had 10 minutes remaining on the clock. I was laid back on my chair for a second hair wash. The second round of shampoo was applied along with a conditioner to give my wavy, damaged hair a smooth finish. Now, that was one of the finest hours of my life.
Their widely spaced and neat salon has seven grooming stations and two manicure and pedicure stations. Both the manicure and the pedicure stations have private rooms while there are three private rooms for haircuts.
Truefitt & Hill provides its clients with five uniquely designed packages, Royal (Tk 2,700 – Tk 5,900), Classic (Tk 1,800 – Tk 4,500), Other (Tk 300 – Tk 2,000), Hair Treatment (Tk 900 – Tk 4,800) and Massages (Tk 1,800).
Moreover, they have two wonderful yearly subscription services which allow you to avail their high-end services at alluring prices. The Royal Membership Privileges (Tk 87,800) allows you to enjoy unlimited services at any time of the entire week. On the other hand, their Classic Membership Privileges (Tk 73,200) allows you to enjoy unlimited services but only from Sundays through Thursdays.
T&H truly has a well-structured itinerary making sure that the grooms-to-be can enjoy an elaborate grooming session to prepare them for the biggest day of their lives. Grooms walking into the barbershop can pamper themselves to a range of must have Royal Services, especially put together at Tk 17,100.
Truefitt & Hill, Dhaka stands for what William Francis Truefitt had institutionalised when he founded what would have become the greatest barbershop in all of time. It has upped the standards of Bangladesh's grooming scene to a never before seen stature, opening a window of opportunity for others to grow and learn from what they have pioneered. It is truly an epitome of excellence, giving you what you deserve— the best.