We love our veggies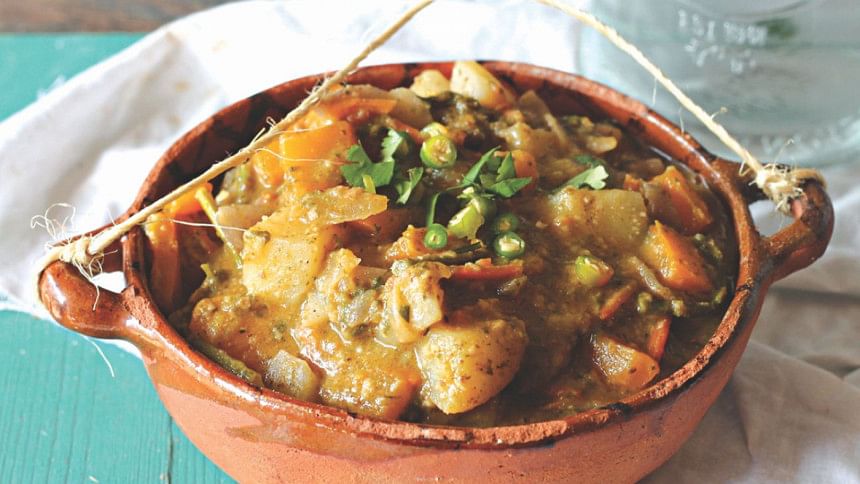 Steam Colocasia (kochu)
Ingredients
700g colocasia
4 tbsp oil + to deep fry
3 medium sized onions
1-inch piece ginger
10 cloves garlic
3 tbsp poppy seeds
2 cups yoghurt
1 tsp red chillies powder
1 tsp cumin powder
½ tsp turmeric powder
4-6 green cardamom
1 tsp coriander powder
¼ tsp nutmeg powder
½ tsp garam masala powder
Salt to taste
¼ cup fresh cream
Methods
Wash, peel and cut colocasia into one-inch sized pieces. Heat sufficient oil in a pan and deep fry colocasia till it is crisp and golden brown. Keep aside. Peel and wash onions and cut into halves. Add 2 cups of water and boil till soft. Drain out excess water and cool and grind to soft paste. Grind ginger and garlic to a fine paste. Dry roast poppy seeds and soak in half a cup of water for half an hour. Grind to smooth paste. Whisk the yoghurt along with red chilli powder, cumin powder and turmeric powder. Heat 4 tbsp oil in a pan, add green cardamom and boil onion paste. Sauté till light golden brown. Add ginger, garlic paste and coriander powder. Mix well.
Stir in poppy seeds paste and cook for a minute. Add whisked yoghurt and bring it to a boil. Add fried colocasia, grated nutmeg, garam masala and salt. Cover the pan with a tightfitting lid or seal the lid with flour dough (atta) and simmer for 30 minutes. Just before serving open the lid and stir in fresh cream.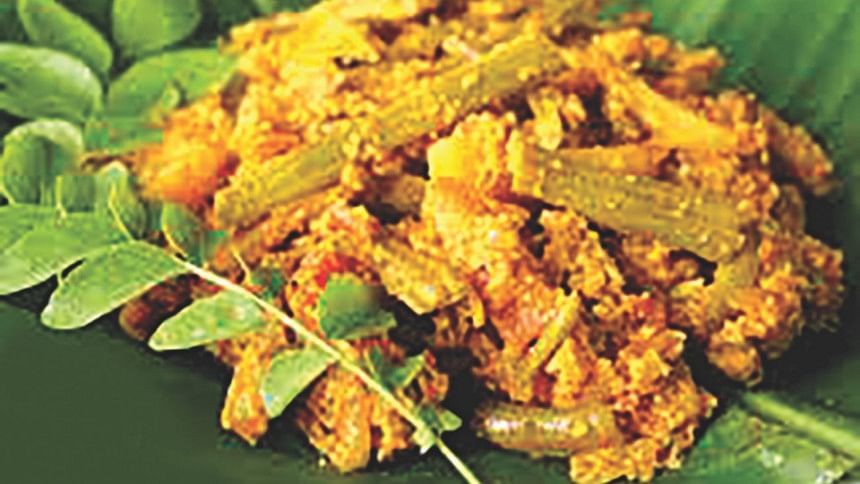 Eggplant Yu Xiang style
Ingredients
8-10 eggplant small sized
3 tbsp cornstarch
Salt to taste
Oil to deep fry
Sauce —
2 spring onions
2 green chillies
2-3 cloves
1-inch piece ginger
1 tbsp hoisin sauce
½ tsp sugar
1 tbsp malt vinegar
¼ tsp tasting salt
1½ tbsp soya sauce
Salt to taste
1 tbsp cornstarch
2 tbsp oil
Method
Wash, pat dry, and quarter eggplant lengthways. Sprinkle salt and leave aside for 15 minutes. Wash, drain well and pat dry with an absorbent kitchen towel. Add salt to taste and 3 tbsp of cornstarch to the eggplant and mix lightly. Heat sufficient oil in a wok and deep fry the eggplants until they are crisp and light golden brown. Drain and remove onto an absorbent kitchen towel. Wash, trim and finely chop spring onions. Deseed and slit green chillies. Finely chopped ginger and garlic. Blend the hoisin sauce, sugar, vinegar, tasting salt, soy sauce, and salt to taste. Blend 1 tbsp cornstarch in one cup of water.
Heat oil in a wok, add chopped garlic, ginger, slit green chillies and stir fry briefly.  Add chopped onions and continue to stir fry for a minute more. Add blended sauce and seasoning mix and stir in blended cornstarch. Cook till it starts to thicken and add fried eggplants. Toss well and serve hot.
Aviyal
Ingredients
1 medium sized carrot
200g pumpkin
1 medium sized raw banana
100g sweet potato
½ cup scraped coconut
4 green chilies
1½ tsp cumin seeds
1 tbsp rice
¼ cup green peas
10-12 curry leaves
2 tbsp butter
6-8 French beans
6-8 broad beans
1-piece drumstick
1½ cup yoghurt
Salt to taste
Method
Peel and wash carrot, pumpkin, raw banana, and sweet potato. String French beans, broad beans. Cut these vegetables into finger sized not more than two inches in length. Cut drumstick into finger size. Boil sweet potato separately in salted water, drain and reserve. Wash and drain green peas. Grind coconut, green chillies, cumin seeds, and rice with a little water to a fine paste. Whisk yoghurt with this paste and keep aside. Boil rest of the vegetables and curry leaves in one and a half cups of salted water. When the vegetables are almost done, add the yoghurt mixture and stir thoroughly. Bring to simmering point and remove from heat. Add butter on the top and serve.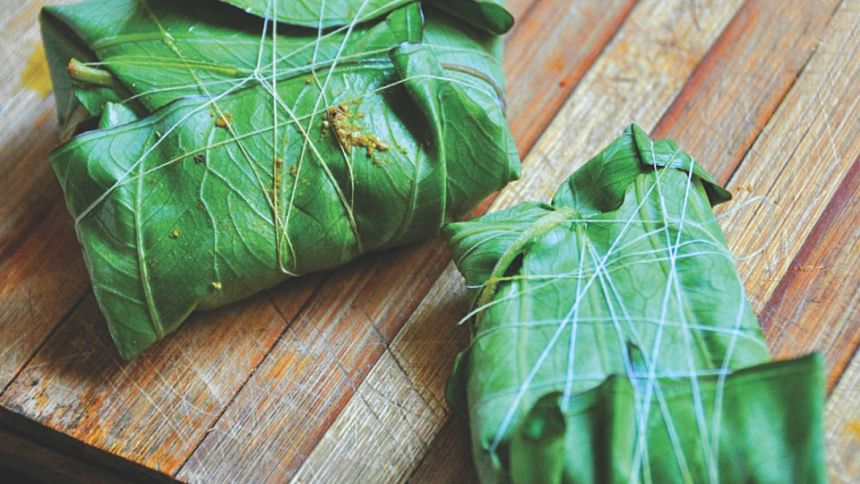 Vegetable korma
Ingredients
3 cups of fresh vegetables
Fresh green peas
Chopped carrots, Chopped beans
Cauliflower florets
Chopped potatoes
1½ cup of water
1 cinnamon, 4 cloves
2 cardamoms
½ tsp fennel seeds
½ tsp cumin seeds
2 tsp coriander seeds
½ tsp turmeric powder
1 tsp red chilli powder   
4-5 green chillies
1-inch ginger
2 tbsp coriander leaves
1 cup grated coconut
2 tsp soaked poppy seeds
20 soaked cashew nuts
3-4 chopped tomatoes
Water, as required
4 tbsp oil
½ tsp asafoetida, 1½ tsp salt
Method
In a wok add all vegetables, with one and half cups of water. Cover it with the lid and cook until the vegetables are done. Grind together cinnamon, seeds of cardamom, fennel seeds, cloves, cumin seeds, coriander seeds, turmeric and red chillies powder. Blend it to a coarse powder. Also add green chillies, ginger, coriander leaves, grated coconuts, poppy seeds, cashew nuts, chopped tomatoes, and water. 
Heat a pan and add oil and asafoetida, then add the freshly ground masala paste. Add the vegetables and some water to it and cook well and add salt to taste. Vegetable korma is ready to serve.
Photo: Collected
---
RECIPE
CREAM OF VEGETABLE SOUP
(Serves 6)
Prep time: 15 minutes
Cooking time: 20 minutes
Come home to comfort with your choice of vegetables and herbs to make your own version of this Cream of Vegetable Soup that can easily become a house favourite.
Ingredients
1 tbsp olive oil
1 cup green pepper, diced
1 cup carrots, diced
1/4 cup yellow onion, diced
4 cloves garlic, minced
1 teaspoon sea salt
1/2 teaspoon freshly ground black pepper
1 teaspoon dried thyme
1 teaspoon dried oregano
1 teaspoon dried parsley
2 tablespoons butter
6 tablespoons all-purpose flour
3 cups Chicken Broth
3/4 cup heavy cream, ½ cup whole milk
2 cups green beans, cut in small pieces
Freshly grated Parmesan (optional)
Method
In a deep bottom sauce pan, heat olive oil. Add green peppers, carrots or any other similar tough vegetables and cook until softened. Add onion and garlic, salt, pepper and spices. Next, add butter and flour, and work quickly to dissolve the flour into the butter and the vegetables.
Pour in the broth, 2 tablespoons of the heavy cream, all of the milk and reduce heat to low. Cook, semi-covered, for 15 minutes, stirring occasionally.
Add the remaining heavy cream and the chopped green beans. Cook, uncovered, for an additional 5 minutes. Remove from heat and ladle soup into serving bowls immediately. Top with Parmesan cheese, if desired.
MOLOKHIA (Jute leaves)
Ingredients
2-4 tbsp olive oil
1 cup diced yellow onions (about 2 small onions)
2 split breasts of chicken, skin-on or 2 pounds boneless, skinless chicken thighs
4 tbsp ground cumin
2 tbsp ground cloves
2 tsp ground cinnamon, or 2 whole cinnamon sticks
4 cups chicken broth
6-8 cups fresh molokhia (jute leaves), or more if desired, 6-8 cloves garlic
1 lemon, cut into wedges
Method
In a large soup pot or deep bottom pan, heat the oil. Sauté onions until translucent or slightly browned. Add chicken and sauté for about 2-3 minutes then add the spices. Continue to sauté until the chicken is nicely browned on all sides. Add the broth and increase the heat to bring to a boil. Reduce heat to low and cook, covered, for 35 minutes.
If using boneless chicken, skip this step. If using boned chicken, remove the chicken flesh and let cool. Once cooled, remove the skin and bones and pull the meat apart. Add back to the broth. Drop the molokhia directly into the pot.
Meanwhile, heat oil in a small sauté pan for the garlic. Cook until nicely browned, about 5-7 minutes, stirring constantly. Add the garlic directly into the soup. Serve in small soup bowls with rice and fresh lemon on the side for squeezing.
-- LS Desk