ls suggests
Scarves and socks for winter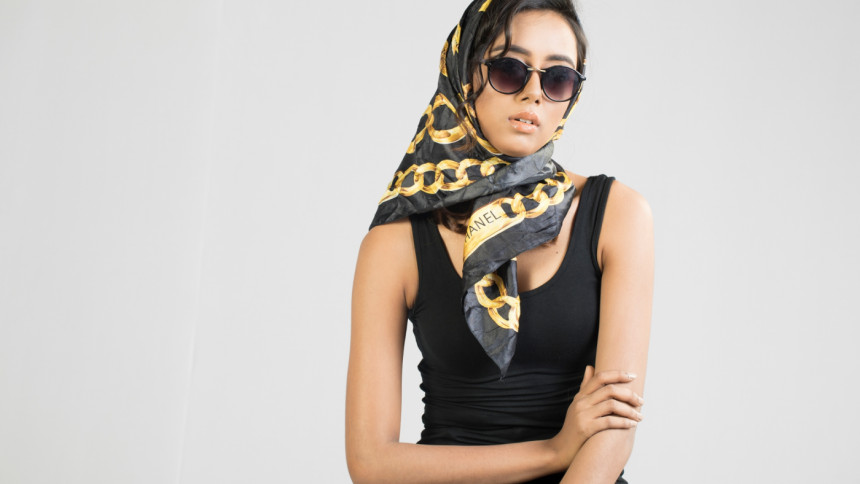 It is time to put away our linens and cottons, and make room for lots of bulky clothes in our wardrobe. While these are of utmost necessity, making a fashion statement can seem hard when heavy scarves and thick socks are what we count on to keep ourselves snug during the winter chills. They are bulky and usually a bit dull too, not to mention it can make you look triple your size. But we are in luck, because bulky and oversized are two things widely loved in fashion at the moment; execution is all that matters.  
OVERSIZED SCARVES
The main purpose of a scarf is to keep you warm, but if it is large enough for you to dig half your face in, even better! When styling oversized scarves simply make sure to have some other part of the outfit fitted, be it a body-hugging sweater or skinny jeans to provide the impression of a structured silhouette. And if you insist on wearing jumbo everything (which by the way we all do in the cold), add on a belt over the top to accentuate the waistline.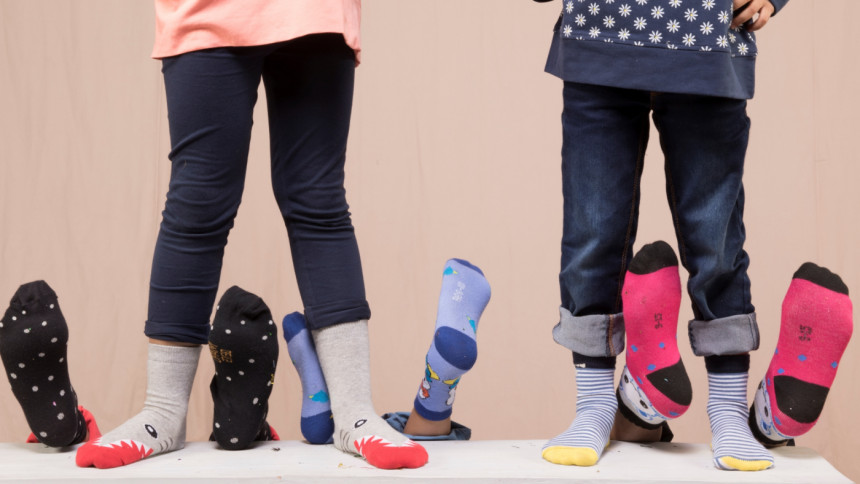 HOT HEADED
On especially cold days, we like to cover our heads too. If a beanie or stocking cap is not your favourite, a lightweight scarf will do the trick. Twist it around like a babushka scarf that will both keep your ears protected from the chilling breeze and look stylish at the same time.
Make sure to throw the ends to the back instead of the front for a clean outlook. This is also a good option for traditional outfits which would not approve of a hat.  
NEON SCARVES 
If your winter outfits seem too dull, some neon scarves can definitely lift them up. Highlighter greens, hot pinks and blood oranges are what we are aiming for. These go well with a solid wardrobe instead of patterns. To tie the look, you will need one other funky object, and this ought to be the shoe or purse.
GRAPHIC SOCKS
Yes, graphic socks are a thing, and we do dig them. We might have resented them as children, but they have this nostalgic appeal that make us want to sport them today with our chunky sandals, which, not to mention, are very good at their job of keeping the feet and in turn our whole body crisp warm. When highlighting the socks, opt for cropped pants cutting off above the ankle so as to showcase your pretty socks as they peek through your sandals.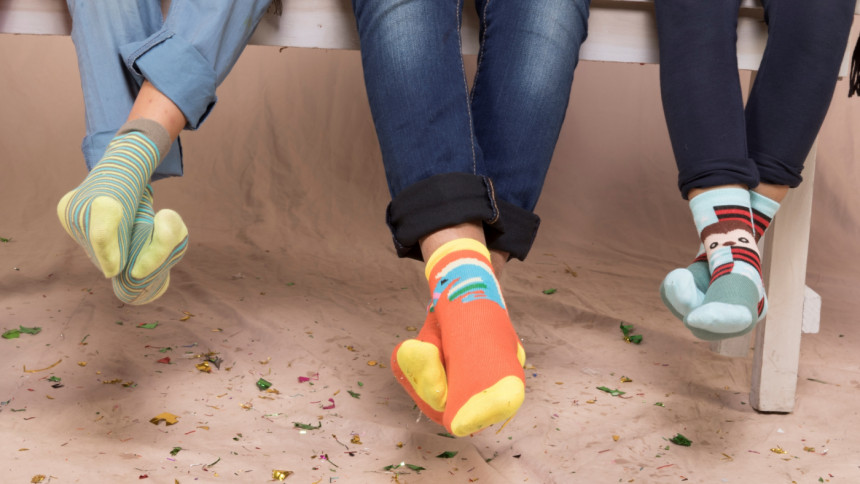 INFINITY AND BEYOND
Infinity scarves are for those who like it fuss free. This everyday casual scarf does a great job at keeping us warm without having to adjust repeatedly, and wears well with a kurta too, without looking mismatched or too out of place.   
TOUGH TRADITIONALS
While we can make do with these huge scarves over shirts, it gets trickier with traditional ensembles such as saris or a kurta.
Instead of wearing beige socks with everything that clearly do not resemble the skin, it is better to match the colour of the sock with the shoe. Sparkly socks are another option for lesser cool days when you do not need the heavy-duty ones. These are sheerer and come with glitter or rhinestones attached, which go perfectly with stilettos or pumps.
When wearing scarves with a kameez, or sari, it is best to stick to similar fabric families and patterns. For an evening wear with silk or satin dresses, a velvet scarf or stole would look stunning. Plaids on the other hand, will complement a cotton sari any day.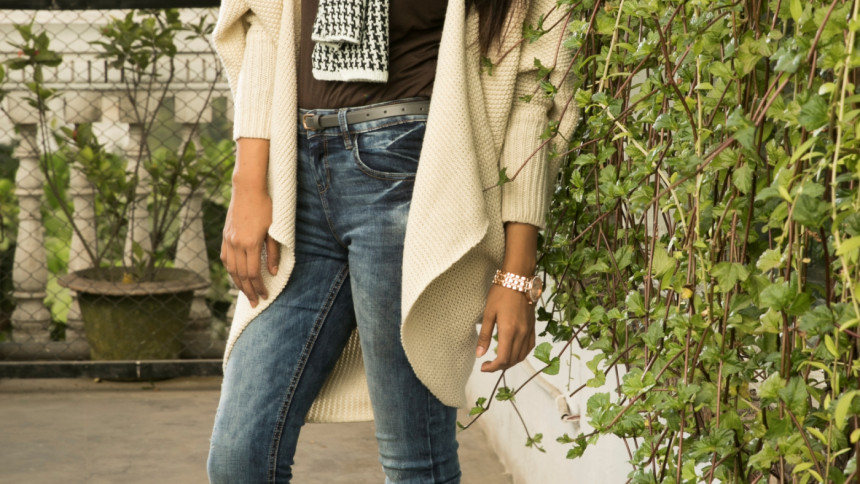 WORK SPECIFIC
We love a good graphic pop in our outfits, but they might not be suitable for every occasion such as a job interview or a meeting. Lean towards scarves with less volume that will lay nicely, and materials like wool which will keep your warm regardless of the thickness.
Look for solid ribbed scarves or brushed stripe scarves that are simple and can be worn with most work outfits. This is something we can term as warm, stylish and work appropriate.  
ACCESSORISING
When you have your arms covered till the thumb and your neck packed up barely leaving you with breathing space, not many options of accessorising are left. To make the most out of it, stock up on large earrings that will be enough to highlight the whole ensemble. Shoulder length danglers are the best, which can glide over your scarves and make up for the lack of accessories elsewhere. Another way to accessorise is with the hair. If your scarves are heavy and large, pull your hair back and tie it with a silk scarf with ends pointing down.
We might not be able to control the weather, but we can surely tweak our wardrobe to meet the necessities, and if I may add, do so fashionably and with grace. Does not matter if it is a pair of bright red socks or an overflowing woollen scarf, as long as you feel confident in what you are wearing and stride with your head held high, you are bound to be the most fashionable person in the room.
Photo: LS Archive/Sazzad Ibne Sayed