The Wedding Plan
Weddings today are hardly simple affairs of the simpler olden days. There is practically no escaping the 'bigger is better' trend, be it for personal gratification or social norms and pressure. Instagram streams and Pinterest boards for even the smallest things exist with ideas abounding from the minimalist to the grand. Planning a wedding has consequently become even more critical than it used to be. While the modern bride and groom take it upon themselves to see to every little detail and do everything by themselves, the tolling of the wedding bells echo within pretty much everyone around them. From the respective parents to the guests attending, with so much happening in such a small time frame, it can get confusing real quick for anyone involved. But fear not as calm thinking and planning ahead is the key to making it all work. Whether you are a multi-tasking bride or groom, or an in-law in charge of all wedding festivities in the coming months, check out our all-purpose wedding planner for a walk-through, or catch a few tips to boost your special day.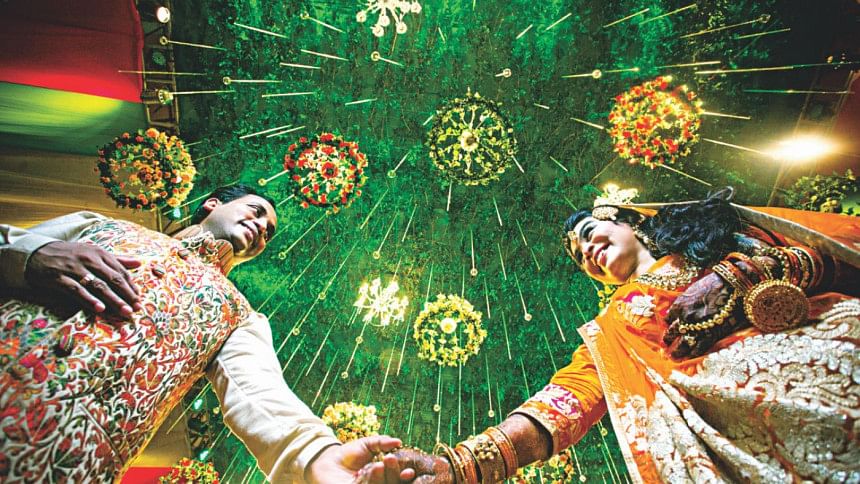 THE BRAINSTORMING
Pick up a notebook or your favourite note taking app and get busy. Carefully list out the budget, the venue, the dresses, where to go for the flowers, the makeup artists, caterers — everything that comes to mind should be listed.
As difficult as it may sound, this initial list has to be done at least six months ahead of the big day. The best possible way to make this work out for all is to make everyone sit together. Here's a bonus tip; get someone level-headed who will take down any and every note and be the calming voice amidst the chaos!
LISTS, LISTS AND MORE LISTS
As the initial checklists keep getting longer, the first work week is all about listing things down, especially by numbers, and breaking them up into categorical ones so as to ease navigation and assignment. From the number of events you want to hold, to the guest lists, the base of your wedding begins here. This is also the time to break down the budget into sub-segments, and keep track of where the money is being spent.
Start by having a meeting with both the bride and the groom, as well their parents so that they list down the number of events they wish to have. If you have a strict deadline, try not to go overboard with events.
Mehndi, holud, and sangeet night can pass off as alternatives in this case, where you can stick with either one. Once you are done listing down events, start listing friends, families and others in the guest list.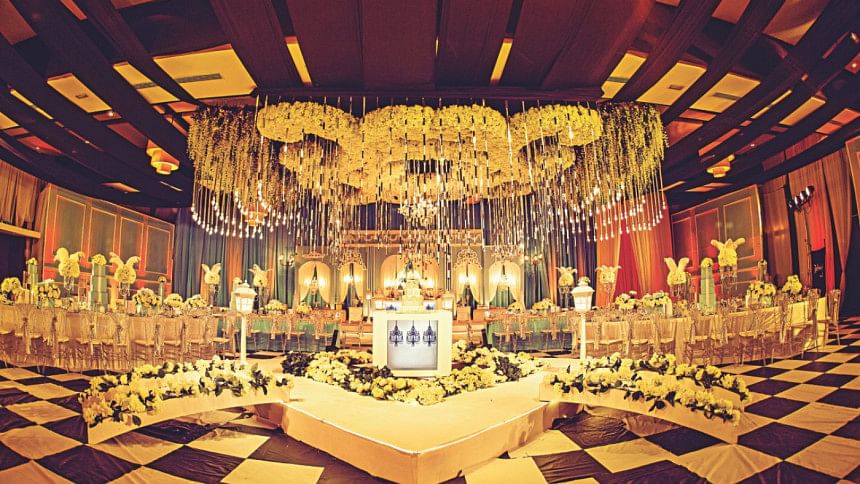 THE VERY IMPORTANT VENUE
Venue booking has to be done at least six months earlier. Depending on your guest list and number of events, you can choose to opt for fancy hotels, or convention centres of your choice. Open roofs also serve as a popular choice for a venue and has been seen as such in recent years, and serves as a great space to tie the knot in winter.
If you are looking to hold events after or before winter, open roof is a bad idea. Off season wedding has other perks in terms of venues. A lot of times, convention centres around the city offer discounts, so keep an eye out for those. Look online for contact details first, because moving around in a bustling city can be super time consuming when you have limited time frame.
SET THE MENU
Right after the venue, comes the issue of food. If you opt for fancy hotels, you might not have a lot of liberty in choosing the menu, so try to customise where you can. Most people prefer old school biryani when it comes to weddings, so make sure to serve this on at least one of the events, if not all.
It is also a great idea to have a small menu on the table so guests know what to expect. Take a look at your guest list before finalising on a menu. Be mindful of your guests practise a different faith, or have food restrictions, or even those known for being vegetarians, make sure to have items for them as well so that they too can enjoy the dinner and not feel left out.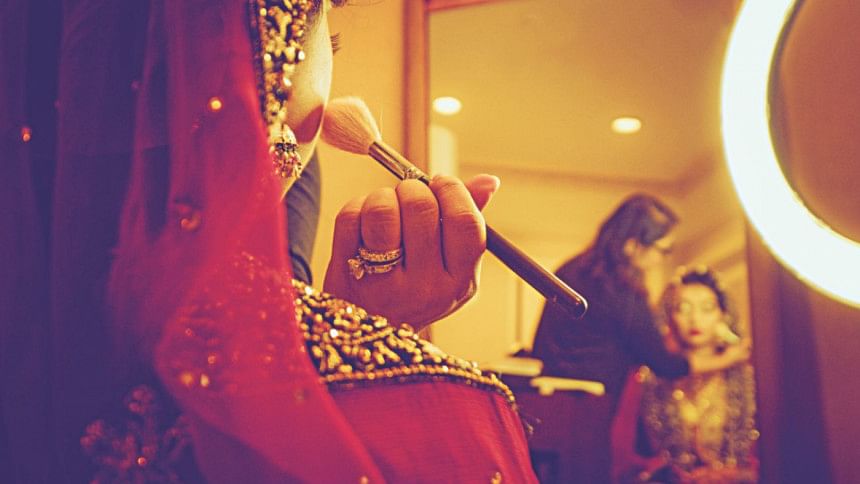 DÉCOR AND DECORATORS
These people are just as hard to get a hold of, so make your reservations quick. You can find their portfolios online, which will help you decide on who to choose. Head over to their social media pages, contact the ones you like, fix a price, and book them. Your selected venue may have certain restrictions as well, so keep that in mind, and coordinate before putting any advance payments in.
Entrust your most loyal and cool-headed friends to take the lead to see things through with the decorator to ensure your directions are clearly understood and followed.
MAKEUP ARTIST
Another detail that is hard to get a hold of unless booked well in advance are makeup artists. Start researching ahead of time, visit their Instagram and Facebook pages to check out their previous work and signature style. Save pictures and styles you like, and can use as reference when it is your turn. A point to remember here would be that what looks good in photos may not translate to the final look on you, so be open to their professional suggestions. If possible, get trial sittings. Try to reach out to as many people as possible if you do not already have a preferred choice, jot down their pricing details and then make your booking.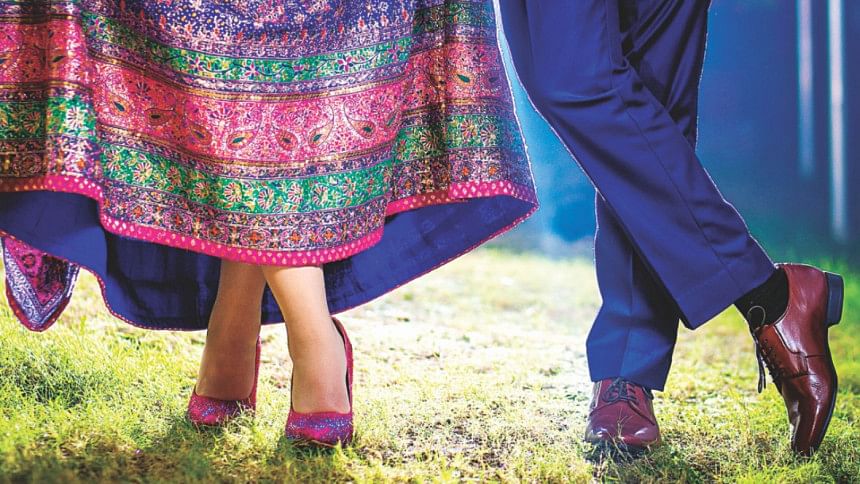 THE PHOTOGRAPHERS
You cannot imagine a wedding without those perfect moments captured forever in wedding snaps, and coordinated photo books for post-wedding. Do get a hold of your preferred photographer at least two months beforehand and do discuss everything that you want to include.
HIS AND HER'S
While wedding outfits are impossible to mess up if you start at least two to three months earlier, accidents can and do happen. So try to have a backup plan. Also, if you are having multiple events, set out your outfits early and never wait for the day before the event to try out your clothes.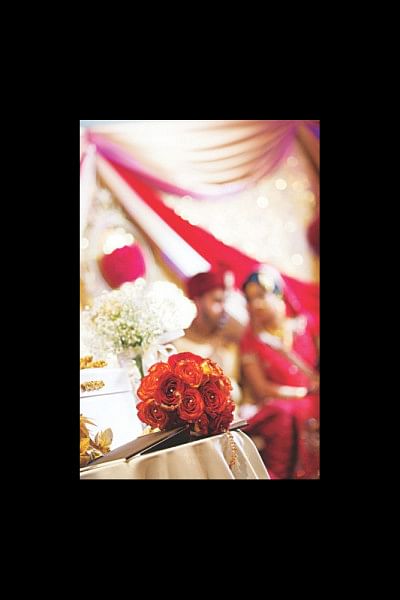 PICK A THEME
Having a theme makes an event look more coordinated and put together. Themes can range from Boho-chic reception to an ethnic mehndi night, meaning whatever you want. Weddings have moved away from typical traditions of red for the wedding and yellow for the holud. If you feel like experimenting with out of the box colours like purple, green, or magenta; knock yourself out. Just make sure to coordinate the venues and the flowers with it to make it look planned.
Make sure to only have your absolute closest people follow a colour theme for their outfits, something that matches or contrasts with the couple. A proper gesture here is to gift them the outfits you expect them to wear. Do no force it on all your guests as it might feel like an intrusion, or a burden.
INVITATION CARDS
Online pages can be true saviours in these times really. Look for portfolios online, and then visit the stores. Archie's, Hallmarks, and other gift shops have cards you can look at and customise. The all-time classic favourites like Ideal are now more than capable of giving you laser cut designs with the perfect fusion of tradition and modernism. 
For special guests like your in-laws or the nice boss from work, you can go the extra mile and customise cards for them. Adding in tasteful boxes, flowers and chocolates are options you can explore. Prepare e-cards as well for the ones living out of town or country, but are expected to be here on your big day.
MEET THE PROS
To alleviate your wedding planning worries, you can now easily resort to wedding and event managers as they can make sure that all your plans are going the right way. Wedding planners are now expanding up to venue bookings as well as arranging photographers. But remember to keep your expectations realistic.
Buckle up, for it is going to be a bumpy ride of never-ending shopping, making reservations, and calculations. But it is all going to end in one of the biggest nights of your life, so let us end it with a bang, and blissful memories for keeps. 
Photo: Prito Reza, Wedding Diary Bangladesh