Loving and Living with Plants
Rooftop Gardening: Days of Babylon to our Current Life
The concept of 'hanging gardens' fascinated me from the second grade. It was a part of our first step of learning about the world by memorising the names and locations of the seven wonders of the ancient world. It was said that the Babylonian king Nebuchadnezzar II, who ruled between 605 and 562 BC, built the Hanging Gardens at his grand palace for his beloved wife Queen Amytis, who missed the green hills and valleys of her homeland.  It is learnt from history that this place was destroyed sometime after the first century AD. Since learning this, I have been hooked to the concept of hanging cum roof garden. 
In modern days, rooftop gardening is becoming popular day by day with the introduction of the 'multi-storied community living culture.' Though initially it was a challenge to think about gardens in this scenario, with time, we have compromised with our lack of choice of gardening on a concrete base. We are lucky living in Bangladesh where we have roofs to try this in our own way as in most of the western countries the options are limited as the structure  and pattern of the bungalows, row or town  houses, or condos are different and building codes are strict. Coming back to our own country, it is encouraging that roof gardening has started taking shape throughout the years from sporadic, amateur/hobby approaches to a planned endeavour.  We are happy that our new generation city corporation leaders/mayors have started speaking about green cities though recently with immense pain we also witnessed development works that allowed chopping down and destruction of thousands of trees along the road sides. Most of the roadside trees are now gone from in front of our eyes. However, on a positive note, I sincerely hope and pray that soon the empty road sides will be filled with long term plans for reviving greenery. Last year, we heard about the incentive of rewarding the best roof garden with Tk 1 lakh! This is indeed encouraging and I hope this is going to be a sustainable effort – to be followed by yearly plans, to be monitored through a set of indicators and standards known to the city dwellers. The announcement of the south city corporation of Dhaka city comes with real encouragement with an offered waiver of 10 percent holding tax for good roof top gardeners.  We believe this bold step will not remain limited to being just a popular declaration.  
Today I am writing this column honouring my readers who love rooftop gardening and are keen to make a difference in the sky.  I am especially thankful to my respected reader Fuad Ahmed who wanted some information on this issue.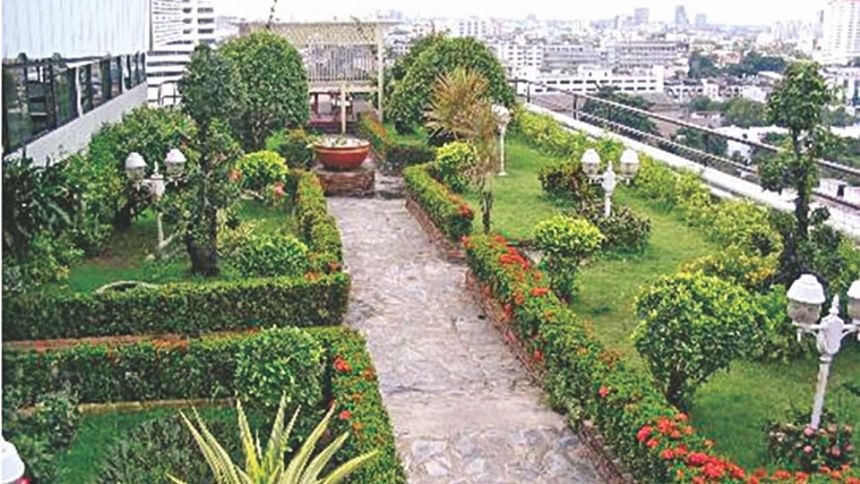 Dear Ms.Laila Karim,

I am a fan of yours! I would be grateful if you kindly let me know in detail on how to build a rooftop garden of only grass on a house which I plan to build. On a rooftop area of 3000 sq.ft, I would like to keep 1500 sq.ft. of grass only for my family to walk and sit upon. I would like to know about the rooftop's floor construction and waterproofing, drainage system, height of the soil upon which the grass will be planted etc. Thank you very much. With best wishes, Fuad Ahmed.
Dear Mr. Ahmed, soon after receiving your mail, I consulted one of my relatives who is a Civil Engineer as my knowledge on roof gardening is limited to container gardening (in a joint apartment living environment), but you are lucky to have your own roof. Your plan to have a dedicated grass area has to be borne from the joint work of an architect and a civil engineer. It is a professional job that needs thorough review of the architectural design and alignment. Here, I would like to tell you that there are influencing factors such as the distance and height of the neighbouring buildings which may pose barriers by blocking the sun's light to the roof.  In any gardening, access of air and sunlight are critical, even to nurture the grass beds. And keeping the proper drainage system also comes as the first and foremost job while planning the garden and also construction of the bed lining with proper curing of the roof is essential. So, if you haven't done the work yet, consult the engineers first, present the design of your building, have a joint physical assessment of the whole work with the costing included. After having the structural work done, now is the time to develop the beds with proper soil feed, after which you will need to get the seeds or saplings from a local nursery. The Airport Road nurseries (starting from the Banani end) keep good stocks and offer required gardening services to the clients – from starting to completion of the project in addition to routine maintenance tasks. The garden tools like small mowing machine for grass beds and other accessories are available at the hardware shops; one is located on the same floor as the Gulshan branch of Agora chain shop. 
The consulting firm Bonayon also offers different ranges of Rooftop-Terrace Packages starting from Tk 30,000 approx. for 1000-1200 sq. ft. which includes consultancy, design and plan, gardening preparation, soil, fertiliser, pots and plants, seeds, primary accessories, gardener's services and all other products needed to make a compact rooftop garden project. Bonayon helpline:  01878831959.
General information on rooftop gardening:

The roof environment is different from the ground- in summer it gets really windy and very sunny. If the nearby buildings are tall, then the roof is in a shade which is bad for plants and intense sun is also harmful for many plants. Regular soil is heavy and not suitable for roof plants; light soil rich with required natural fertiliser mix is good for container/rooftop planting. Some shades are required for some delicate plants like orchids and green leaves. Source of water and clear drainage system are a must. Regular irrigation i.e. daily watering is a must in the hot summer days. Regular cleaning of bugs and dry leaves from the base are essential. Periodic examination of the roof and garden structure is needed and change of planting beds is good for plants and also to cut the monotony. In these days of pesticides, every gardener yearns for their own products. Small families can get their daily supply of homegrown fruits, veggies and herbs from the roof top garden. Shallow-rooted edibles like lettuce, radishes, tomatoes, peppers, straw barriers, herbs, okras, egg plants, beets, carrots and beans are easily produced in different sized containers. Fruit trees like mangoes, lichis, guavas, lemons etc can be grown easily in pots, but need large containers to hold those strong  and upright in the stiff wind. Hybrid varieties are best for quick harvest.  
Please share your thoughts on everything and anything related to bringing greenery in our city lives and mail us at [email protected] Your letters will be forwarded to the column writer.
Photo Courtesy: Laila Karim