interview
Up close and personal with Nabela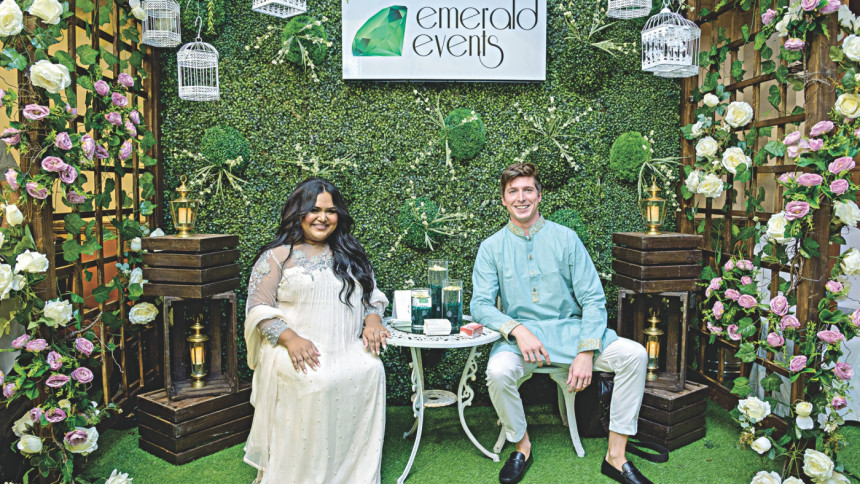 In a world of such intense colourism, it is important for women to find the beauty in their pigmentation
— Nabela Noor
It was some random night, while swiping through Instagram stories, and I saw Nabela Noor light up my screen and announce she was flying to Dhaka for a meet and greet on 14 September at the Lakeshore Hotel.
With over 700,000 subscribers and 1.2 million followers just on her YouTube and Instagram pages respectively, Nabela Noor's arrival had the city buzzing.
Honestly, this writer here was never a Bella Babe. Of course, I knew who she was, but nothing had me prepared for the interview that took place in her hotel room, post event. The vibe was chilled out, as her family rested from the event in the next room and Seth quietly watched over her from the corner of the room.
You have said many times, that you were inspired by beauty vloggers. Is there anyone in particular who did and still does inspire you?
Nabela: Beauty vloggers who loved being in their own skin, and created content that truly expressed how unique and special they are, inspired me. To name two would be "AndreasChoice" and "AlbaMayo." Their videos were not just amazing, but one of the reasons I started making videos. I love them so much. I don't think I would be in this line of work if it wasn't for them.
As I started making videos, I reached out to them and surprisingly, they responded! Luck clearly was not the only thing at work, from being just friends, they were both bridesmaids at my wedding! Life really does work out in mysterious ways, especially when I realised that the people that I had once looked up to as my heroes were now also some of my closest friends.
What are some of the makeup trends you regret having tried on?
Nabela: Over tweezing my eye-brows (*gasp*), I regret it so much now. I used to have these really thick gorgeous eye-brows, and now they are alright, but I definitely regret going along with the thin eyebrow trend. I learnt from my mistakes and do not even let my own sisters tweeze theirs now.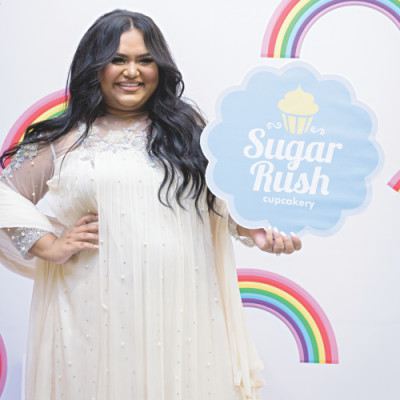 You are a strong advocate for body positivity, how difficult is it to face negative and hurtful comments on a regular basis and still spread the message of self-love?
Nabela: As a plus size woman on the Internet, every single day is a battle. Every day, there are horrible comments and messages waiting for me— from death threats, to people wishing me ill to telling me to kill myself.
For the longest time, I told myself that this came with the territory and suffered in silence. I kept telling myself that I just had to deal with it. So, there was a lot of emotional and mental pain I endured, and many countless nights of crying myself to sleep.
I tried to be brave, not just for my followers, but also for what I believed in.
Somewhere down the line, I was robbed of my mental peace and that's why I started sharing and posting the hateful messages and comments I would receive. People needed to know what I was dealing with on a daily basis, and the lengths that I have to go through to advocate for what I believed is my truth.
My advocacy is dangerous, not just to my mental and emotional wellbeing, but my safety too. I receive a lot of aggressive messages, and often, those who send them forget that I too, am human.
Support is integral, and I have received so much of it and it has helped in so many ways. I am grateful to have opened up to my followers about it.
What were some of the mistakes you made while learning how to do make up?
Nabela: I made a lot of mistakes. My blush, highlighter and contour would often times look like Neapolitan ice cream. My husband, Seth would joke, "There's that Neapolitan stripe." As mortified as I would be, it only meant that I hadn't blended properly. Now I'm obsessed with blending. I would also not blend my contour properly, leaving harsh unblended stripes on my nose. Blending was a big thing I had to learn over time.
Can you talk about one makeup trend you are tired of seeing, and one you are looking forward to?
Nabela: I don't think I can ever get tired of seeing any make up trends because I just love makeup too much. While you may catch someone dying to share a makeup trend they hate, I think I'm all about do what you love and if someone thinks it is hideous, who cares?
I really love the show "Euphoria" on Hulu that has inspired the use of a lot of gems in makeup routines. It is really cool to see the incorporation of gems and the use of brighter hues in eye looks. There's more art in a woman's everyday make up now, and that is really exciting to see a woman passing by, on a regular Tuesday, wearing a purple eye.
As a brown plus size woman, how important is it to talk about the lack of representation in diversity of shape?
Nabela: This is a global problem; one I cannot stress enough on the importance of, and that doesn't just go for Bangladesh.
It is sad that we live in a world where the culture in media is to portray plus size women and their weight as comic relief. I would watch so many movies where the jokes would always be related to how fat a woman is and it would make me upset. All I would see is beautiful women, so how is that funny? Why do people who look like me always have to be the butt of the joke? 
Growing up, I found inspiration in this. I never wanted the way I looked to be the reason for everyone to get a good laugh out of. Having my own channel and showing people that I would not make fun of myself to be accepted, led to the creation of new opportunities. So, the message is to empower and love yourself and your size, especially in places where there is a lack of representation.
You recently launched a new clothing lifestyle brand "Zeba." What does Zeba stand for? How did you come up with the name?
Nabela: Zeba is a digital community, a movement, and a clothing lifestyle brand, rooted in the idea of body celebration, "a self-love revolution," and there's no better way to describe it. It is all about revolutionising how we approach our bodies.
One such method was to introduce a new sizing system which was a really tough part of bringing Zeba to life. There' so much unwanted shame associated to clothing sizes that negatively impacts us.
I really wanted to figure out how to empower individuals, just by looking at their tags. I wanted to create values that remind us of our true worth. Because your worth lies in more things than size.
So, having a new sizing system to introduce to the world was important to me.
A size S is "brave" and a M is "inspiring" to "independent," which is our 4X. I feel pride in knowing that when someone wears a Zeba garment, and they look at the tag, they will not see the traditional size label, but who they are in the world of Zeba — they could be passionate, brave, inspiring, fearless, radiant, powerful, loved or even independent. 
We just dropped our "Love Yourself First" collection, and it has been really successful. People are excited and responding well to it.
The company is actually named after my mother, so this my way of paying respect to her. Zeba means beautiful, and for a movement that's redefining beauty, it made sense to name it such, especially since it will outlive me.
How does it feel when you see a celebrity post a photo of themselves in one of your Zeba t-shirts?
Nabela: It's been great to see celebrities embrace Zeba. Jordyn Woods and Mario Dedivanovic, Huda and Farah Dhukai have all been supportive of Zeba.
People in the public eye taking the time to just show their love to Zeba has been unreal and something I'll never forget.
Developing a start-up and trying to get your message across is tough, and the fact that people have had that belief in me, means a lot.
You always stay updated on what's going on in Bangladesh. How important has that become to you, especially now that you have such a huge following. Do you feel the pressure?
Nabela: I have a sense of social responsibility being a Bangladeshi-American public figure. With over a million followers, what can I do? I can bring attention to it!
There's a need for advocacy as well as responsibility that I owe to my community, and my platform allows me to do that in the best way possible. When there are things that I can use my voice for, I will do so. This is also the reason why I'm here right now, helping out the Jaago Foundation; from taking my audience with me to my grandfather's orphanage in Nawabganj, to making them aware of different social issues. Hopefully that will help in some way.
As a Bangladeshi, do you have a message for other Bangladeshi women about what beauty being skin deep really means?
Nabela: It is really important and I want to empower Bangladeshi women to embrace their skin. In a world of such intense colourism, it is important for women to find beauty in their pigmentation. Melanin is beautiful and not something to be ashamed of. We do not need to subscribe to western standards of beauty. Not having fair skin, light coloured eyes or blonde hair, does not make us any less beautiful. Embracing your own colour and what you can give back to the world is where real beauty lies.
As the interview came to an end, Nabela came in for a hug. The nerves had subsided, I realised Nabela was just another sweet girl, but unapologetically herself, and upfront. A ball of energy but truly humble.
I am a melanin loving Bella Babe convert!
Photo courtesy: Snapshot