Bengal Wellbeing & Yasmin Karachiwala's Body Image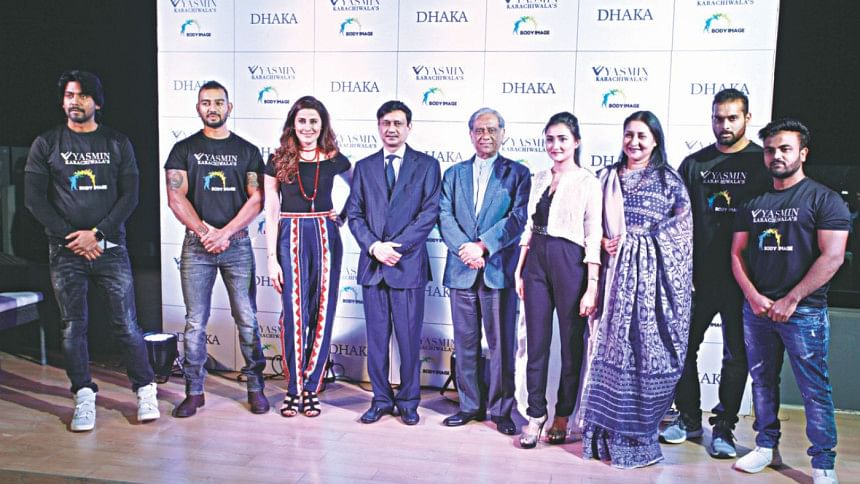 On 12 January, Bengal Wellbeing launched its first ever fitness centre at the Innstar Limited building, Banani, featuring Yasmin Karachiwala's Body Image from Mumbai. Yasmin Karachiwala, the founder and master instructor of her fitness studio, is proud to announce that Dhaka marks their fifth franchise.
Bengal Wellbeing Managing Director, Ashfaria Khair, along with Yasmin Karachiwala, launched the studio, adding that full swing services will provide Dhaka a unique fitness experience.
"Ashfaria's initiative will set a good example, not only as a fitness and wellness centre, but also as a brand that believes in good service and inclusivity for all our clients," said Abul Khair, chairman of Bengal Group, as the guest of honour.
"The initiative intends to help clients translate their health and body goals into actual results through expert training and guidance," Ashfaria Khair said.
Yasmin Karachiwala, a fitness expert, guru and celebrity, with more than two decades of experience in the fitness industry, is a pioneer of physical fitness system in India. She is the mega-mind behind the personal fitness studio Yasmin Karachiwala's Body Image, and she is the founder and master instructor at the studio. Yasmin has earned the reputation of being the number one celebrity fitness trainer with her clientele comprising of big stars like Katrina Kaif, Deepika Padukone, and Alia Bhatt, among many others.
Star Lifestyle indulged in a tete-a-tete with the fitness expert to learn more about health, fitness and wellbeing.
After 25 years of experience what made Pilates stand out for you?
The thing about Pilates is that it was invented by Joseph Pilates who was a gymnast, boxer, weight lifter, used to do yoga and was also a wrestler, so he put all the modalities into one form, called Pilates, which he created during the First World War, and he used it for injured soldiers from the war and found that it worked on their core, which helped them even if they did not have limbs, which helped them to move better. And when I studied Pilates, I had already been doing strength training, aerobics, Zumba and yoga, and what I found about the method was that it put everything together, but with more focus on working your body from the inside out, and it just made me stronger in everything I did. I observed that with different people I trained. When a sports person does Pilates they perform better, when a new mother does Pilates, she has more energy to go through her day and she has the strength to do her functional work. For office people who work long hours and sit for a really long time, their muscles get really tight and Pilates helps them lengthen their spine, so that's the reason I love it. It works for everyone and at the same time you can do whatever you are already doing but better.
As a celebrity trainer, what's the one tip that you would give us to achieve and maintain a healthy lifestyle?
Commitment and dedication to yourself.
Will we get exclusive sessions with you from time to time?
Of course, most definitely, I plan to visit whenever Ashfaria wants me to, and I will be booking sessions. In all my franchises, every few months when they want me to go, I go for 2 days and I'm teaching people and interacting with the clients and answering questions too.
What is the special thing that you bring from home that we will get here?
My trainers of course! They are all handpicked by us after 3 interviews, and they are all trained by us and they intern at our studio for 6 months before they go out to any franchise.
So they give us a little bit of what we would get from you?
They give everything, and more than what you would get from me. Twice a year, to keep everyone updated, every trainer from every studio has to do workshops with us so that we can keep talking to them and interacting with what is happening in their lives. Another thing is that we have a group, where if a trainer is faced with a case they aren't sure of, for example, a pregnant client, we will give them further training to deal with individual cases.
What are the special offers that your clients can get at the studio?
We have a variety of equipment for both Pilates and cardio, so our trainers will sit with you for a consultation where they will curate a workout and a Pilates session and the different types of equipment that are perfect for your body and will give you optimum results.
Photo courtesy: Bengal Wellbeing