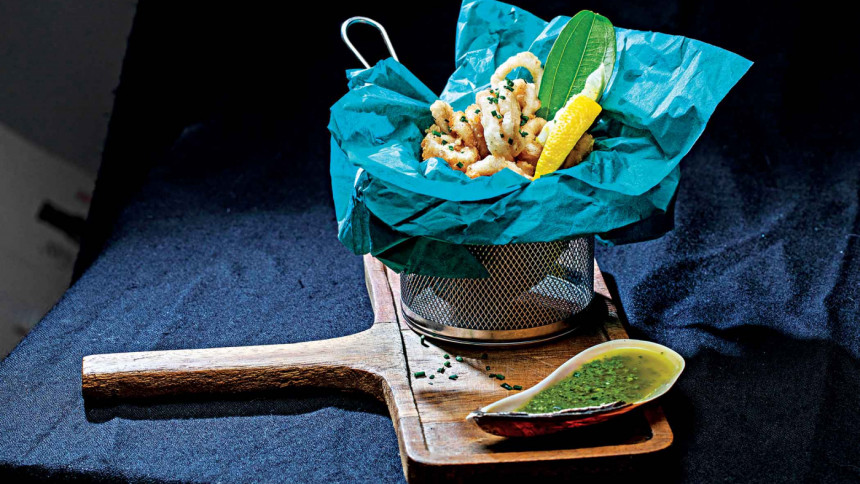 Seafood is a healthful choice for people of all ages — growing children, pregnant women, active adults, and the elderly. It is an excellent source of lean, high quality, easily digested protein. It is low in saturated fat and sodium and is a rich source of many essential vitamins and minerals. Seafood also contains long-chain omega-3 fatty acids, which have many beneficial health effects and are essential for the development of the nervous system and the retina in our eyes.
Eating seafood regularly can decrease the risk of heart attacks, strokes, obesity and hypertension. Seafood also provides essential nutrients for developing infants and children. It also helps build muscles and tissues.
FRIED CALAMARI
Fried calamari are one of the most popular appetisers, served in Italian restaurants. Calamari is the Italian word for squid. It is made of squids and its tentacles, battered or coated with a flour mixture and then deep fried. This recipe is very easy to make and only calls for a few ingredients.
Ingredients
½ kg squid
1 cup buttermilk
1 cup all-purpose flour
½ cup corn starch
1 tsp paprika, smoked or regular
½ tsp pepper
½ tsp garlic powder
1 tbsp chopped parsley
Salt to taste
Oil for deep frying
Method
Place the squid in a bowl with the buttermilk and mix well. Cover the bowl and refrigerate for at least 30 minutes. In another bowl, place flour, corn starch, paprika, garlic powder and salt, stir to combine.
Remove each piece of squid from the buttermilk and dredge in the flour. Repeat the process until all pieces are coated. Heat oil in a large deep pan. Place 8-10 pieces of squid in the oil. Cook for 2-3 minutes or until golden brown.
Remove the squid from the oil and drain on paper towels. Repeat the process with the remaining squid. Sprinkle additional salt over the fried squid if desired, sprinkle with chopped parsley. Serve immediately.
SEAFOOD FRIED RICE
Ingredients
2 cups cooked rice
2 tbsp soy sauce
1 tbsp chilli sauce
1 carrot, peeled and finely diced
10 French beans, finely chopped
½ cup green onions
3 eggs, beaten
4 clove garlic, chopped
½ tsp ginger, chopped
250g peeled prawns
250g crab meat
½ tsp white paper
Oil for fry
Salt to taste
Method
First, sprinkle the soy sauce on top of the rice and mix together until evenly distributed. Add oil to a wok or large frying pan. Fry the beaten eggs as a thin omelette. Remove from pan and set aside. Then slice up into thin pieces.
In the same pan, add the oil, chopped ginger and garlic. Fry for a couple of minutes. Add prawn, crab meat, soy sauce and chilli sauce. Mix well and cook for 1 minute. Then add carrot and French beans, white pepper, as well as the cooked rice. Stir well and fry for 4-5 minutes. Add the green onion and omelette into the pan. Mix well and remove from heat. Serve hot.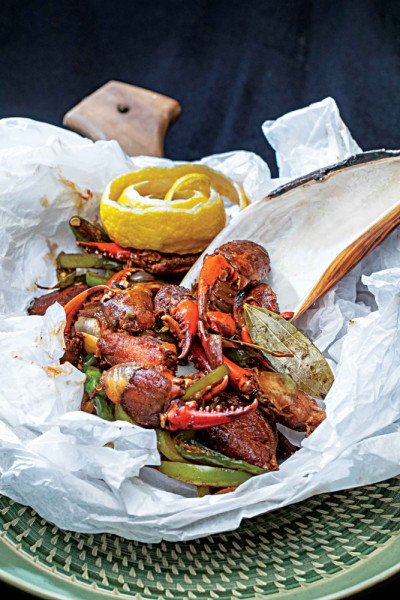 SHRIMP COCKTAIL
Ingredients
10 large shrimps, raw, deveined and easy peel, thawed
½ tsp salt
½ of a lemon
8-10 peppercorns
A handful of parsley
1 cup ketchup
2 tbsp horseradish
1 tsp lemon juice
½ tsp hot sauce, like tabasco
Method
Fill a large saucepan ¾ full of water. Add salt. Squeeze the juice of lemon into the pot and add the peel and flesh once squeezed. Add peppercorns and parsley. Bring the pot to a rapid boil over high heat. Remove from heat and let it stop boiling. Add the shrimp. Put the lid on the saucepan. Cover the pot. Let it sit for 4-5 minutes, or until shrimps are opaque and pink. Meanwhile, prepare an ice bath.
In a large bowl, put 2 cups of ice cubes and fill halfway with cold water. When shrimps are cooked, drain off the hot liquid and transfer to the ice bath. Let them sit for few minutes to fully cool. Peel shrimp but leave the tails on. In a small bowl, combine the ketchup, horseradish, pinch of salt, lemon juice and hot sauce. Divide sauce among 4 small bowls or martini glasses. Hang shrimp from the rims. Serve immediately.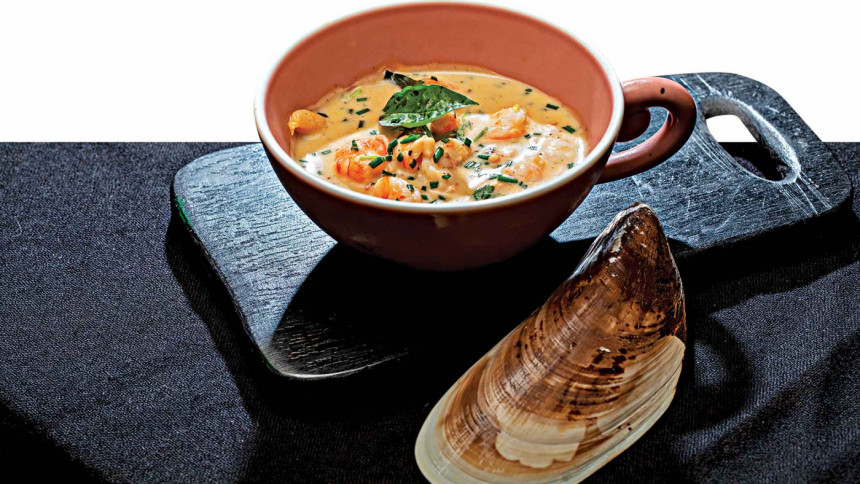 GRILLED SALMON
Ingredients
4 salmon fillets
½ tsp garlic powder
½ tsp black pepper powder
1 tsp lemon pepper
1/3 cup soy sauce
1 tsp brown sugar
1/3 cup water
¼ cup vegetable oil
Method
Season salmon fillets with lemon, pepper, garlic powder, and salt. In a small bowl, stir together soy sauce, water, brown sugar and vegetable oil until sugar is dissolved. Place fish in a large resealable plastic bag with the soy sauce mixture, seal and turn to coat. Refrigerate for at least 2 hours. Preheat grill for medium heat. Place salmon on the preheated grill, and discard marinade. Cook salmon for 6 to 8 minutes per side, or until the fish flakes easily with a fork.
CRAB SALAD
Ingredients
1 can crab meat, drained
2 large carrots, cut into pieces
1 beetroot, cut into pieces
1 cucumber, cut into pieces
2 onions, cut into pieces
1 tsp Dijon mustard
½ cup mayonnaise
½ cup celery minced
½ tsp paprika
¼ tsp black pepper powder
2 tbsp fresh lemon juice
Salt to taste
Method
In a large bowl, add all the ingredients together gently, stirring until well coated. Refrigerate for an hour before serving.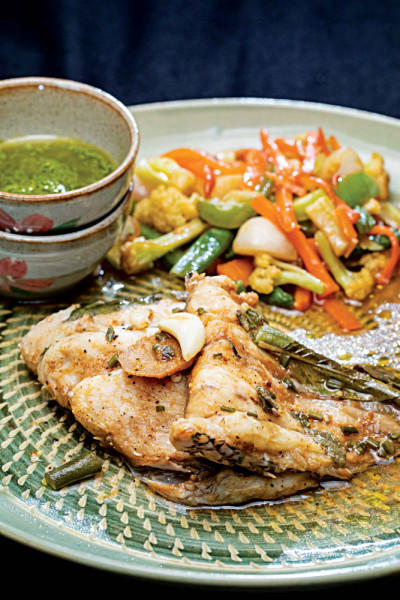 TANDOORI BHETKI
Ingredients
1 bhetki fish
1 tbsp red chilli powder
1 tsp turmeric powder
1 tsp garam masala powder
1 tbsp gram flour
¼ cup hang curd
4 tbsp mustard oil
1 tsp ginger paste
½ tsp garlic paste
Salt as required
Method
Cut and wash the fish properly and keep aside. Take a bowl and add all the ingredients. Adjust the amount of gram flour and yoghurt to get a nice thick paste. Apply this marinade to the fish on both sides very well. Keep it for at least 30 minutes in the fridge. Preheat the oven to 180° C. Grease the pan or rack. Place the fish on the grill rack and cook it for 15-20 minutes until golden brown. Serve hot with rice, roti or paratha.
GARLICKY LEMON BAKED TUNA
Ingredients
6 pieces tuna
½ tsp freshly ground black pepper
5 tbsp butter, melted
2 cloves garlic, minced
½ tsp crushed red pepper flakes
Juice and zest from half a lemon
1 lemon, sliced into round
Salt to taste
Method
Preheat oven to 200° C. Season tuna with salt and pepper and place on a small baking sheet. Mix together butter, garlic, red chilli flakes, lemon juice and zest then pour over tuna fish. Place lemon rounds on top around tuna. Bake tuna for 10-12 minutes or until fish is fork-tender. Remove from oven and serve.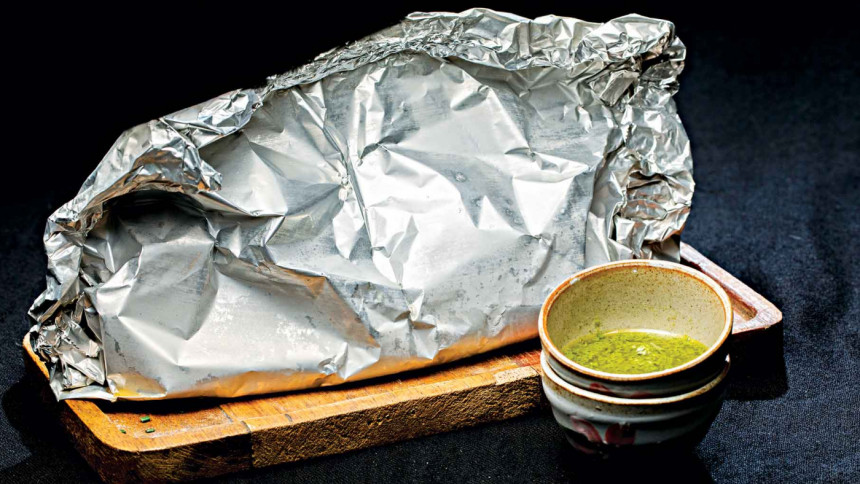 FISH AND CHIPS
Ingredients
500g boneless and skinless sea-fish fillets
4 large potatoes, peeled and cut into strips
1 cup all-purpose flour
1 tsp baking powder
1 tsp salt
1 tsp ground black pepper
1 cup milk
1 egg
Oil for deep frying
Method
Place potatoes in a medium-size bowl of cold water. In a separate medium sized mixing bowl, mix together flour, baking powder, salt, and pepper. Stir in the milk and egg. Stir until the mixture is smooth. Make a smooth batter. Let mixture stand for 20 minutes. Pre-heat the oil in a large pot or electric skillet to 175° C. Fry the potatoes in the hot oil until they are tender. Drain them on paper towels.
Dredge the fish in the batter, one piece at a time, and place them in the hot oil. Fry until the fish is golden brown. Drain well on paper towels. Fry the potatoes again for 1-2 minutes for added crispness. Serve hot with sauce.
Photo: Sazzad Ibne Sayed
Food and Styling: RBR