Jaggery recipes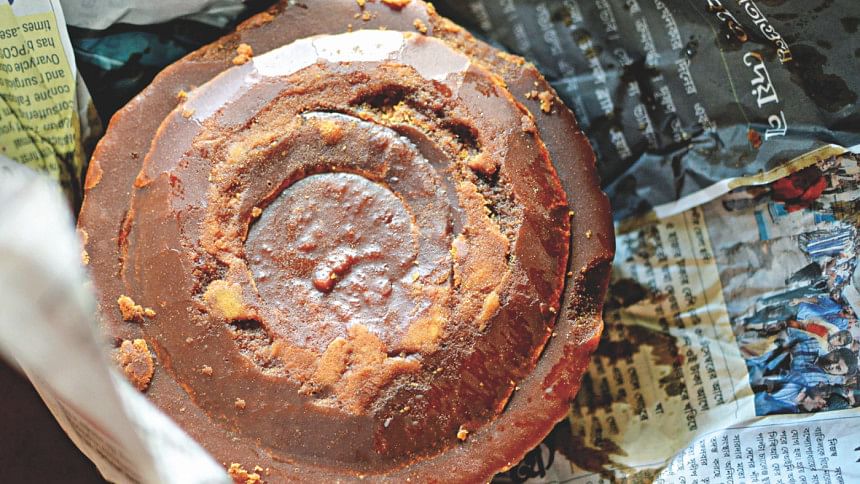 Winter offers a wide variety of seasonal goodies, and one such goody that you can add to your diet is jaggery (gur). Although it is hugely popular in South and Southeast Asia, many are unaware as to where jaggery is made of.
It typically comes from the sap of palm trees. There are many different kinds of palm trees, and jaggery can come from date palms, coconut palms, or sago palms. Jaggery can also be made from sugar cane juice.
How is it made
Jaggery is made using traditional methods of pressing and distilling palm, or cane juice. This is a three-step process:
Extraction:The canes or palms are pressed to extract the sweet juice or sap.
Clarification: The juice is allowed to stand in large containers so that any sediment settles to the bottom. It is then strained to produce a clear liquid.
Concentration:The juice is placed in a very large, flat-bottomed pan and boiled. During this process, the jaggery is stirred and impurities are skimmed off the surface until only a yellow, dough-like paste remains. This dough is then transferred to moulds or containers where it cools into jaggery. Colour ranges from light golden to dark brown. This is important, as the colour and texture are used to grade the jaggery.
Culinary uses
Jaggery is used extensively in both sweet and savoury dishes across India, Bangladesh, and Sri Lanka. It is added to curries and dal in many areas of our country. A dash of jaggery, when added to vegetables like bitter gourd and eggplant, reduces their bitterness to a great extent. Jaggery is also used in the preparation of toffees, cakes, pithas, kheer and many more.
How to store jaggery
Jaggery stores well as long as it is stored in an airtight container in a cool and dry place. Break the jaggery into smaller pieces and store, so that whenever you need to use it, you need to handle just the amount that you need.
GUR ER PARATHA (JAGGERY STUFFED PARATHA)
Gur er paratha is quite a unique recipe. Gur paratha is tempting as well as nutritious. The main ingredients in the dish is jaggery and wheat flour. To make it special, green cardamom and crushed almonds can be added. 
Ingredients
2 cups flour/wheat flour
¼ cup powdered jaggery
25 almonds, powdered
3 tbsp ghee
4 green cardamom
½ tsp salt
Method
Take flour in a big bowl, and add salt and 1 teaspoon of ghee. Using lukewarm water, knead a soft dough. Keep aside for 20 minutes so that it gets fermented. Add almond powder and cardamom powder in jaggery and mix well, keep aside for stuffing. Preheat tawa. Take little amount of dough and roll it into 3-4 inch diameter paratha. Spread some ghee on top of the rolled paratha. Now place 2 teaspoons of stuffing on the paratha and roll it back into a ball. Close the stuffing properly. Flatten the ball so that stuffing gets even. Dust it with dry flour and roll gently into 5-6 inch diameter paratha. Place the paratha on tawa. When it becomes slightly brown, flip the sides. When the second side gets brown spots as well then spread some ghee on the upper side. Spread it all around, flip the side and spread some ghee on the other side as well. Fry the paratha until it gets brown spots on both the sides. Likewise, prepare all the parathas.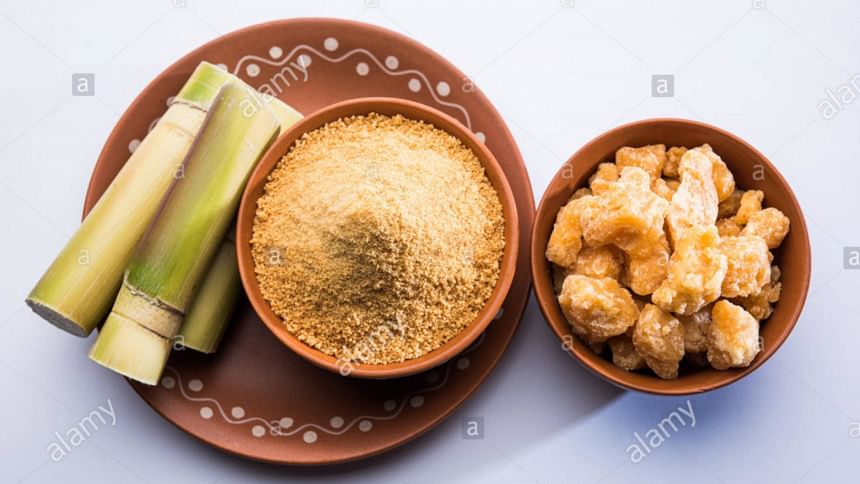 JAGGERY MALPUA
Jaggery has a rich taste that lingers in the palate for a while. Jaggery malpua is a delicious but quick dessert characteristic by this luxuriant flavour, speckled with exciting tinges of fennel. This melt-in-your-mouth whole wheat flour malpuas are served with pistachios and a topping of creamy rabri.
Ingredients
½ cup grated jaggery
1 cup whole wheat flour
½ tsp fennel seeds
¼ tsp cardamom powder
¾ tsp salt
Ghee for greasing and cooking
For the garnish —
¼tsp cardamom powder
1 tbsp pistachio slivers
½ cup rabri
Method
Heat ¾ cup of water in a non-stick pan. Add the jaggery, mix well and cook on medium flame for 2 to 3 minutes, or till the jaggery melts. Remove from the flame, transfer into a bowl and keep aside to cool slightly. Add the whole wheat flour and fennel seeds and milk, mix well till no lumps remain. Add the cardamom powder, salt and 2 tablespoons of water and mix gently. Heat a non-stick pan and grease it using some ghee. Pour a small ladleful of the batter on it and spread it evenly to make a circle. Cook, using a little ghee, till it turns golden brown in colour from both sides. Repeat with the remaining batter to make more malpuas. Serve immediately, garnished with rabri and pistachio slivers.
JAGGERY PANNA COTTA
A sinful dessert to relish at home, jaggery panna cotta is a healthier version made with jaggery instead of sugar. Packed with cardamom and cinnamon, this dessert is sure to please your taste buds.
Ingredients
2 cups whole fat milk
¼ cup jaggery
2 tsp gelatine
3 cardamom pods
1/8 tsp cinnamon powder
Method
Take 2 tablespoons of water in a bowl. Sprinkle gelatine on top and leave for 5 minutes. Take milk and jaggery in a pan. Open the cardamom pods and put in the milk. Heat on a low flame. Once the jaggery has dissolved and milk is hot, add the gelatine and cinnamon powder. Stir and cook for about 5 minutes. Leave to cool for a while. Strain and pour into pudding moulds and refrigerate for at least 2 to 3 hours to set. Demould chilled panna cotta onto a serving plate, drizzle with cranberry sauce and serve.
OATS JAGGERY COOKIES
Ingredients
1 cup oats
½ cup whole wheat flour
¼ cup almond
¼ cup desiccated coconut
½ cup jaggery powder
¼ cup honey
¼ cup oil
½ tsp baking powder
¼ tsp baking soda
½ tsp cinnamon
Method
Preheat the oven at 170° C for 10 minutes. Grease or line a baking tray with parchment paper or aluminium foil. Grind the almonds and oats into fine powder. In a large bowl mix all the ingredients with almonds and oats powder. Combine and mix everything well. Don't knead much. Make small balls and lightly press with your palm. Place on baking tray 1 inch apart. Bake for 10 minutes or until the edges becomes brown. Cookies will be soft when hot. So, let it cool down completely. Serve or store in airtight container for later use. Enjoy healthy and yummy cookies with your tea, coffee, or milk.
JAGGERY AND CHOCOLATE FUDGE
Ingredients
1 cup grated jaggery
1 cup grated dark chocolate
1 cup crushed peanuts
1 tbsp butter
Method
Grease an aluminium tray with butter and set aside. Melt jaggery in a double boiler. Add butter and mix. When the jaggery melts, add the peanuts and chocolate and mix well. Transfer the mixture onto the tray and spread evenly. Set aside for 15-20 minutes to cool down to room temperature. Then set in the refrigerator for 10 minutes. Cut into pieces and serve.
JAGGERY BOONDI LADOO
Ingredients
1 cup besan (chickpea flour)
1 cup rice flour
2 cups grated jaggery
½ cup milk
½ cup water 
3 pods of cardamom
2 tbsp ghee
10 cashew nuts, broken, fried
Oil for frying
Pinch of salt
Method
Combine the rice flour and chickpea flour, and sieve together. Take a bowl and add flour mixture and add water and milk. Mix well and make boondi batter and keep aside. In a pan, boil 1 cup of water and add the jaggery. Cook till the jaggery is dissolved and two thread consistency of the syrup is formed. Add the ghee and cardamom pods. Mix well and keep aside. Heat oil in a pan. Place boondi special ladle just over oil and pour boondi batter little by little and fry. Take out boondi and keep in a bowl. Prepare boondi with whole batter and add them to the jaggery syrup. Add the cashew nuts and mix well. Divide the mixture into equal round laddoos. Store them in an airtight container or serve immediately.
TOMATO JAGGERY KHATTA (TOMATO AND JAGGERY SWEET CHUTNEY)
Ingredients
5-6 chopped tomatoes
4 tbsp grated jaggery
1 tsp grated ginger
2 dry red chillies
½ tsp roasted cumin powder
½ tsp roasted red chilli powder
5-6 dates, deseeded
1 tbsp mustard oil
¼ tsp panchforon
Salt to taste
Method
Heat oil to smoking point in a wok. Add panchforon and red chillies, when it splutters, add the tomatoes and ginger, cover and cook till the tomatoes are slushy and nearly cooked. Add the salt, jaggery and dates. Cook till the jaggery melts and the chutney attains a nice red colour. Lastly, add the roasted cumin and red chilli powder. Mix well and switch off after one boil. Serve with rice, puri or paratha.
Photo: Collected