Flavourful kachchi recipes for Eid
Kachchi biriyani literally means 'raw biriyani,' and is also known as 'kachchi yeqni' as the unique feature of this preparation is that the raw meat and rice are cooked collectively in steam. This is unlike other biriyanis where the two are cooked separately and then assembled together. Goat meat is most often used. Sometimes, lamb and beef, and infrequently, chicken is also used.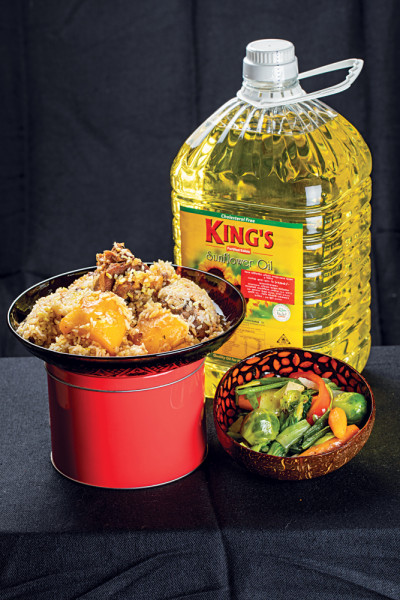 The term "kachchi" refers to the biriyani ingredients being combined raw in layers instead of first cooking the meat or rice separately. Traditionally, the biriyani is cooked in a clay oven and the cooking pot is usually sealed with flour dough to allow the biriyani to cook in its own steam. The sealed pot is not opened until the biriyani is ready to be served.
Kachchi biriyani is usually a featured dish for wedding and social gathering and celebrations. Layers of meat, rice and potatoes are infused with warm and delectable blends of aromatic spices to prepare kachchi biriyani and each spoonful is a mouth-watering surprise. Traditionally, ghee is used for kachchi preparation, but for health reasons, one can opt for sunflower oil, like King's Sunflower Oil.
KACHCHI BIRIYANI
Ingredients
2 kg mutton (large pieces)
1 kg aromatic or basmati rice
1½ cup King's Sunflower Oil
½ kg potatoes, same size
2 cups chopped onion
4 tbsp ginger paste
2 tbsp garlic paste
1 tbsp cumin powder
2 tbsp coriander powder
1 tbsp chilli powder
1½ cup plain yoghurt
1 tsp nutmeg powder
½ mace powder
1 tbsp poppy seed powder
½ tsp cinnamon powder
1 tsp crushed cloves
1 tsp green cardamom powder
10-12 whole black pepper
10 aloo bokhara
10-12 almond
¼ cup raisins
3-4 tbsp kewra essence
Salt as needed
Ground turmeric, just a little to add colour
1 cup saffron infused milk
½ cup mawa
Method
Clean and rinse the mutton. Marinate with 1 tablespoon of salt for half an hour. Clean the mutton again and completely rinse out all the water. Set aside.
Fry the onion until golden brown and crisp. Crush the onions lightly into smaller pieces and set aside.
Sprinkle a bit of turmeric on the potatoes and fry them in the same King's Sunflower Oil. Keep these aside. Now marinate the mutton with yoghurt, salt, fried onions, ginger, garlic, cumin, coriander, nutmeg, mace, poppy seeds, chilli powder, cardamom-cinnamon powder, clove, aloo bukhara, and kewra. Pour the marinated mutton into a large sauce pan. Set aside.
In a separate pan, start boiling 6 cups of water with salt. Add rice into the water. As soon as the rice starts to get cooked, turn off the heat and let the water drain. Keep the rice water aside for later use. Add 1 cup of rice water and ½ cup of King's Sunflower Oil into the sauce pan containing the mutton. Cover the pan and let it rest for half an hour.
Now layer the fried potatoes, aloo bokhara, almonds and raisins on top of mutton. Cover mutton with rice, and add the remaining rice water and oil. Sprinkle mawa and saffron milk. Make sure the water level just touches the top of the rice. Seal the cover shut by wrapping an aluminium foil all around. Make sure the cover is air tight and the vapour does not get to escape. Alternatively, the cover can also be sealed using wet flour dough. Finally, turn on the stove and start cooking over medium heat. After 15 minutes, lower the heat and cook for about an hour. Keep low heat until both the rice and meat appear soft and cooked. Remove the cover once the very distinct biriyani aroma starts come out. Mix rice and mutton gently before serving. Serve with usual chutney or the traditional borhani.
BEEF BOTI MASALA
Ingredients
1 kg beef boneless
½ cup yoghurt
1 tbsp ginger paste
½ tbsp garlic paste
1 tsp red chilli powder
½ tsp black pepper powder
½ tsp cumin powder
½ tsp coriander powder
½ tsp nutmeg and mace powder
1 tsp garam masala powder
1 cup chopped onions
Whole garam masala, as needed
½ cup King's Sunflower Oil
½ tsp sugar
Salt to taste
Method 
Cut the meat into 1-inch sized cubes. Clean and pat dry with paper towel, keep aside. In a bowl, mix yoghurt, ginger, garlic, cumin, red chilli powder, coriander, nutmeg, mace, black pepper powder, garam masala, salt, and sugar. Coat masala paste with meat pieces well. Cover and marinate for 12 hours in refrigerator.
Heat King's Sunflower Oil in a deep bottom pan. Fry chopped onions and whole garam masala until brown. Add marinated meat and cook on high heat for 10-12 minutes. Now add little water and cook on medium heat until soft and tender. Once cooked and gravy is thick, turn off the flame. Transfer to a serving dish and garnish with fresh mint leaves. Serve with rice, naan or paratha.
MUGHLAI BEEF FILLET CURRY
It is a spicy and delicious curry. The beef yoghurt marinade adds up, making a rich wonderful gravy and almonds gives a Mughlai touch. This is specially for beef lovers, and perfect for Eid.
Ingredients
1 kg beef fillet
20g fresh coriander
15g ground red chilli
1 tbsp hot spices
½ cup almonds and sesame paste
½ cup green masala (blend coriander leaves mint and green chillies)
2 large chopped onions
250g yoghurt
3 tbsp ginger-garlic paste
4 tbsp ghee
2 tbsp King's Sunflower Oil
Salt to taste
Method
In a bowl, put green masala, almonds, sesame and salt, mix well. Then, put the beef fillets in mixture, marinate it for 1 hour. Heat King's Sunflower Oil and ghee in a pan, add onion and ground red chillies, fry it. Now add marinated beef fillet in it. Mix well and cover with lid for 8-10 minutes. Add yoghurt, ginger-garlic paste, hot spices and pinch of salt, stir and mix well. Cover and cook on low heat till tender it is done, garnish with the coriander leaves. Serve hot with rice, naan or chapati.
Photo: Sazzad Ibne Sayed
Food and Styling: RBR