Nail Art - Self-expression with flair
Like every other form of makeup, nail art too is a way of self-expression. From the way one shapes them to the colour and finish of the paint, and of course the design or art that goes on it, can tell a lot about the person wearing it. And with all the new forms, finishes and tools available today, it has become easier than ever to achieve a flawless outcome in minutes.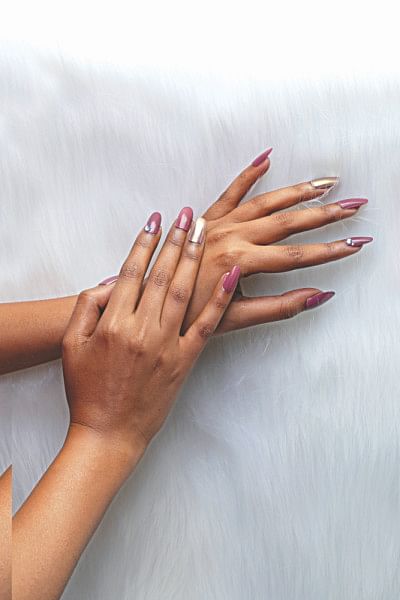 For a better understanding of all these new techniques and trends, we spoke to Tasnim Monzur Labiba, a freelance nail artist with her Facebook page Nail Art Desire. Tasnim is currently a freshman studying microbiology at North South University. She started her Facebook page back in February 2018, and was asked to share a Henna stall by a fellow senior to showcase her work, sometime later during Eid-ul-Fitr in the same year. Although it was only a three-day fair, it did not end there, as you can now find her stall at such festive fairs throughout the year.
Tasnim shares the basics of nail art, starting with the nail base, which can be of three types — natural, fake or extensions. When asked to choose amongst the three types, she chose natural, saying, "I find natural to be the best since fake and extensions can get damaged over time."
When asked about her most popular design, she mentions that her 'Floral Chevron Manicure' gets a lot of responses, which is a simple white chevron with rose details, followed by her 'Mirror Nails' which too have garnered a lot of attention, for clients love it when they can see their reflections on their nails.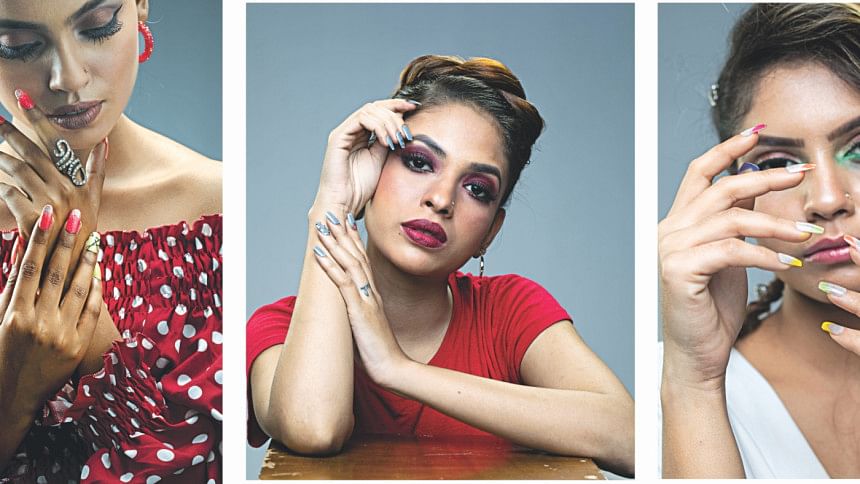 Customised nails are another trend she often gets. Since it is easy for us to look up designs whenever we like, Tasnim's clients like to send her picture references of the designs they want. She then proceeds to recreate them on fake nails and has it delivered. She also has a wide array of fake nails designed in her page, which can be ordered directly even if you do not wish to customise.
She also adds that the type of nail and design to go for really depends on the client's personal preferences. If they want something simple for everyday wear, natural nails are the way to go, as that will last about a week or 10 days. Nude colours in glossy finishes look fresh for an everyday look.
Fake nails, on the other hand, last around a week or lesser, depending on how frequent the nails come in contact with water, since the nails are stuck using glue. These are mostly used during special occasions and when there are lots of 3D additions such as rhinestones or glitter.
Polygel extensions are like the best of both worlds since they last the longest, which is almost up to a month. If you want to keep the same nail art for long periods like this, polygel extensions are the way to go. What makes them different from traditional nail paint is that they have to be cured using LED or UV rays as they do not air dry. Similarly, they cannot be removed with acetone either, but have to be scrapped off using an Electric file or e-file. But do not fret, for if the base of the polygel is not destroyed the whole thing does not have to be removed for a new design. The top design will be removed, and the base can be refilled with a fresh layer followed by a new design on top.
French manicure is an old classic that everybody loves and one that suits all occasions. But Tasnim also adds that there has been a lot of varieties of the classic French manicure lately. This involves experimenting with different colours and substituting the white tips for more vibrant or pastel alternatives.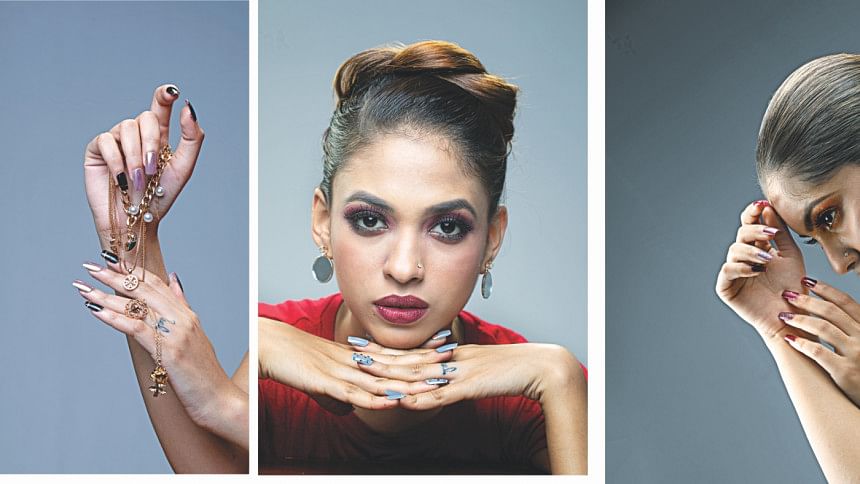 The brand of the nail paint matters a lot when it comes to natural nails because otherwise, the edges will start to chip. Sally Hansen is hands-down one of the best brands for nail paint, but if you cannot get your hands on that, Revlon, Wet n Wild and Flormar are great alternatives that are available here.
How the nails are prepared before applying nail art is just as important for a flawless outcome. Tasnim suggests that one apply Vaseline, coconut oil or cuticle oil on the edges of the nails before going to bed. This makes the edges smoother and healthier, further perfecting your nail art.
While nail art can be achieved at home, there are certain things which professionals tend to do better, such as polygel extensions or intricate nail designs etc. How they prepare the nails before also plays a part in the outcome. "From the preparation, things like buffing and curing the nail to finishing it off; if everything is not done step by step, the outcome will not be the same," says Tasnim.
Lastly, to jot down the trends of 2020 in nail art, we have the Milky nails, which is a white glossy nail polish that fades from the ends and has a slight transparent finish. The Baby Boomer is another soft nail polish look which is an ombré of nude and white colours, Sea Glass that comes with a slight sea green tint, and finally, lots and lots of funky prints!
Photo: Sazzad Ibne Sayed
Model: Efa, Mohiny, Naaz
Styling: Sonia Yeasmin Isha
Makeup: Farzana Shakil's Makeover Salon
Nail art: Nail Art Desire