A day with a weaver (video)
"We know what we know, they said when he tried to teach them the secret of Jamdani, and we want to know no more. A crow falls out of the sky if it tries to learn peacockery".
We can get a hint of how futile it is going to be for an outsider in making an attempt to learn the intricate craft of Jamdani weaving, through these lines above, borrowed from Amitav Ghosh's The Circle of Life, where the protagonist is a master weaver. 
Indeed, the traditional art of Jamdani weaving, which is included in UNESCO's Representative List of the Intangible Cultural Heritage of Humanity, is an intricate process that takes several years to master. Nevertheless, as an outsider, the process is a fascinating one to observe - from the indigenous loom to the fine tasks of the weavers. 
Narayanganj has always been celebrated for Muslin and Jamdani. Why don't you make a daytrip to one of the weaving centres there?
After all, you are always looking for ideas for sudden trips and quick escapes. And, you can also buy directly from there.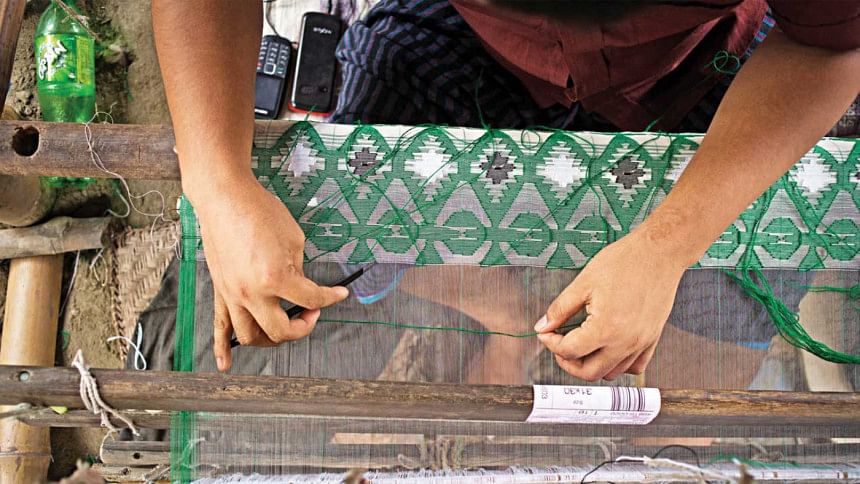 Rupshi, a village in Rupganj, provides you just that. 
We started off not very early: 8am. The sudden and yet much-needed downpour the previous night had washed away the dust from the trees, making leaves appear refreshingly green. And the raw smell of the earth is always reinvigorating.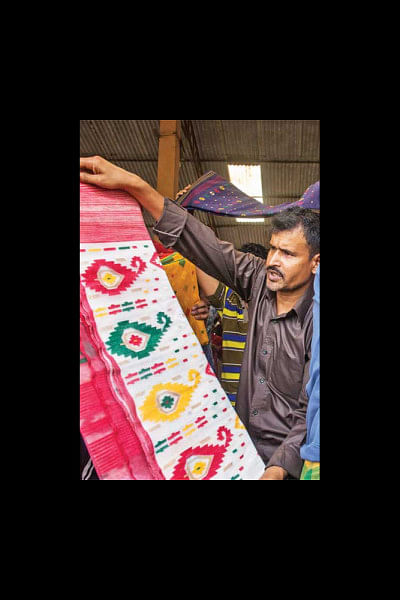 The rural landscape came into our sight surprisingly soon. On our way to Demra Staff Quarter - from Rampura Bridge through Banasree and beyond, the paddy fields, ponds and open skies appeared in a little while. After you reach the Staff Quarter, your next point is Rupshi Bus Stand -- for which you have to cross Demra Bridge. Once you have reached there, you have to travel a short distance to Kazipara Circle, where a master weaver, Mohammad Babul and his 'mahajan' (businessman/financier), named Al Amin, were waiting for us. 
In a short span of 1 hour and 15 minutes, we were at their Jamdani workshop. 
Unlike many other workshops or factories, the hut was noiseless, except the chirps and the quacks of flocks of chickens and ducks that roamed about outside, patiently searching for food.
The loom operates silently; there is no noise in weaving Jamdani. It is operated not just by hands, but by feet as well. Two weavers sit side by side to work: the 'Ustaad' (master weaver) sits at the right while 'helper' (apprentice) sits at the left. The floor under the looms is dug out to an extent, so that when you sit to work behind it, your legs will be in the hollow space below the ground level (thus facilitating the operation of the loom with feet). Therefore, if someone is standing beside the weaver at work, that person's feet will be at about the waist level of the weaver. 
The bamboo-framed loom has numerous parts and components, each with a different name and serving a function. 
In Al Amin's factory, Babul and his junior weaver Hridoy continued their work. "We start early in the morning and we work throughout the day and continue till about 7pm, albeit breaks for meals," he said, pointing at the bulb tied to the loom. It takes about a week to make a sari. Depending on the work, a sari may require even three or four months to complete."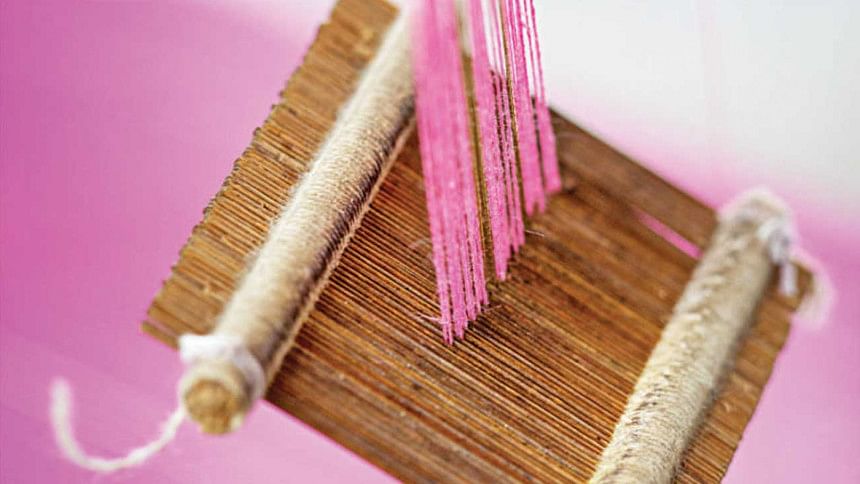 The weavers work for long hours, and the job is indeed painstaking. You require the utmost concentration. "It is an extremely intricate job," Babul informed. "Although we may sometimes be given a sample or a sketch, we normally weave without it." 
How do you remember all that patterns, then? Babul smiled and continued with his work. Jamdani weaving has a reputation of being an instinctive job, in the sense that the weavers 'just know' how to make the required designs, without preliminary sketches or elaborate preparations beforehand.  
And there are many patterns and designs to learn. They are inspired from the weavers' surroundings: 'moyur' (peacock), 'golap' (rose), 'motordana' (peas), 'paan' (betel leaf) and so on. The local influence is evident. 
The answer lies in the experience. "I started out at an early age. After many years, I am now a master weaver," Babul informed, and then looked at his apprentice. "He would be a master by six or eight years."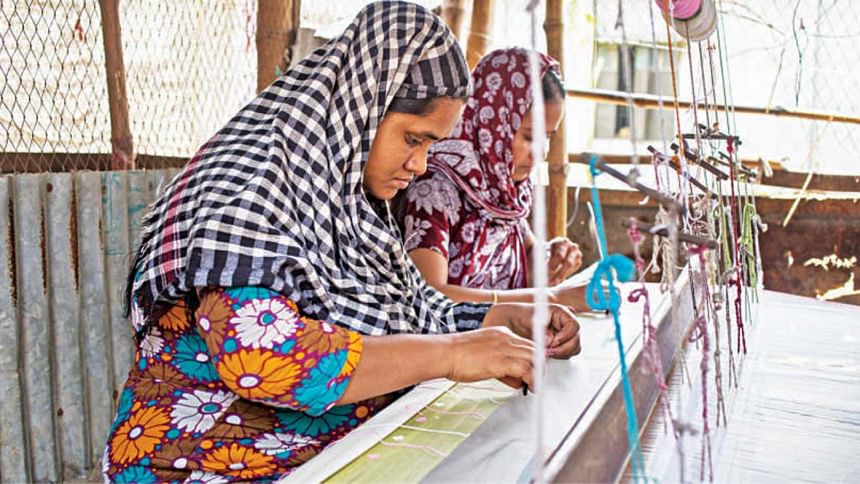 But would he continue in this profession? 
Samad Chowdhury entered the factory during his lunch-break to meet his old companions. "I used to be a weaver," he informed. But the income was not sufficient to feed my family. I therefore switched to working for a mill in this area." 
Babul continued, "Outsiders, be it customers, foreigners or even many people from the media, portray us as all happy and merry. But this is not the case. After the hard work weavers put, we don't get paid enough," a weary-eyed anxious weaver complained. 
It was already evening, and Babul's worries and financial struggles had made our hearts heavy. At last we bid farewell and set for a boat ride. 
Shitalakkhya River is nearby. And along the line, there are several small eateries for you to try some delicious, local snacks: piyaju, shingara, dal puri, alupuri and so on. Meanwhile, an orange sun, nearing the horizon, was about to retire. For your trip, cruising in the river is a must: a retreat indeed. 
Not just because of that, a Jamdani trip ought to pay homage to Shitalakkhya. The weavers owe a lot to it. For centuries, since the glorious days of Muslin and Jamdani, the banks of Shitalakshya had hosted weaving establishments. Being near a river of course helped in trade and commerce. And much has been said about the water of Shitalakkhya itself. Jamdani is made with cotton, and for processing cotton, water is essential. And there is something about the water of Shitalakkhya that brings out the supreme quality of Jamdani.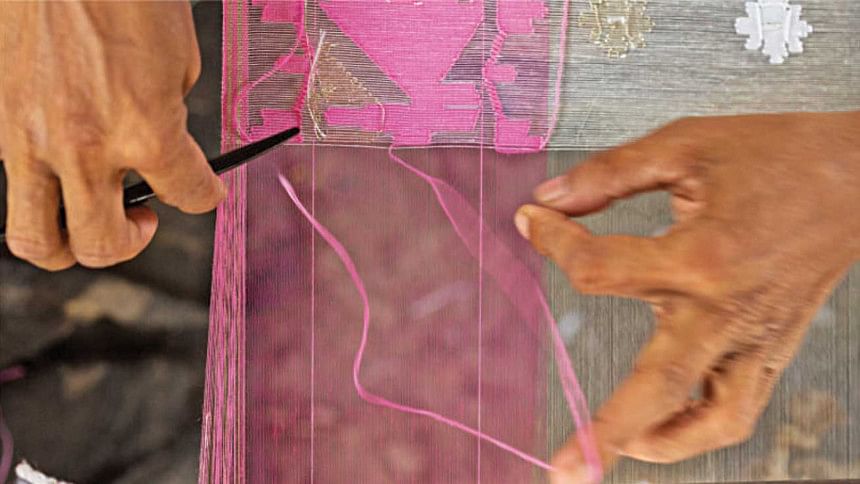 After the sunset during the boat ride, it would be time to go home, perhaps another 1 hour and 15 minutes or so. And you will return with a lot of memories of unique sights and sounds - of a refreshing rustic environment and an illustrious heritage in motion and the stories of people who are carrying its legacy forward. And perhaps with a few Jamdani saris brought directly from right the source!
Factories remain closed on Fridays. There are several Jamdani factories in that area. If you are planning to visit or buy, you may contact Al Amin, Proprietor, M/S Al Amin Jamdani House (01911981312).
We express our gratitude to all the traders and weavers of Jamdani for providing information for the write-up. A report published by CPD and NCCB, 'Protecting Bangladesh's Geographical Indication Interests: The Case of Jamdani', has been another valuable source of information.