In conversation with an ashtanga guru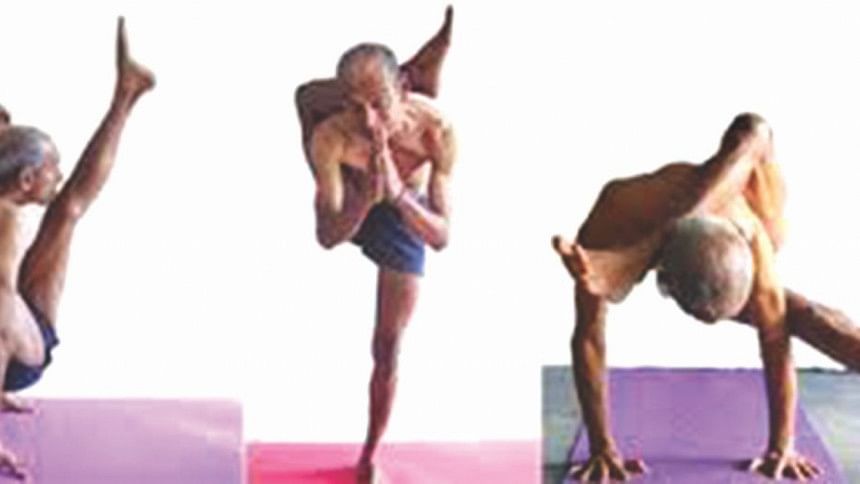 Ashtanga is a form of yoga that I have been practicing for three years under the guidance of a few incredible teachers.  One such teacher is a gentle but infinitely strong man named Vijay.  I spent a couple of weeks with him last year in Dharamsala, India.  
Vijay started learning yoga at the age of 11.  There were no teachers in his village in Tamil Nadu, South India at that time, so he bought a book and taught himself four asanas: head stand, shoulder stand, peacock pose, fish pose.  "I loved being upside down. It gave me some deep awareness," he says. 
He doesn't remember the name of the book, but he kept it close to him, under his pillow when he slept.   But yoga should never be learned from a book.  "Many years I practiced these four asanas wrong.  About 25 years.  I damaged my spine, shoulders, knees, because I practiced it wrong for so long." 
In 1993, Vijay went to a yoga school in Bihar for yoga training. There he learned the proper techniques and alignment.  This was a good experience but he wasn't satisfied so he studied other techniques with different teachers.  Then, at the age of 40, he started ashtanga.  This helped him increase his flexibility and strength.  "Before ashtanga, I was nothing," he says. "I worked very hard to open my strength and my body."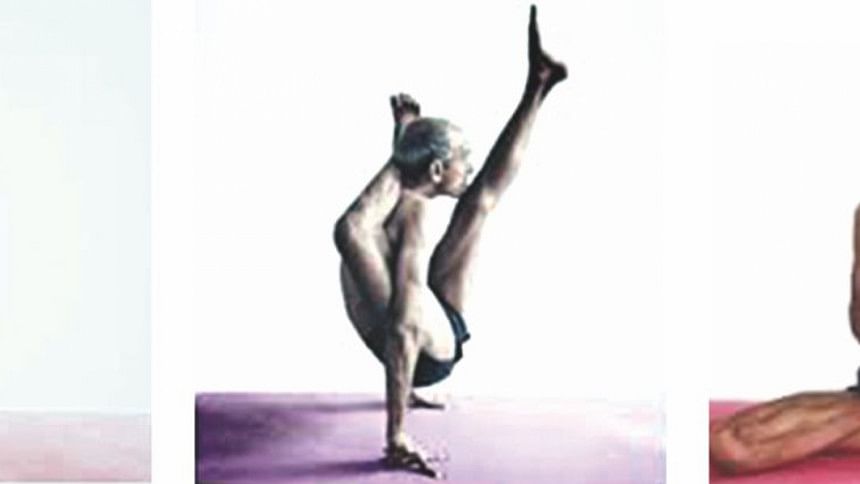 In the course of his practice, Vijay broke his elbow. A doctor had to hammer in two stainless steel nails and a synthetic wire to reconstruct his elbow. This was very painful.  He went to a local doctor who gave bad advice, saying he didn't need a cast. He was still teaching so he had to demonstrate chaturanga (a pose like a push up) with one hand, and that started to ruin his other shoulder.  Then he visited a government hospital where they treated his arm properly. He had to wear a cast for 45 days and had to do physiotherapy. 
"It was a hard time for me. I had to sleep on the right side. But after that injury I got much better at arm balances.  The steel nail hurt, so I chose to have it removed. That was even more painful because the bone had grown over but once that healed, I could do arm balances without pain." 
Vijay says the injury pushed him to overcome his weakness. I can relate to this myself because I also drifted towards yoga after seriously injuring both my shins, running half marathons in New York.  Another great teacher I have come across, Tim Feldman, fell off a cliff, 60 feet high, broke most of his bones, but rehabilitated himself through yoga. This is a common story. Sometimes when a person is broken and at his lowest, he finds the strength to rise again, stronger, like a phoenix.
Balance and acceptance were part of the lesson, Vijay says.  "I was worried that I might lose my strength or my asanas and that would mean my livelihood too. But I had to accept it. What I learned was not to work too hard, not to over-practice, to accept. Before the injury, if anyone said don't work too hard, I didn't listen. But this way I got the lesson." 
I asked Vijay about his life outside of yoga.  He says he has a daughter and a wife whom he visits a few times a year, but mostly he spends time in the studio or the temple.  He supports his family financially, but he craves a simpler life.
"Sometimes I wonder why I struggle, why I don't just be free. Wherever I go, I can manage, but I have my daughter to think about.  I never thought I would become a yoga teacher. I lost my mum when I was a small boy. My father was a farmer.  He worked hard, 17 hours a day, but drank too much.  He used to abuse everyone so I used to hit him. I can swim well. I can climb trees. Coconut trees.  I learned as a boy. I was violent and aggressive. We were of a warrior caste.  Then he was afraid of me.  When I was 17, my mother took me away. Yoga taught me to be a good human being. If you want to be a yoga teacher, you have to be serious and sincere and active. " 
I asked Vijay about his diet.  He says, "When I eat anything new, I observe my physical body system so I can understand. I control. For example ghee and milk make me lazy. So I have cut out fatty items like that."
I asked Vijay how yoga has helped him. He says, "I started ashtanga at 40. I'm now 60. Yoga has helped me understand life a bit. I still I have a lot to learn."
Photo courtesy: Shazia Omar