Baselworld 2015: 7 timeless women's watches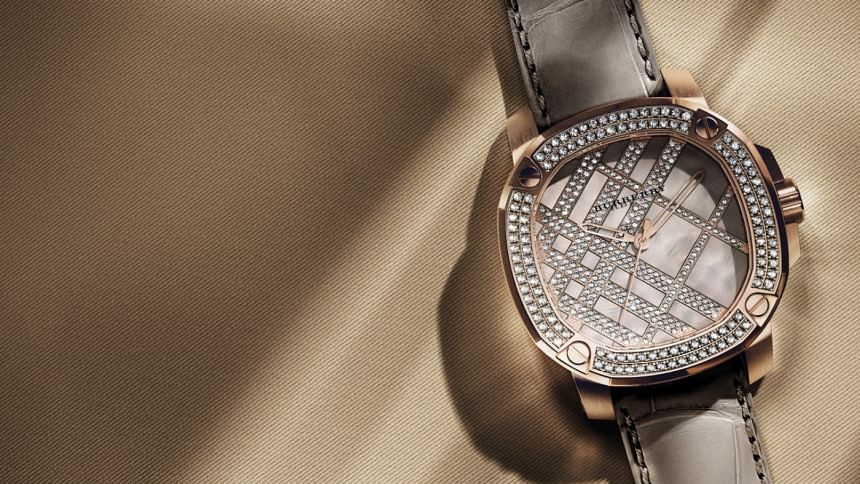 After the end of Baselworld, it's time to examine the watch trends of 2015. 
Fans of classic watch designs are in luck this year, as illustrated by these models unveiled at the Swiss trade show. 
Metallic cases always lend timeless elegance to a watch, whether in silver, yellow gold or rose gold. Among the many metallic women's watches revealed at Baselworld 2015 are the Calypso K5660, in rose gold adorned with small gemstones, and the GC Lady Chic, with a mother-of-pearl dial and a bracelet in rose gold and white or blue ceramic. 
A major trend at Baselworld this year, smartwatches take on a particularly elegant style for women. The Guess Connect, which could easily pass for a traditional wristwatch, packs high-tech features including support for voice commands, allowing the user to control a smartphone remotely. 
A bit more luxurious, the latest edition of the Burberry Britain is so exclusive it is only made to order. Like the matching model for men, the Britain Icon Check for women has a dial inspired by the brand's signature motif, which is replicated here with 245 diamonds and hand-set mother-of-pearl panels. The dial is surrounded by an equally breathtaking bezel adorned with 124 diamonds.
Precious metals and diamonds aside, there is plenty of color in the women's watch world this year, in part thanks to dyed leather. Swarovski has dressed up its Aila Day Double Tour watch with leather straps in bright red or blue, while Elixa has introduced its Finesse Collection, with straps in an array of different shades. 
Finally, for its 50th anniversary, Aigner has also paired a timeless watch with a colorful bracelet. The limited edition Verona has a mother-of-pearl dial with four diamonds and comes with a strap in dark red alligator leather.