Top 5 must-see mesmerising waterfalls in Bangladesh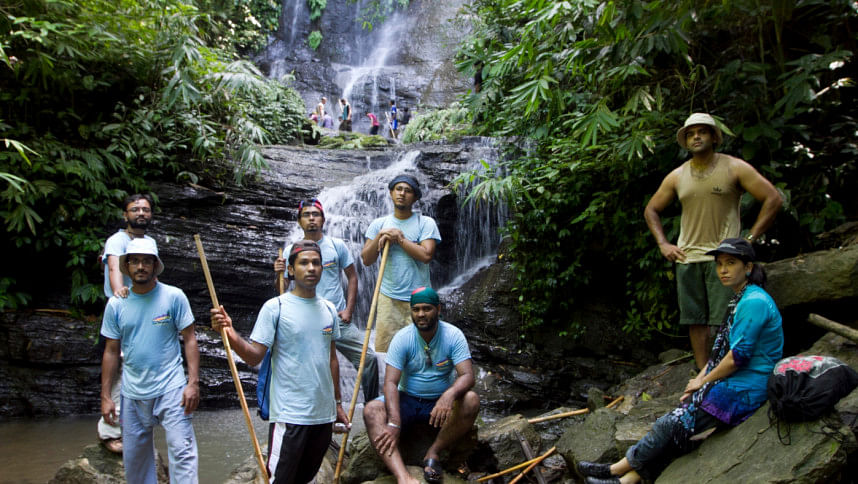 From Sylhet to Bandarban, Bangladesh is blessed with mesmerising waterfalls. As they get lively in monsoon, the peak time to visit is between July and September. Keeping that in mind we recommend 5 must see waterfalls in Bangladesh.
Tinap Saitar Waterfall, Bandarban
A remote location, taking permission from the authorities, hiring a guide to help you walk through a pristine mountain trail, setting foot and getting astonished by the sight of the naturally created waterfall — all these experiences are guaranteed if you visit Tinap Saitar, located in Paindu Canal at Roangchari of Ruma upazila in Bandarban. 
For travellers wishing to be rewarded with stunning scenery after an extensive trek, the unparalleled beauty of the waterfall is just fascinating to watch. The waterfall boasts clear water with the flow increasing in monsoon and you can witness the water falling into Paindu Canal from above in monsoon and can even catch a glimpse of rainbow reflecting on the water on a sunny day!
Khoiyachora Waterfall, Mirsharai
Located on the hills of Mirsharai, Chattogram, this waterfall is one of the most scenic in Bangladesh. With a total of 9 steps and many isolated steps, the sheer enormity of the waterfall makes it unique and spellbinding. You can take river trips and feel the mist of the waterfall as it offers a visual feast for visitors wishing to swim or roam at the foot of the mountain to enjoy the beauty of the waterfall on a moonlit night.
Richang Waterfall, Khagrachhari
Richang Waterfall is a mountainous waterfall located in Shapmara village of Matiranga upazila in Khagrachhari. The fountain water falls from at a height of 100 feet, crashing onto the rocks emanating a beautiful thunderous sound while splashing the waterfall steps when you are near the waterfall. Located amidst a green hilly area in a serene setting, this waterfall is a natural wonder that's a must for you if you are to create memories worth treasuring.  
Mayabi Waterfall, Jaflong
Situated at Jaflong, a 20-minute boat ride from the bank of Piyain River at zero point, splashing through massive rocks and coming down in a powerful stream, the waterfall can be seen among the green foliage of the surrounding area. Whether it's the rush of water flowing down the rocks or climbing the boulders to get underneath the stream, this waterfall showcases just how beautiful Jaflong is.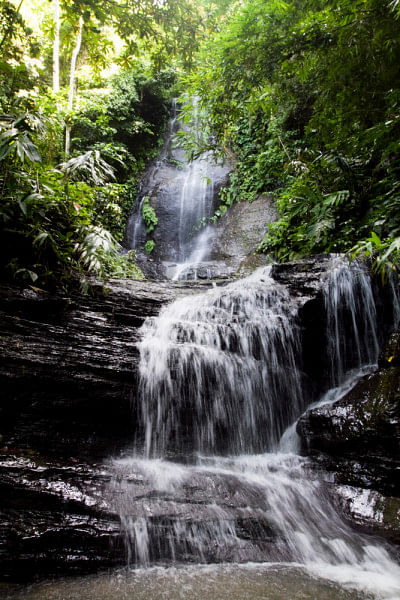 Madhabkunda Waterfall, Moulvibazar
Located in Barlekha upazilla of Moulvibazar district, it's the most famous waterfall in Bangladesh and any recommendation of waterfalls feels incomplete without mentioning Madhabkunda. The water rapidly falls at this beautiful waterfall from a height of about 162 feet. A magnificent waterfall with a strong source of water, this natural phenomenon is at its best during the peak of the rainy season.