'Will starve to death, but won't take aid from those who set jhum land on fire'
Says chief of Reng Yan Para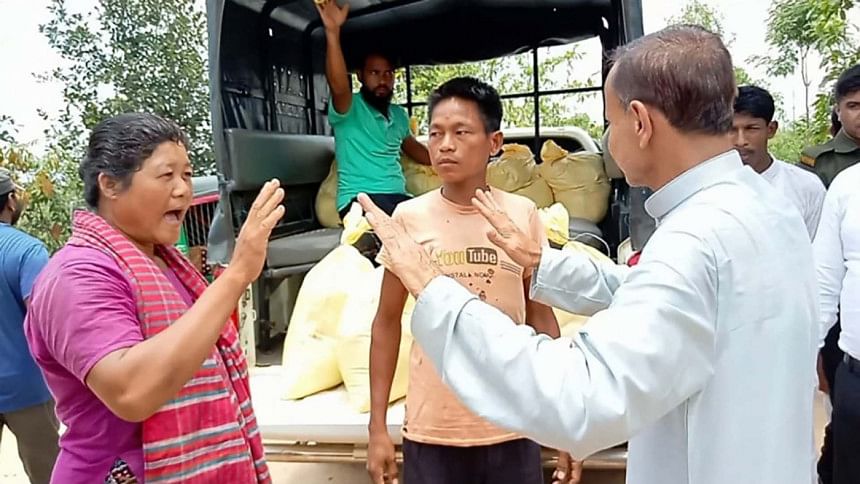 People from Mro and Tripura communities in Bandarban, who were affected by the fire on Jhum land, have refused aid from the local administration as the relief was being distributed in presence of those allegedly involved in burning the gardens at Langkompara, under Bandarban's Lama upazila.
Lama Upazila Nirbahi Officer (UNO) Md Mostafa Jawed Qaiser confirmed the development to The Daily Star.
UNO Qaiser said that under the directives of Bandarban Deputy Commissioner, the local administration went to the fire-affected area this morning but locals affected by the fire returned the relief to them due to the presence of Lama Rubber Industries workers.
"We wanted to give them rice, pulses, muri, chira, salt and water," the UNO said.
Reng Yan Mro, chief of Reng Yan Para, told the Daily Star that at this moment, the residents of Langkom need urgent relief. "But when we went to take relief, the staff of Lama Rubber Industries Limited – who burnt down our jhum lands – were present with officials of the administration."
"We will starve to death but will not take relief from those who burned down our gardens. We have returned the relief to the administration," said Reyan.
Langkom Mro, chief of Langkompara, told The Daily Star that some Tripura families first took the relief, but later those were returned to the administration as well.
The village chief said the employees of Lama Rubber Industries Limited intentionally torched their fields on April 26, 2022 in a bid to grab their land. About 100 acres of jhum crops, including paddy, mango, banana and pineapple, were destroyed.