Sigh of relief: Dhaka Airport runway to be open 24hrs from next month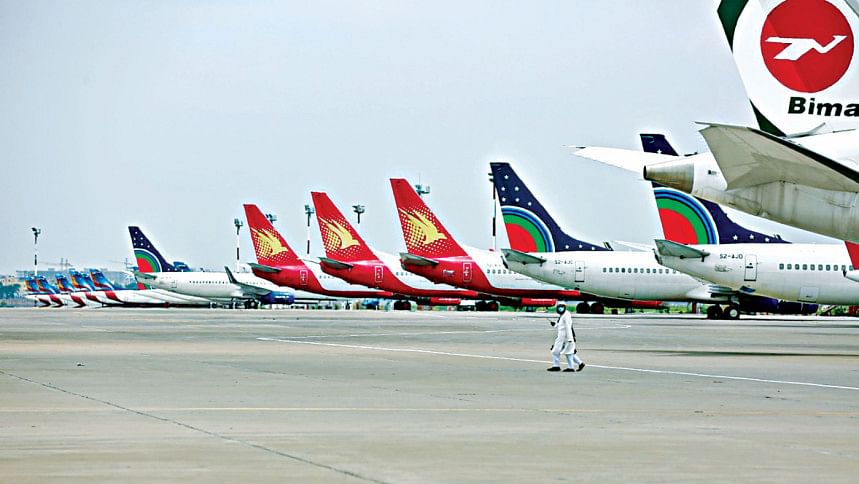 In a sigh of relief, the runway at the Hazrat Shahjalal International Airport n Dhaka will be kept open for operating flights for 24 hours from next month instead of June.
Hundreds of outbound passengers faced tremendous suffering due to the chaotic situation and mismanagement at the Dhaka airport for the last five months due to closure of the runway from 12:00 am to 8:00 am every day from December 10, last year.
The Civil Aviation Authority of Bangladesh is constructing and expanding taxiways for the third terminal due to which the runway needed to remain closed.
At least 13 to 16 international flights rescheduled their timings due to closure of the runway, sources at the HSIA said.
Some 90 to 110 flights now depart and land within the 16-hour window, added the sources.
Passengers have been suffering at all junctures of the airport till now, including inside and outside the terminal, check-in counters, immigration, and boarding bridges.
Every day, 28 airlines operate 90 to 100 flights, ferrying around 15,000 passengers to different destinations from the Dhaka airport.
Civil Aviation Authority of Bangladesh Chairman Air Vice Marshal M Mafidur Rahman said the runway will be open for 24 hours flight operations from next month as the ongoing work for construction of the high speed taxiway will be completed by end this month.
The CAAB chairman said when the third terminal will be open by the end of 2023, many aircrafts will come to the runway. Since there was only one runway at the Dhaka Airport, the construction of two additional high-speed taxiways has been undertaken to reduce the duration of the aircraft on the runway, and to enable it to exit the runway faster.