A noob's guide to trekking in Bangladesh
The nature trails of Bangladesh have a lot to offer, be it to flora and fauna enthusiasts or those looking for a spiritual experience. The roar of cascading waterfalls after monsoons, and the chirping of rare and exotic birds in unadulterated terrain, have a way of calling back those who have had a taste of trekking.
For Saim Bin Mujib, a journalist and seasoned trekker, treks have always been a mode of self-discovery.
"Trekking always reminds me of what I am capable of. It tests my limits and demands my body to pull through, even when I think there is no option but to surrender. Whether it is the white-outs of foreign mountains, or hours of exhaustion and dehydration beyond what my body can bear locally, the hurdles help me get in tune with myself," explained Saim.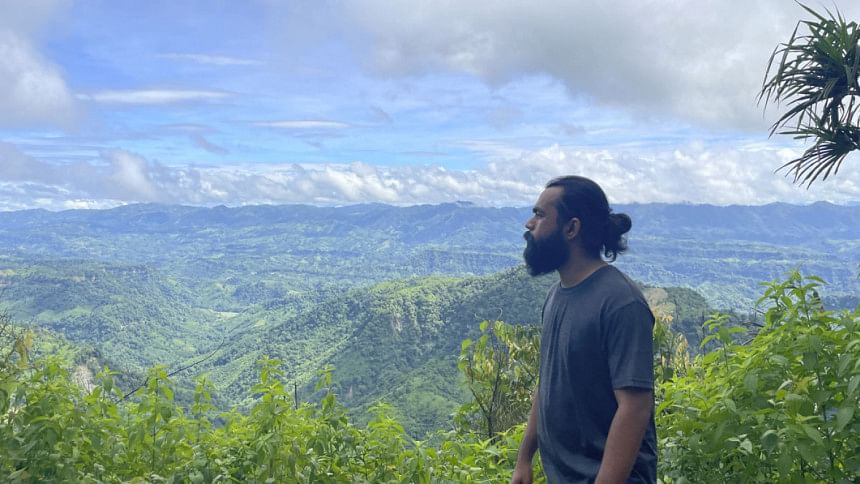 Although testing your limits may be a life-changing experience, in your first few treks, it is best to be cautious and prepared. Here are some things to keep in mind, according to Saim, during the first few times you venture out.
Places to pin
Hills, slopes, and mountains can be a bit more challenging but the rewarding views near waterfalls and peaks usually make it worth it. If you want to experience the distinct serenity waterfalls induce with their majestic appearance and white noise, you should keep Hum Hum waterfall, Khoiyachora waterfall and Nafa-khum waterfall on your list. Although waterfalls are the liveliest during the peak of monsoon, it may be risky for newbies to trek then, as the soil may be extra slippery.
"September and October may be the best time to visit as the waterfalls still retain their beauty near the end of monsoon, without the trails being too difficult to navigate," advised Saim.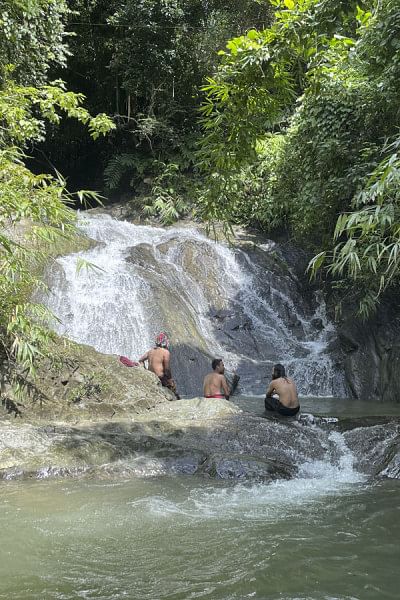 If you would rather trek through plains and flat lands, Rema-Kalenga Wildlife Sanctuary, Lawachara National Park and St Martin's 360° are good options. Rema-Kalenga Wildlife Sanctuary and Lawachara National Park are the perfect fix for those who are curious about the evergreen and deciduous forest biomes of Bangladesh. Both nature reserves house a wealth of plant, bird, primate, and reptile species, many of which are rare and endangered.
Dressing the part
Although there is usually no worry regarding weather extremities in Bangladesh, it is best to stay prepared. During winter, full length pants and windbreaker jackets are ideal as the weather tends to get pretty cold in the high altitudes during the morning and evening. Windbreakers are light but protective so they are the best for trekking.
"The sunlight can still get scorching by noon, so you may find yourself taking off your windbreaker anyways," remarked Saim.
For summer, a breathable t-shirt, and some half or three-quarter pants can usually get the job done. Although sneakers are good for winter, they may feel too suffocating during summer months. Sandals with a good grip and a supportive back strap are the better option during warmer months. If there is a chance of rain, carry a raincoat.
Your backpack should be one that is specialised for travel. The extra straps help evenly distribute the weight of the bag, while also supporting your balance.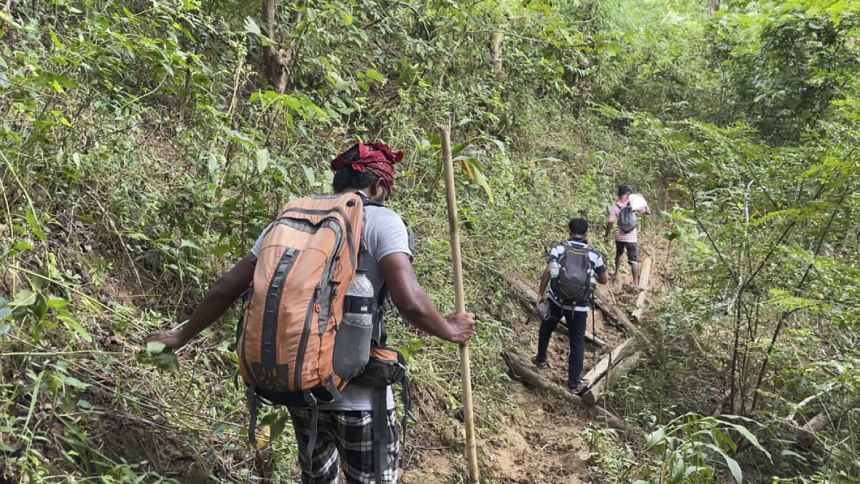 Packing the necessities
It is often hard to strike a balance between packing everything you need and ensuring your backpack stays light. Regardless, there are some items you must always have within easy reach.
Make sure you have an emergency kit with all the medicine and supplies you may need.
"The first aid box for trekking has some of the more regular items, such as pain killers, band aid, and antacid. Then there are the extras, which you need to make sure you are healthy and hydrated throughout your hike. This includes electrolyte solutions and glucose. Dehydration is a common ailment during hikes,'' warned Saim.
If you plan to stay the night, make sure to carry a headlamp or torch as you may need to leave your tent or accommodation when it is pitch black outside. For winters, carry a sleeping bag and extra layers of clothing in case it gets too cold.
Guides help
When visiting Bandarban, make sure you take a guide. Not only will they help make sure you are on track wherever you go, some can help make your overall experience much easier by helping with things like cooking.
Trekking poles will be your second guide, so make sure to take one as well. Trekking poles make crossing slippery soil a lot easier and will also help you navigate shallow water bodies and streams.
The biggest don't
"One of the biggest don'ts when it comes to trekking is to disturb the natural environment or the people you encounter. Many trekkers have the tendency to litter whatever they have in their hands, be it plastic bags or tissue paper. Others tend to be insensitive to locals they come across simply because of their cultural practices. It is crucial to leave wherever you go virtually untouched in all ways possible," recommended Saim.
There are quite a few online communities and websites which can additionally guide you as you start exploring the great outdoors of Bangladesh.
Essentials:
https://www.facebook.com/groups/134578827201068/about
https://www.facebook.com/groups/HitTheTrailBd
https://exploreaudree.com/