Pressure of vehicles increases on Bangabandhu Bridge but no gridlock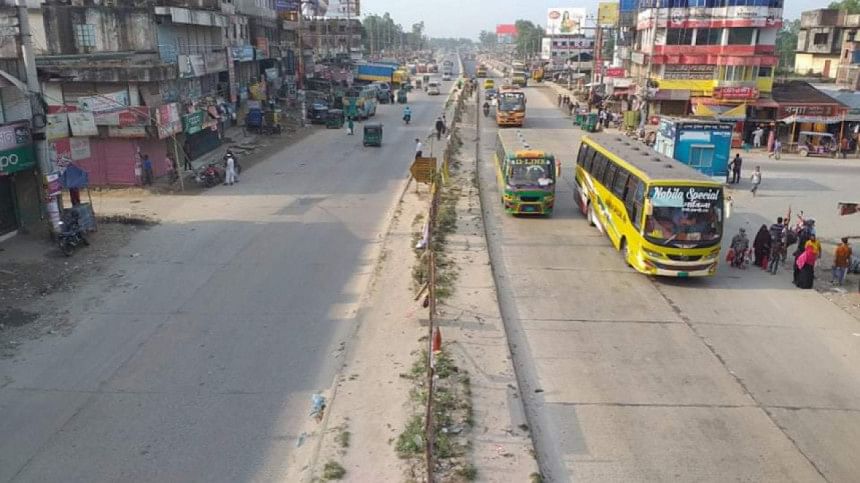 Although there was a pressure of vehicles on the Dhaka-Tangail highway, no traffic congestion were reported from anywhere.
However, due to rush of vehicles, the two connecting roads of the Bangabandhu Bridge saw some traffic congestion.
According to sources in the bridge's traffic control room this morning, the toll collection of the bridge had to be stopped several times in the night and once in the morning due to excessive vehicle pressure.
The north-facing lane is active most of the time, but sometimes the Dhaka-bound lane is closed.
Ataur Rahman, in-charge of the Elanga Highway Police, told The Daily Star that, "There is pressure of vehicles on the eastern side of the bridge, but there is no gridlock."
Mosaddek Hossain, officer-in-charge of Bangabandhu Bridge West Police Station, told The Daily Star that even though vehicles are moving in the north-facing lane, but sometimes stopped in the Dhaka-bound lane and there are long queues. Sometimes this line comes up on the bridge.
On the highway, members of various forces including police are working to keep the traffic normal.
The Bangabandhu Bridge connects vehicular movements in six districts of the south-west, including 16 districts in the north.
In normal times, 15,000 to 20,000 vehicles cross the bridge in a day, but during Eid, it increases to over 50,000.