Destination Niagara Falls
My first experience of Niagara Falls was sometime in the '90s. It was a distant experience through and through, a tele-visual experience but that which was impactful enough to make a teenager dream about visiting the place one day. Thanks to Hanif Sanket and his brainchild Ityadi, Bangladesh's longest-running TV show, for that night's visual treat. After having stood face to face with this incredible wonder of nature last month, I realised why, for even once, one needs to immerse oneself in the sights and sounds of Niagara Falls. 
A name given to a group of three waterfalls, the Niagara Falls runs along the international border between the United States and Canada. The largest, most beautiful, most featured, and most visited of the three waterfalls is the Horseshoe Falls. If you want to enjoy a full view of this natural wonder, you need to journey to Canada, which we did. The other two of the waterfalls, the American Falls and Bridal Veil Falls, lie within the United States.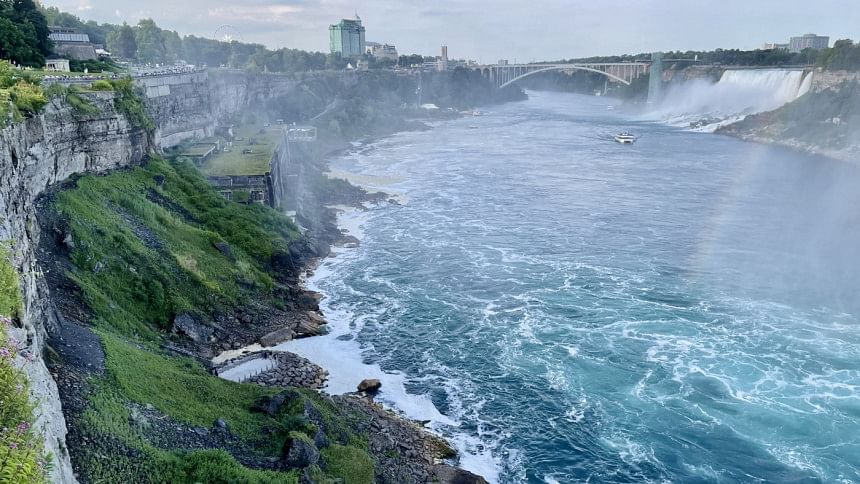 Niagara Falls is a busy place, easily attracting more than 10 million tourists (American and Canadian side) every year. As a major tourist destination, especially during the summer months, people from all over the world visit Niagara for a once-in-a-lifetime experience. People around me were speaking Spanish, Arabic, Hindi, French, Chinese, and languages I could not even recognise.
We had to wait 10-15 minutes before we could find a spot to look out over the falls. There is a strong reason why visitors do not move once they find a spot to stand; they lean against the railing and keep gazing at it. It is not only the waterfalls' awe-inspiring beauty that bedazzles you, it is also the sounds created by these falls which nearly hypnotise you. The waterfalls almost have a cathartic effect on your mind; you loosen up and relax.
Every evening of the year, dazzling multi-coloured lights illuminate the American and Canadian side of the Horseshoe Falls. If you visit between May and October, you will get to experience another nightly attraction — spectacular fireworks!
If you want to immerse yourself in Niagara Falls' splendour and feel its might, then a Voyage to the Falls boat tour is a must. It is almost like an adventure to sail in the Niagara Gorge, observe the Horseshoe Falls' stunning beauty up-close, and feel its tremendous strength. For your information, 3,160 tons of water flows over Niagara Falls every second. The Niagara Falls is capable of producing over 4 million kilowatts of clean electricity, which is shared by the United States and Canada.
On the Canadian side, the boat tour is operated by Niagara City Cruises. You will get drenched by the mist, but the cruise operators provide everyone with a recyclable poncho before boarding. The ride costs about C$33 for anyone aged 13 and above and about C$23 for ages 3-12.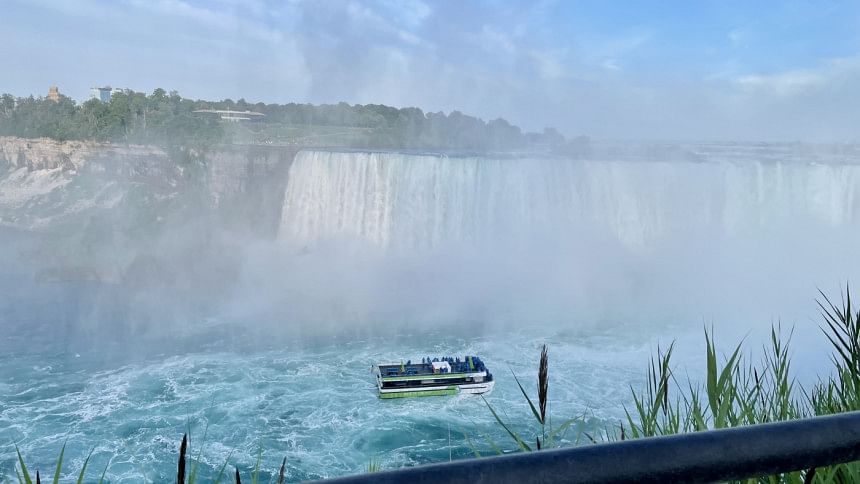 The Niagara Falls area buzzes with people. The place is urban and glamourous; it felt like a mini–Las Vegas to me. There are tonnes of things to do and enjoy after you are done admiring the falls; from restaurants, cafés, and gift shops to arcades, wax museums, haunted houses, water parks, a 175-foot-tall sky wheel, and Ripley's Believe It or Not! Remember, however, that Niagara Falls is one of the most talked about tourist destinations in the world and comes at a hefty cost when visiting; everything thing costs way more than it normally does elsewhere, even a cup of coffee at Starbucks.
A trip to Niagara Falls is on every serious traveller's bucket list. Some call it overrated while others think that it is a once-in-a-lifetime thing. As far as I am concerned, I felt humbled after I first set my eyes on this masterpiece carved by nature.