Biman decides to use own planes for Hajj flights
Decision may disrupt its flights on various routes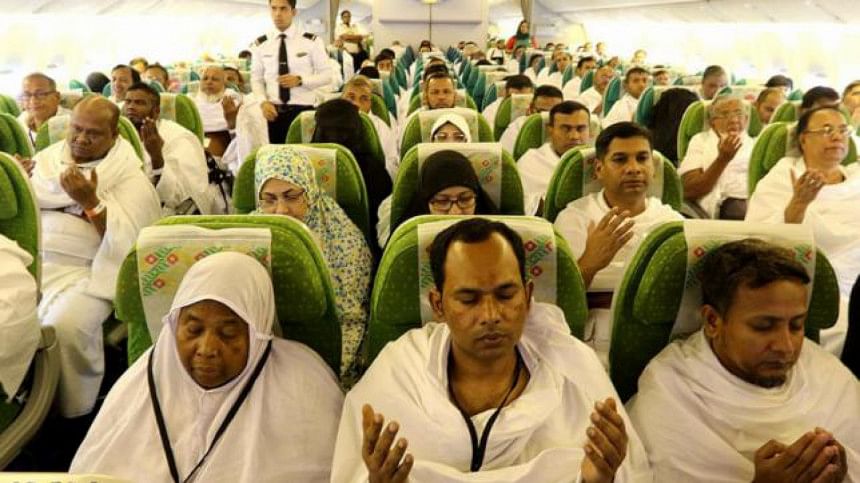 Biman Bangladesh Airlines has finally decided to operate this year's Hajj flights with its own fleet of aircraft, moving away from its earlier decision to ferry Hajj pilgrims with leased aircraft.
The latest decision of the national flag carrier will cause disruption in its flights on various routes, sources in Biman said.
Besides, the national airliner will also have to cut the number of flights on different routes, added the Biman sources.
Biman at first decided to lease two Airbus A-330s from Lithuania-based Heston Airlines. Amid allegations of irregularities, Biman, however, scrapped this plan.
Biman was at risk of incurring a loss of about Tk 200 crore if it went through with the lease plan, said the sources.
They said the pair of 266-seater Airbus A330s of Heston Airlines were around 13-year-old cargo planes.
Biman now plans to operate the Hajj flights with its four Boeing 777 planes -- used to operate flights on the Doha, Abu Dhabi and Kuwait routes.
The Hajj flights are scheduled to start from May 31, according to Biman sources.
State Minister for Civil Aviation and Tourism Md Mahbub Ali today (May 23, 2022) at a press conference told reporters that Biman would carry pilgrims through 75 dedicated trips by Boeing 777s this year, and "this is final".
When asked whether the scheduled flights would be disrupted due to operation of Hajj flights using its own planes, the state minister said four Boeing 777 aircraft out of 21 planes from Biman fleet will be used to operate the Hajj flights, as in 2019.
Mahbub Ali said Biman will reduce the frequency of scheduled flights to different destinations for smooth operation of Hajj flights.
He, however, said flight frequency on different routes which are less important and less profitable will be reduced.
"It's [operating Hajj flight] a matter of two months. There will be no major disruption to the scheduled flights. The frequency of flights to Middle Eastern countries will not be reduced," he added.
Talking to The Daily Star, Biman Managing Director and CEO Dr Abu Saleh Mostafa Kamal said it is true that Biman will have to decrease flight frequency on different routes due to Hajj flights.
But he claimed that this will not majorly affect the passengers.
A total of 57,585 Bangladeshis can perform Hajj this year -- likely to be held on July 8, depending on moon sighting.
Biman will carry 28,792 pilgrims on 75 dedicated flights, while the rest will fly by Saudia and Flynas.