Are you up for La Tomatina Festival?
Take your chances and experience the tomato-throwing festival hosted each year in Buñol, Spain called La Tomatina. It's back on and ready to be enjoyed on 2022. Are you childless, unmarried and in your thirties? Do you make a decent wage? Is the only quantifiable responsibility you have are to listen to your grandma nag about you tying the knot? Do you need a break from all the guilt-tripping around you for wanting to have or living life in your own way?  Have you seen Zoya Akhtar's Zindagi Na Milegi Dobara?
As much as people love the movie mentioned above, most of us believe that it is out of our reach to experience such a trip. For many, the disbelief might hold some gravity, however, experiencing one of the Tomatina portions of the trip in the movie is not unattainable. Yes, you read it right!
Despite popular belief planning to attend La Tomatina Festival is not really a trip to the moon. As a wise man once said (me), if you plan it properly you can achieve it. "Properly" is the key word here.
History
First a bit of history behind the famous tomato-themed event. During the town festivities in 1945, some young boys decided to place themselves in a parade among the retinue. Due to the hot-blooded nature and the energy of these teens, one of the participants fell down. The participant got mad and, as a rage-fuelled response, started to hit everything in his way until the individual came across an innocent vegetable stall nearby. The stall fell victim to the furious crowd which resulted in people pelting each other with tomatoes.
When and Where
La Tomatina Festival takes place annually on the last Wednesday of August. You can take part in it near Valencia, in a little village called Buñol in Spain. To be exact, Buñol is located 40 km from Valencia by bus, train or car. The village holds a population of around 10,000 people.
Is La Tomatina a waste of food?
Many have raised this question in the past and the answer is simple. the low-quality tomatoes which are arranged and purchased cheaply for the festival are on the verge or already are rotten. Which is why these tomatoes having an alternate future of winding up in someone's salad, pasta or sandwich is highly unlikely.
If becoming part of the human passata is still on your to-do list, here's all the information you need to become the terminator of tomatoes.
At precisely 11 AM, a firework is set off signalling trucks to start tipping over 100 tonnes of overripe, squishy tomatoes onto the festival area. For the next sixty minutes, everyone joins in a frenzied, chaotic, cheerful tomato battle until a second firework signals the end of the play.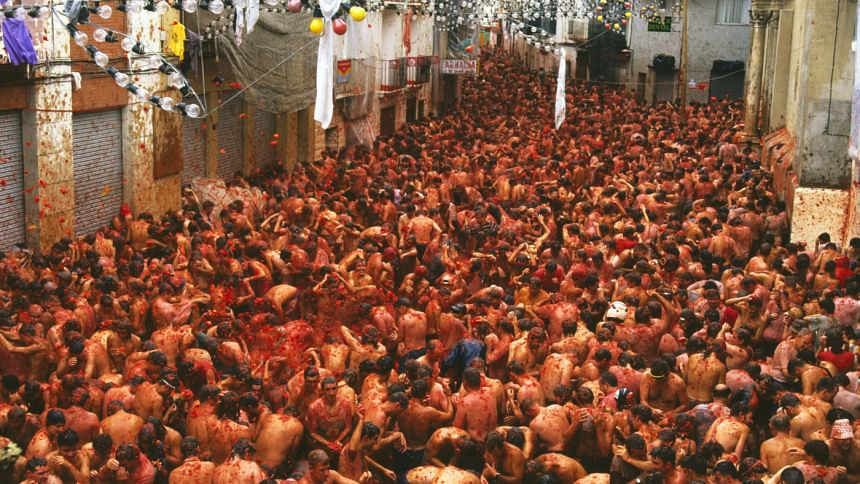 Dress code
Focus on wearing clothes that you would not think twice to throw away after the epic fight. I would recommend an old T-shirt that your mum has been eyeing to make it into a rag or a mop. Some wear white t-shirts and some go in old clothes with waterproof shorts. Speaking of waterproof, a swimsuit under your clothes is not a bad idea since you will be soaked by tomato rain and water hoses. Also, pack a pair of swimming goggles if you have sensitive eyes.
If you fancy your shoes and do not want them to lose during the mayhem and chaos, avoid flip-flops. Avoid anything that makes you feel uncomfortable or insecure. But remember to wear something you will not regret ruining. Crocs with straps just might be perfect for this occasion!
**Disclaimer: Chances of having your clothes ripped off are very high. Wearing cropped top swimsuits or synthetic swimming shorts is highly recommended.
La Tomatina 'do' list
Drink plenty of water before you enter the festival; it gets very hot waiting around for the fun to begin.
Squash the tomatoes before throwing them, it will be less painful when the fruit hit others. This will also help to avoid injuries. However, be warned that others won't always be so kind.
Maintain a safe distance from the lorries.
Follow the security staff directions.
Arrange a meeting point before the festival gets underway with your friends.
Use a permanent marker to write your phone number on your and their arms.
Only bring things you will need. You will not need passports, laptops, etc.
Remember to look up because locals will also join in by pelting festival-goers with their own tomato supplies from their apartments.
Do look out for your crew if you have any, and the people around you. La Tomatina gets pretty frenzied. Best to avoid this festival if you're not a big fan of crowds, mess and discomfort.
Stop throwing tomatoes when the second firework goes off. The battle is over.
La Tomatina 'don't' list
Do not bring bottles or hard objects. Causing an accident or damage to your battle's fellows with hard objects is easier than you think. You won't be allowed to bring them into the festival area, anyway.
Do not tear or throw your T-shirts nor others' T-shirts.
Avoiding getting pelted with the fruit is pointless. Just let it happen and be a part of the festival.
Wearing any jewellery must be avoided. Especially hoop earrings which can be painfully ripped out.
Don't get too close to the tomato trucks. You really don't want to get pushed under those tires.
Drinking too much alcohol the night before (or the morning of) can be a disaster waiting to happen. The stench of rotting tomatoes and mid-summer sun mixed with squishy projectiles coming your way can be a recipe for an unhappy ending.
Getting too rough is a BIG NO! Pushing, shoving and ripping people's clothing on purpose is not OK.
Bringing young kids is not recommended due to the rowdy nature of the festival, with dozens of people injured every year.
It is forbidden to enter la tomatina with any kind of bag.
Where should I stay?
Booking hotels, hostels or inns weeks early for the festival is a smart way to do things. Thanks to the popularity of the festival, accommodations get booked out throughout the month of August. Through the La Tomatina website, you can book a hostel and hotel if you're keen to mingle with other participants or fellow travellers. A range of other operators, including Busabout.com offer festival packages.
If you are travelling independently, do consider staying in Buñol for the week-long celebration, which involves music, dancing, parades and fireworks. If you dwell in the art of gastronomy, then the night before the fight, a paella cooking competition is held in which you can participate. Book as early as possible to secure accommodation.
Missed out this year?
Given the immense popularity of this festival, it is not uncommon for tickets to get sold out several months before August. So, bookmark the La Tomatina website and keep an eye on it for announcements. Follow the links below to plan the experience of a lifetime!
https://www.latomatinafestival.es/