10 first-time bungee jumping tips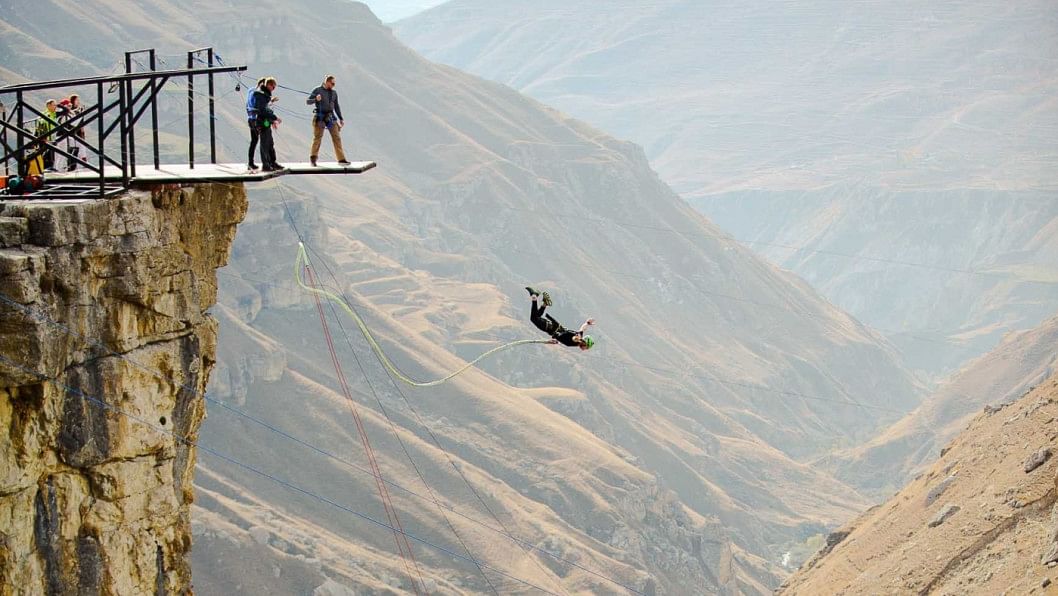 Bungee jumping has inspired generations of thrill-seeking adventurers since the first commercial jump opened. Even though bungee jumping falls under the category of extreme adventure sport, if you have the mind for it, you can do it. So, once you have conquered your fear of falling from a height here are some beginners' tips to make your first fall definitely not your last.
Trust your instructor
Listen to your instructor. Before everyone prepares to jump, they will show you an introductory and cautionary video detailing everything you need to do and keep in mind before and after leaping. While the instructor demonstrates how to hold onto your gear and keep your body weight balanced, they will also give you instructions that will help you achieve the best bungee jump of your life. Do not forget to speak your mind if you have inquiries.
Choose your surroundings carefully
Since it is your first-time bungee jumping, choosing an open, clear space would come in your favour in cases of retrieval. Usually, commercial jumping centres are over massive bodies of water, many are catered to expert bungee jumpers and adrenaline junkies. So, choose where you descend beforehand.
Book in advance
Speaking of choosing and descending, book your slot weeks ahead. Many resorts and commercial jumps get booked all the way during the peak season and it will just give you another reason to chicken out. Do not let this be your reason, contact your jump centre, and get your appointment ahead of time.
Wear comfortable clothes and shoes
Remember you will be getting propped up with safety harnesses around your upper body and/or ankles and you will be jumping off a significant height. Wear clothes that fit you comfortably and cover your body as well as comfy shoes that ground your feet before the leap.
Avoid carrying valuables on you
Before or during getting ready to jump next, store your valuables like your phone, wallet, keys, jewellery, etc in the locker room of the facility or keep them with someone you trust. Chances are any of the valuables may slip and fall during the leap which we do not want to be the thing we remember this beautiful moment by. Better safe than sorry.
Don't overeat
Unless you want to go down puking and want to just go home, we suggest you do not overeat. Also, do not jump on an empty stomach as it can cause acid reflux. It is better to stay in the middle and have something light and healthy 1-2 hours before your scheduled jump.
Assess your health
If you have any prior health conditions like heart issues, back issues, stomach issues, or any chronic pain issues, I hate to be the bearer of bad news, but you are not suitable for bungee jumping. Make sure your health is in order before you take the leap.
Look forward, not down
One of the most amateur mistake first time jumpers make is the 'look down' instead of 'look forward'. Looking directly down while preparing to jump can make you feel dizzy and outright wrong. The best thing to do is to look forward and follow the instructions of your instructor.
Take a jump buddy
Every trip becomes better with buddies so why not take someone with you on this once-in-a-lifetime opportunity? Friends could be very vital for providing the moral support you need and looking after you afterwards when you would definitely nag to jump again. Friends are just the best.
Mind over matter
One of the toughest things to get out of the way is fear. The doubt, the little looming shadow that asks, "what if it rips?" "what if I fall?" One of many ways you can give yourself that boost of confidence is by looking at how fast time goes by and how short life really is to be thinking so much and just, let go. Calm your nerves, give yourself the ultimate pep talk that it is all in good hands, and 1, 2, 3 JUMP!